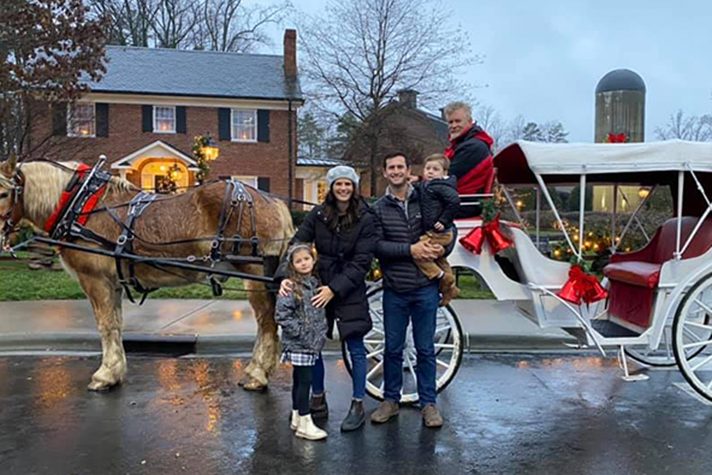 "You keep him in perfect peace whose mind is stayed on you,
because he trusts in you." —Isaiah 26:3
On the latest episode of her Fearless podcast, Cissie Graham Lynch shares what we can learn from studying Mary, the mother of Jesus, during this unusual Christmas season.
Before an angel came to Mary and told her she would give birth to the Son of God, she probably had never imagined she'd become pregnant before marriage.
"This could've been a storm in her life where she would've been afraid," Lynch said after reading from Luke chapter 1. "But there was such a peace in her statement: …
'I am the Lord's servant.'"
Despite possible grave consequences for having a pregnancy out of wedlock, Mary trusted God. She had a steadfast relationship with Him and believed in His Word.
"This year, many of your lives have been turned upside down," said Lynch, referring to the unprecedented events of 2020. "You might be afraid of everything we've faced. Maybe you're afraid of what's to come in your future."
But Scripture promises in John 14:27, "Peace I leave with you; my peace I give to you. Not as the world gives do I give to you. Let not your hearts be troubled, neither let them be afraid."
>> Listen to the full podcast episode. 
This peace is just as possible for you today as it was for Mary 2,000 years ago.
"[Mary] might've had a big lump in her throat or maybe she was nervous. From her viewpoint, this could've looked disastrous," Lynch said. "But she trusted God. It's that simple: she surrendered it."
Growing up, Lynch said she was taught by her grandfather, Billy Graham, three areas she could surrender to God: mind, body and will.
"Have you ever surrendered yourself unconditionally to Christ as Mary did?" Lynch asked her listeners. "Have you said, 'Lord, I am Your servant. Your will be done with my life?
"God only wants our surrendered hearts and our obedience to follow Him."
And just as He used Mary's surrendered heart, He's willing and able to do the impossible in our lives, too.
"Even when we don't see it as humanly possible, we must remember with God it's all possible," Lynch continued. "What seems impossible in your life for you to overcome?"
Finances? Job loss? Sickness? A failing marriage? A prodigal child?
"I want to remind you nothing's impossible with God," Lynch said. "Don't give up, even in the desperation of this year of 2020.
"Mary, she didn't know what was to happen. She couldn't see the ending. She only knew God had chosen her, and she willingly and joyfully submitted … to the calling on her life. It was a full surrender."
Like Mary, you can surrender yourself unconditionally to God. Start now.