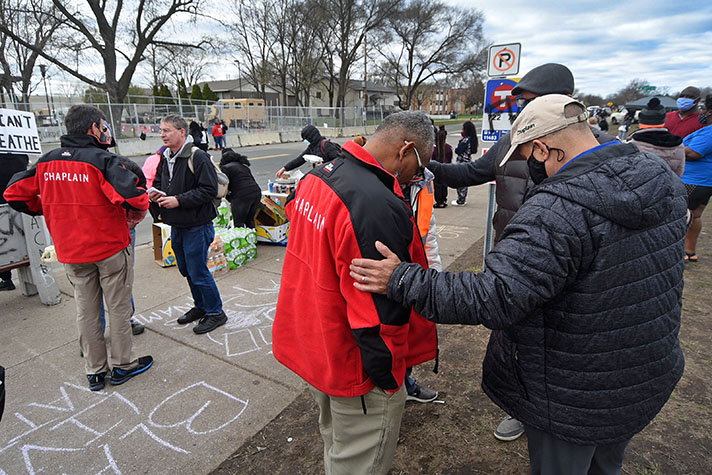 "I love the fact that we're trained to ask, 'How are you holding up?' People want to know somebody really cares about how they are doing and to know they can share that story."
—Rapid Response Team chaplain coordinator Freida Roulds
At the Brooklyn Center, Minnesota, memorial site—where community members are grieving the tragic death of 20-year-old Daunte Wright with tea light candles and flowers—Billy Graham Rapid Response Team chaplain Steven Flores saw a familiar face.
It had been nearly a year, but as soon as the two made eye contact, they picked up where they left off.
James* was a man he met during a George Floyd protest last spring. Their first encounter was a challenging one.
>> See photos of ministry happening on this deployment.
James saw Steven's Billy Graham chaplain shirt and immediately put his guard up: "Nah man. I'm not talking to you."
It took only a few minutes of conversation to change everything.
"We're here to serve the community, for you guys, we're here. I'm here for you," Steven told him.
After spending time listening to James, Steven asked if he could pray for him.
"As soon as I prayed for him, his whole countenance changed. The Holy Spirit broke through and we became like buddies," Steven recalled. "For him to remember that, that's part of the impact—the impact that we leave, people don't forget that.
"They know our purpose and what our mission was. We didn't have any other agenda other than to bless them."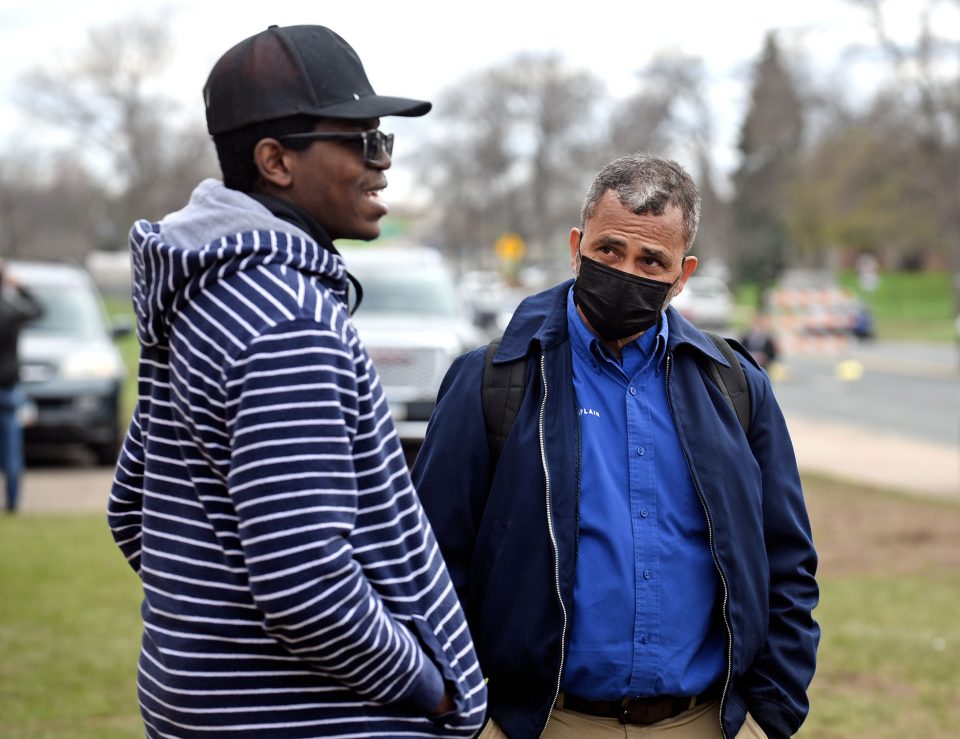 As the chaplains go out day after day for the next several weeks in Minnesota, they all are on a mission for the love of Christ to pervade and sweep into hurting hearts.
"I hope we make a difference like we did down on Chicago and 38th, like we did with George Floyd," Robert Roulds, another chaplain coordinator, said. "It was hostile when we first came, but there was a sense of peace when we left. A ministry of presence made a difference there. I hope we can do the same here."
>> Find out more about this deployment.
'God Is Here in This City'
Blaring music roared up to a cloudy sky as demonstrators bundled in jackets and held handmade signs calling for justice in Brooklyn Center, Minnesota. Six crisis-trained chaplains meandered through the crowd, taking time to listen to the community's stories and offer prayer.
"[We want] to remind them with everything else that's going on, God is here," chaplain coordinator Freida Roulds said. "God is here in this city."
It's a city that's been in upheaval following Wright's death during a traffic stop on April 11 where a police officer reportedly shot him by accident, thinking she was using a taser. The incident occurred just 10 miles away from Minneapolis, where George Floyd died nearly a year ago.
Many of the same chaplains who deployed to Minneapolis are now serving in Brooklyn Center to impart hope in Christ to the hurting community.
"So many people are hopeless in this sort of situation," said returning chaplain AnnMarie Flores.
Fences kept the crowds at a distance from Brooklyn Center Police Department where National Guardsmen were stationed out front Thursday, April 15. Some at the demonstration had been there the night before. A man told chaplains about a rubber bullet that soared through a sea of umbrellas set up to block tear gas and somehow hit his leg, causing injury. Just down the street, an entire shopping center was boarded up due to riots.
As he spoke, some people drove their cars around "Road Closed" blockades, beeping their horns and recording on their phones what was happening along the street—people showing up, serving food to their community.
Before Thursday's protests started, the crisis-trained chaplains had covered the city in prayer. Chaplain Will Rosado led the chaplains in a short devotional ahead of the day, sharing a passage from the Bible found in Mark 14:9: "And truly, I say to you, wherever the gospel is proclaimed in the whole world, what she has done will be told in memory of her."
That Scripture refers to an unnamed woman who poured expensive perfume over Christ's feet.
"The disciples were mad because they could've used that money to feed the hungry. Jesus said what she did here, anytime the Word is preached, people are going to remember this day," Will shared. "That's what we do when we show up to a community. We show up to provide hope, comfort during a difficult time.
"It's a legacy that we leave. They may not know our name, but they will remember we were here and we provided comfort and hope in the most difficult time when they're heartbroken."
*Name changed for privacy.