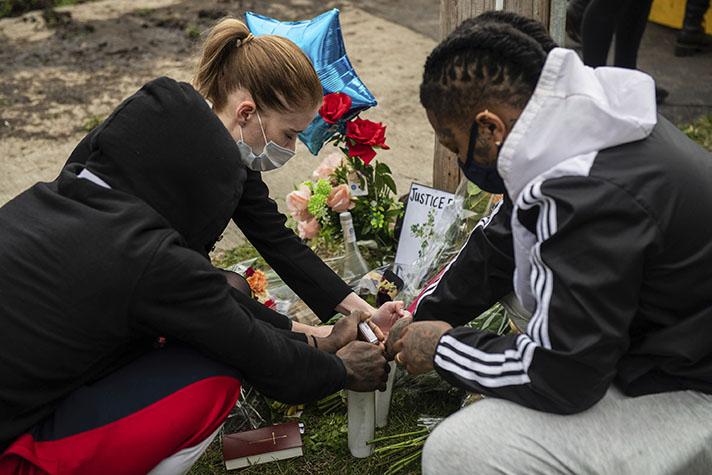 The Billy Graham Rapid Response Team (BG-RRT) is in Brooklyn Center, Minnesota, providing emotional and spiritual care after civil unrest broke out over the weekend.
"We continue to pray for the entire community, and our crisis-trained chaplains will be there to support those who are hurting," said Josh Holland, BG-RRT's assistant director. "Our chaplains will encourage the community at large, along with local churches, pastors and law enforcement."
In addition, the team plans to partner with multiple churches to organize a prayer walk within the suburb.
The scene is eerily similar to the one in the Twin Cities nearly a year ago after George Floyd's death. The trial of that case is underway.
On Sunday, it was Daunte Wright, a 20-year-old Black man, who was shot and killed by a police officer after resisting arrest. A bodycam video suggests the shooting was accidental, and that the female police officer meant to grab her taser, not her gun. The 26-year veteran officer has since resigned.
The Rapid Response Team was invited back to the community by Revive Church, which partnered with them amid last year's riots and is just a 5-minute drive from the latest shooting.
At least seven chaplains arrived Wednesday to begin offering emotional and spiritual care to the hurting community. The team's Mobile Ministry Center, a vehicle that features a room for conversations, is also present so community members can process these heartbreaking events with chaplains.
Among the chaplains serving in this deployment is Ken Dunlap, BG-RRT's manager of deployment and peer support, who also went to Minneapolis last year after George Floyd's death.
"We approach [deployments] in hopes that God can use us to not solve all the problems of the world," he said, "but minister to somebody in this crowd in a unique way that will help them to be pulled out of the anger of the moment and to have an encounter with Christ that will give them peace and a new vision of life."
Approximately 60 people were arrested overnight Tuesday and the National Guard has been mobilized as a 7 p.m. curfew was put into effect.
How to Pray for This Deployment
"In civil unrest, you're going into an environment filled with human emotions that are normally expressed through anger, rage, frustration and a lot of animation," Dunlap said. "It takes a greater wisdom on the part of the chaplains to know how to navigate through this type of ministry event and to stay focused on our mission, which is to be a ministry of presence and to share the hope we have in Christ as a solution to the problems that we face as individuals and society.
"We're going in the name of Jesus, but we're going prayerfully, and we're going in His wisdom. His promises call us to be a calming influence one life at a time, one prayer at a time and one day at a time."
Please keep the Minneapolis community, Wright family and law enforcement officers in your prayers.