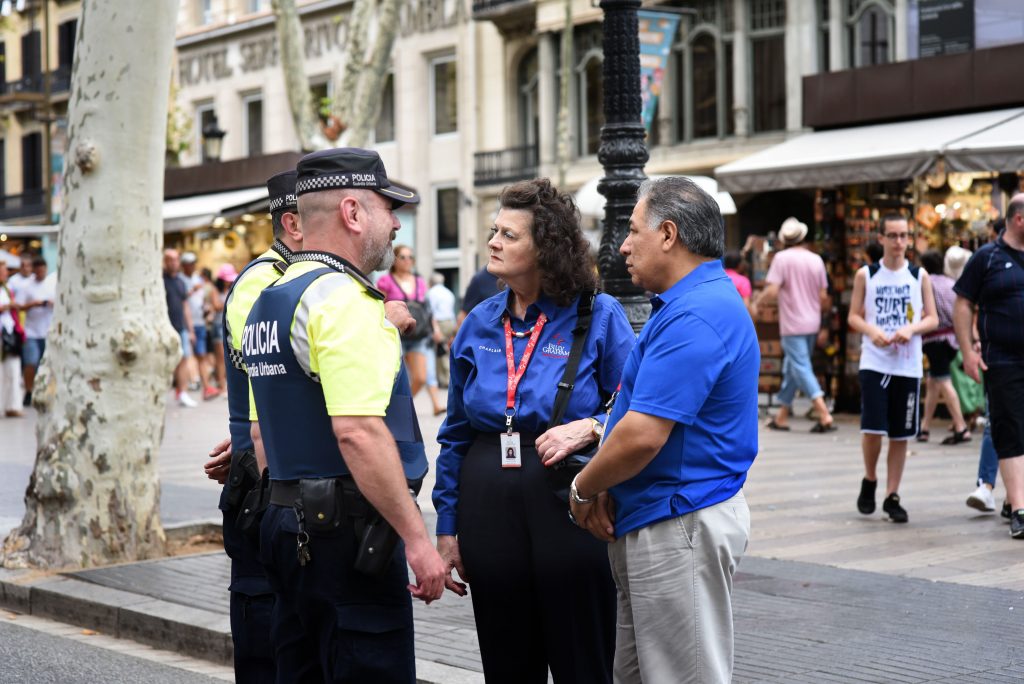 "I asked him how he was sleeping, and he said he wasn't."
Jeff Naber found himself in deep conversation with a young man from Barcelona who witnessed Thursday's brutal attack in the heart of the city's tourist area, Las Ramblas.
Naber is a crisis-trained Billy Graham Rapid Response Team chaplain and former police officer who flew from Charlotte, North Carolina, to Barcelona, shortly after the attack.
While talking and praying with people in the street, he noticed a young man standing by himself in the area where a terrorist used a van to murder unsuspecting pedestrians from age 3 to 80. The man was wearing street clothes and a pair of mirrored sunglasses, and a closer look revealed he had been crying.
"I stood there and just prayed that God would open a door to his heart … that God would use me," Naber said. "I started talking to him, and he said he just came to think about what happened. And then he told me about the trauma that he was going through in his own mind because he was right there when it happened."
The man told Naber that he was an off-duty Barcelona police officer, so they immediately had something in common.
The young officer said he had seen the white van speed by on Thursday, as bodies flew into the air. But all he could do was chase the vehicle as fast as he could, screaming for people to get out of the way.
"I was yelling at the top of my lungs, but nobody listened and nobody could hear me," he said.
The officer shared that visions of that awful scene kept playing over in his mind.
"He thought it would help him if he came back out to the site," Naber said. "This was the first time he felt like he could come and pay his respects, because he wasn't in uniform. When he's in uniform, he's on guard all the time. He and all his coworkers are angry. They're not sleeping. They are very fearful. But the one emotion that stuck out was helplessness."
The two men talked for about 20 minutes. The young officer said he believed in God, but he didn't seem to know much about Jesus.
"I explained to him who Jesus is," Naber said. "It was obvious that he didn't want more information than that, and I knew enough not to push him."
Like all of his fellow Rapid Response Team chaplains, Naber believes faith in Jesus Christ holds the key to overcoming the struggles and tragedies of this world and finding hope for the future. But the chaplains will not force their faith on others, just as God does not force anyone to choose Him.
The young officer did welcome a quick prayer before they parted ways.
"I prayed for his health, for his safety, for his spiritual well-being. I put my hand on his shoulder, but he put both of his hands around my neck. His weight was on me."
Naber's eyes got glassy as he shared, "Of all the deployments that I've done, that was one of the most powerful times I've had praying with someone."
That story is one snapshot in a collection of moments chaplains have shared in Barcelona. Ministry has taken place on the train, at the hotel, in the ice cream shop. On his early morning run, Naber came across a woman weeping by one of the memorials and stopped to comfort her. The chaplains have also talked with many of the shopkeepers at the fruit markets and souvenir stands lining the long pedestrian avenue.
"People were standing in front of the shops and buying stuff, and the vendors are reporting to us time and time again that all of a sudden their customer was gone," Naber said. "They were about to hand them their change for their purchase, and the van came and took them. So a lot of our street ministry here is with the vendors."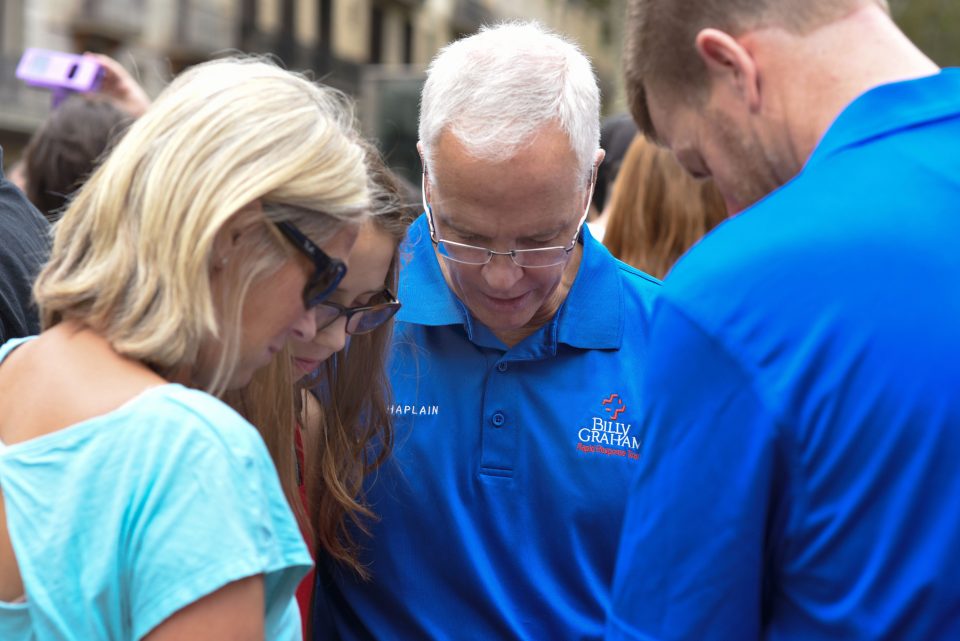 Naber is one of eight U.K. and U.S. chaplains in Barcelona this week, several of whom are Spanish speakers. He says ministry is happening almost nonstop, thanks largely to passionate involvement from local churches.
"Franklin Graham's Festival here in 2015 set the stage for our response to this terror attack, specifically from the churches," he said.
Many of the local Christians joining the chaplains on the street had already partnered with the Billy Graham Evangelistic Association when Franklin preached the Gospel to more than 27,000 people during a 2-night event held two years ago. Back then, local church groups had walked Las Ramblas, praying with people and spreading the word about the Festival of Hope.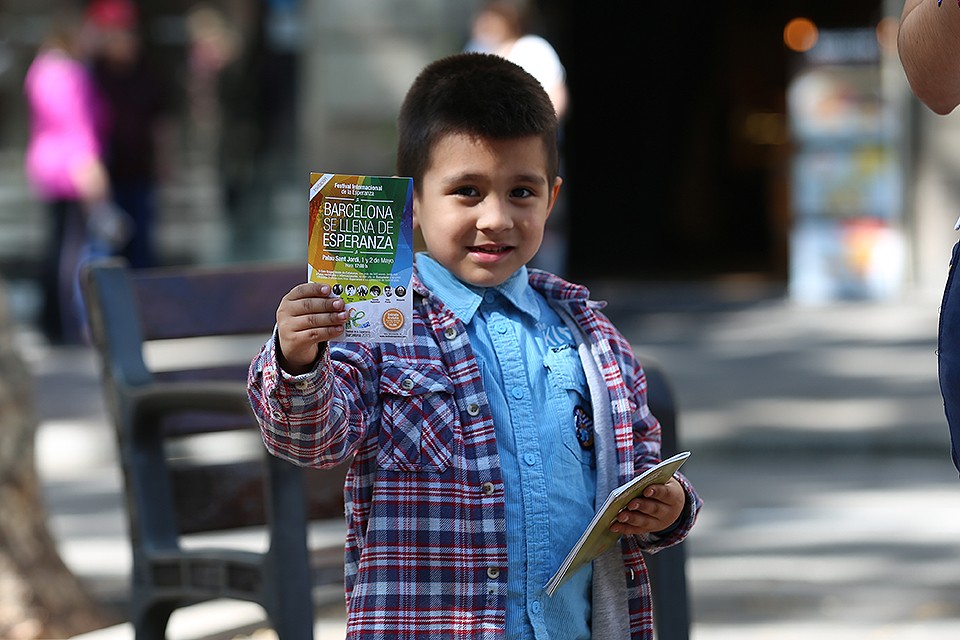 "Now we're heavily connected with some of the local churches," Naber said. "Pastors are coming out with us every night. They're bringing other people who are bringing other people."
During the chaplains' time of prayer and study earlier this week, they read these words:
"You then, my child, be strengthened by the grace that is in Christ Jesus, and what you have heard from me in the presence of many witnesses entrust to faithful men, who will be able to teach others also" (2 Timothy 2: 1-2, ESV).
That Scripture has come alive as the chaplains have partnered with local churches to share what they've learned over the course of nine European deployments in the wake of recent terror attacks. As the chaplains share their experiences, local Christians are taking what they hear and teaching their friends. An active street ministry has resulted.
"Last night, the people who came out for the first time couldn't get enough of it," Naber said. "We left at 10 o'clock, and they stayed on the street."
The evil of last week's events continues to cause suffering throughout the city. In the midst of the darkness, the chaplains and local believers are seeking to be a glimmer of light—a city on a hill in a time when many are looking upward for hope.
"If we have 10 people, that's great. If we have 100 people, that's even better," Naber said. "But God will give us the people we need. We're going to prayer walk this area; we're going to claim it for Christ."
How can faith in Christ give you hope in the midst of suffering? Find out now.
Support the ministry of the Billy Graham Rapid Response Team, an international network of crisis-trained chaplains who deploy in the wake of natural and man-made disasters.