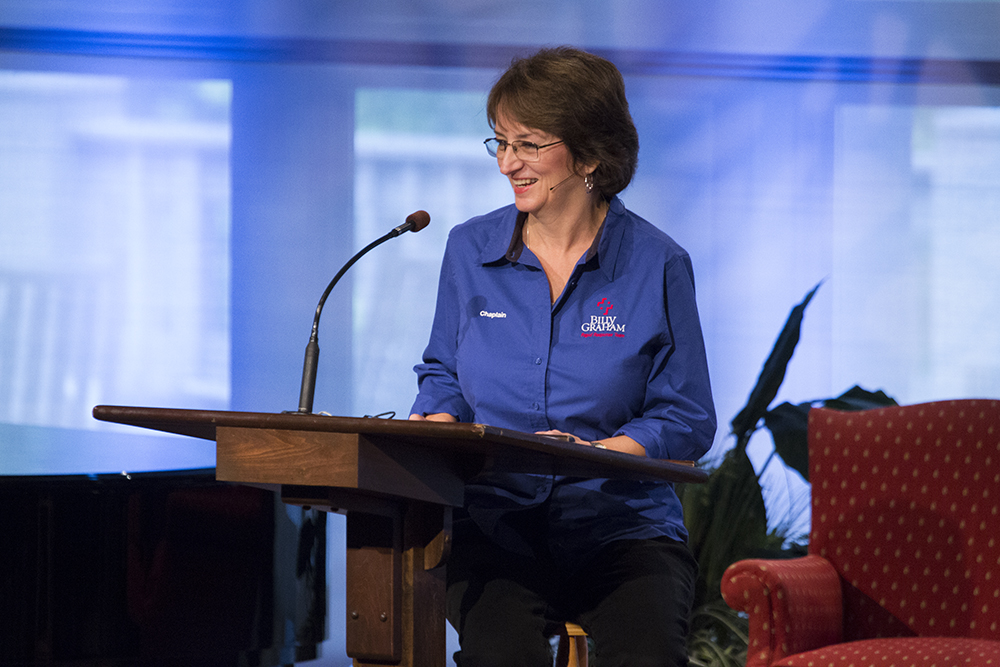 Anxiety and fear were two emotions at the top of the list as police wives shared with Billy Graham Rapid Response Team chaplains during a special group session on Saturday in Iowa.
Living in the aftermath of last week's fatal police shooting, the women openly talked about their own personal responses. Some were having trouble sleeping, worrying about their husbands' safety after two Des Moines-area officers were killed last week. Most wondered how they could be supportive of their husbands during this time.
Chaplains Denise Molatch and Suzanne Galvin listened as the room of 25 women shared their emotions.
"That was great for them to get some of their feelings out and to know that they're not alone," Molatch, a trained counselor, said. "I was a police officer wife, and I know how they feel. Sometimes you feel very alone."
Molatch and Galvin, two of the four chaplains the Rapid Response Team deployed to Iowa after last week's fatal police shooting in the Des Moines area, talked and prayed with the women. They encouraged them, and even had the chance to share the Gospel. As a result, six women made a decision for Christ.
"It was amazing how the Lord used it," Molatch said, adding there are talks for future sessions in the metro area.
In addition to helping the women cope with day-to-day anxiety, they also walked the women through tough personal decisions. One lady, in particular, had decided she wasn't going to go to the funeral of the fallen officer with her husband. She would feel out of place, she thought, and this was a time for the police officers to lean on each other.
Molatch, drawing from personal experience, shared that she had made a similar decision early in her husband's career. She stayed home.
"I always regretted that because looking back, and in the years after that, we would talk about it and he did need me," Molatch said. "I encouraged her to go even though it might be uncomfortable for her."
Ultimately, Molatch and Galvin pointed to the peace that only Jesus can bring. Molatch shared that she accepted Christ nine years into her marriage.
"That's what turned my marriage around was knowing the Lord, and my husband and I were able to turn a marriage that was being stressed into a marriage that glorified the Lord," Molatch said.
Molatch encouraged the women to find power over anxiety by changing their thought life.
"The tool to overcoming anxiety is praise and thanksgiving," Molatch said. "I just think that's powerful when it comes to changing your thought life.
"What we think about controls how we feel, which controls how we act so we need to fill our heads with the thoughts of praise and worship."