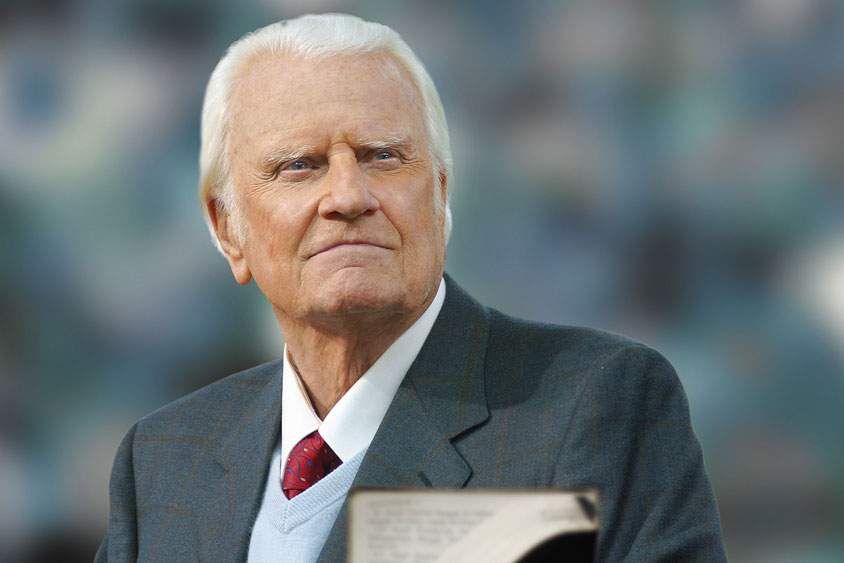 For a record 60th time, Billy Graham has been named as one of the 10 most admired men in the world.
Gallup released its annual list at the end of 2016 after asking more than 1,000 people throughout the United States which man they admire most in the world. Mr. Graham received fifth place on the list.
The 98-year-old evangelist has been among the top 10 every year since 1963 (except 1976, when the survey didn't happen). He also appeared on the list every year from 1955-1961.
President Barack Obama took the top spot, with 22 percent of those polled naming him as "most admired." President-elect Donald Trump took the No. 2 position at 15 percent.
Pope Francis was in the No. 3 spot, followed by Vermont Senator and 2016 presidential candidate Bernie Sanders in No. 4.
2016 presidential candidate Hillary Clinton was named the most admired woman for the 15th consecutive year and 21st time overall. First Lady Michelle Obama took the No. 2 spot.
As founder of the Billy Graham Evangelistic Association in 1950, Mr. Graham has preached the Gospel to more people in live audiences than anyone else in history. Hundreds of millions more have been reached through television, video, film and the web.
The evangelist has preached in remote African villages and in the heart of New York City. He has ministered to heads of state as well as the simple living bushmen of Australia and the wandering tribes of Africa and the Middle East.
Mr. Graham has also written 33 books. His recent works include Where I Am: Heaven, Eternity, and Our Life Beyond (2015), The Reason for My Hope: Salvation (2013), The Heaven Answer Book (2012), Nearing Home: Life, Faith and Finishing Well (2011) and Storm Warning (2010).
The "pastor to presidents" continues his ministry through prayer at his Montreat, North Carolina, home. His work is also being carried out by multiple ministries of the Billy Graham Evangelistic Association.
The Gallup poll was conducted Dec. 7-11, 2016, surveying 1,028 adults nationwide by phone. The overall margin of error is plus or minus 4 percentage points.
Browse classic Billy Graham sermons through video and audio.