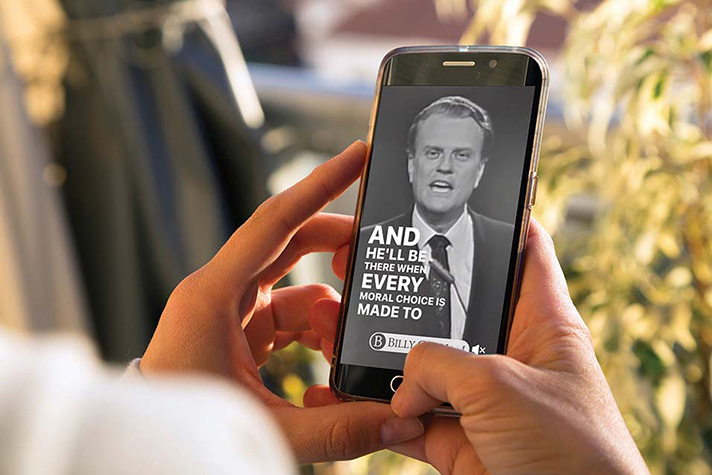 "Our mission at the Billy Graham Evangelistic Association is straightforward: 'Proclaiming the Gospel of Jesus Christ to all we can by every effective means available.' Through the latest media technology, we are carrying that message to the ends of the earth today." —Franklin Graham
Elna,* a young woman in South Africa, recently saw a short video of Billy Graham on TikTok.
Intrigued by his message, she found and watched one of his full-length sermons on YouTube. She then connected with the Billy Graham Evangelistic Association (BGEA) through Instagram.
"I need help, and I believe you will get back to me," she wrote in an Instagram message to BGEA.
A team member directed Elna to BGEA's online evangelism site PeaceWithGod.net, where she could interact with a trained volunteer and learn more about the Gospel.
After communicating with a volunteer, Elna enrolled in two of BGEA's online discipleship courses. She previously thought salvation was something people earned through their good works, but as she went through the courses and dug into Scripture, she began to learn about God's grace.
Elna shared, "The only gift that will take us to Heaven is accepting Jesus. … I should come with empty hands because Jesus has paid it all. It really makes me very happy and I'm unable to give a proper explanation how much it means to me to be loved by God."
Elna expressed her eagerness to continue studying God's Word and know Him better.
>>Have faith questions? Chat with our trained online coaches.
>>Want daily encouragement? Follow BGEA on social media.
Other Stories of People Impacted by Christ Through TV and Radio
'He Was Talking Directly to Me'
Jake* called the Billy Graham Prayer Line a few minutes after watching one of the Billy Graham Classics on TV. He said he just happened to be off work when he saw the broadcast, and after hearing the Gospel, he had questions. No one had ever explained to him how to become a Christian, and he wanted to know more.
>>Need prayer? Call the 24/7 Billy Graham Prayer Line at 888-388-2683.
Jake shared, "When I was watching Billy Graham on the TV, it really hit me in the heart. It was like he was talking directly to me, so I called the number."
A BGEA staff member was happy to share the plan of salvation with him using the booklet "Steps to Peace With God," and Jake decided to pray to surrender his life to Jesus Christ.
We thank God for the opportunity to share with him that "there is salvation in no one else; for there is no other name under heaven that has been given among mankind by which we must be saved" (Acts 4:12, NASB).
Learning About Jesus on SiriusXM
Janice* grew up Jewish but said she always believed Jesus was the Son of God. She began regularly listening to The Billy Graham Channel on SiriusXM satellite radio, which airs his sermons 24/7 on channel 460 and the SiriusXM app.
Through his preaching, she learned what the Bible teaches about salvation, including how to repent of her sins and place her faith in Christ for salvation. She gladly believed the Scriptures and prayed to surrender her life completely to Him. She then went online to enroll in BGEA's free Know Jesus discipleship course, in order to grow in her walk with the Lord.
She shared her salvation testimony with a trained discipleship coach, who rejoiced at how God reached her through satellite radio. Janice said she is actively looking for a church to attend to help her become a mature follower of Christ.
'Forgive Me for All the Wrongdoings I've Done'
Dennis* heard Franklin Graham sharing the Gospel on the radio during a 60-second ad. When Franklin invited listeners to call the Billy Graham Prayer Line, Dennis dialed the prayer line number (888-388-2683) and told a member of the BGEA team, "I want God to forgive me for all the wrongdoing I've done in my life."
The call representative talked with him further about what the Bible says about salvation and the forgiveness of our sins. As they spoke, Dennis prayed to invite Jesus Christ into his life as his Lord and Savior. The team member then prayed a prayer of salvation with him and encouraged him to spend time reading God's Word daily—and also sent follow-up discipleship materials to help him grow in his faith.
Praying in Her Native Tongue
Kiojah* speaks Swahili but very little English. When she heard Billy Graham preaching on one of the Classics specials, she understood enough to want to hear more, and called the number on the screen.
Betsy, a trained BGEA staff member, asked if she could get a family member on the phone who spoke English, and Kiojah brought her 14-year-old granddaughter, Chriki.* Betsy then shared the Gospel in English with Chriki, who in turn translated everything into Swahili. Kiojah said she agreed with each step of the explanation of the Good News, and she wanted to be saved. Kiojah prayed out loud in her native tongue to give her life to Christ.
Betsy said it was "a glorious [interaction], despite the language barrier."
*Names changed for privacy.