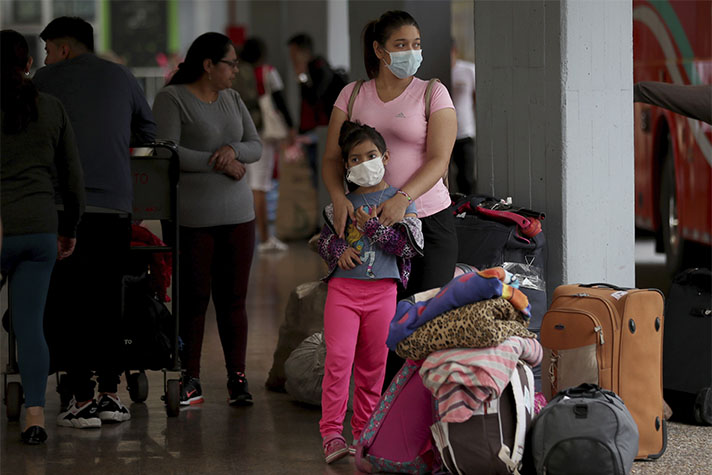 Are you worried about the coronavirus? You can call the BGEA response center for prayer at 1-888-388–2683.
As the coronavirus increasingly spreads worldwide, the Billy Graham Rapid Response Team (RRT) is encouraging its global network of 2,000-plus chaplains to pray over the pandemic and look for ways to serve their communities. In the midst of this new kind of crisis, dozens of trained chaplains are still offering care at natural and man-made disasters, including tornado-ravaged Nashville, Tennessee.
On Friday, chaplains Ken and Stacey Williamson were preparing to serve at the Billy Graham Library when they came across someone who had recently suffered a panic attack out of fear of the coronavirus. The couple was able to uplift them, ensuring them that God offers a peace that surpasses all understanding.
Be encouraged by Billy Graham chaplains' words of wisdom, along with Bible verses they're meditating on in the midst of global fear:
Obviously, this has escalated extremely quickly here in the United States and around the world. As believers, we're commanded and reminded God has not given us a spirit of fear, but of power, love and sound mind. Certainly, we should use precaution and follow authority, but remember God is ultimately on His throne. We don't have to cave to daily living in worry and anxiety, but trust Him.

This is a great opportunity for the church to rise up and talk to people who are scared and share the hope we have in Jesus Christ. As this spreads, this isn't a deployment in a typical sense but we have chaplains everywhere trained to engage with people going through crisis. Our prayer is our chaplains who live all over the world will be prepared and look for opportunities each day to put into practice what we've been trained to do.
—Josh Holland of Charlotte, North Carolina | Assistant director of the RRT
We are God's children, and like our children on earth, we have to walk through hard times sometimes. Just like we're always with them, He's with us—going through this with us—100 percent. Nothing is passing by Him. He knows. I have full trust regardless what happens with the coronavirus crisis that believers are children of God and need to have no fear.

As a medical professional, what [government leaders are] putting in place is absolutely the right thing to do, … [and] it's so important for people to stick with the rules and precautions put out by the CDC and World Health Organization.

As believers, when we see crises happening like this, we need to say, 'How can I use this to further the Gospel with those who don't know God?' This is not like a tornado or hurricane, but in a sense it's the same kind of setting for people's hearts and souls. If we don't take this opportunity to share hope and be calm, we're missing a big opportunity. What the evil one intends for bad, God can turn around and use it for good.
—Anika Magwood of Jacksonville, Florida | Nurse, former microbiology lab technician and infection control practitioner | Key Verse: Psalm 145:1-3
This is an encouragement to me that God is coming soon and it's a reminder of how quickly things can change in an instant. The whole world has been affected by this. Nations have shut down. People can't travel. Industries are going broke. It's an awakening for those who have no hope. In good times, we're all about God, but when hard times hit, it stops us for a moment and we have to contemplate where we are, where we're going and what's going to happen in the future.

We're sinners and have a sin virus. The only thing that can help us is the Word of God, be faithful and be in prayer. That's our remedy, our antidote on this side of heaven.
—Chuck Bender of San Juan Capistrano, California | Former firefighter | Key Verse: John 16:33
We were deployed in Pendleton, Oregon, … when they found a person with symptoms of the coronavirus [one of the first areas the virus reached in America].

Isaiah says no weapon formed against me shall prosper. Is this a weapon formed against us? I don't know. I do know we have to take precautions—use proper hygiene techniques and don't fear. God is not the author of fear.

People are [now] more receptive to prayer. We have to be ready to pray at a moment's notice. If we put Christ first, this virus will be defeated.
—Leo Grabowski of Fort Mill, South Carolina | Former Marine | Key Verse: Isaiah 32:18
Have you placed your faith in Jesus Christ? Trust Him now.