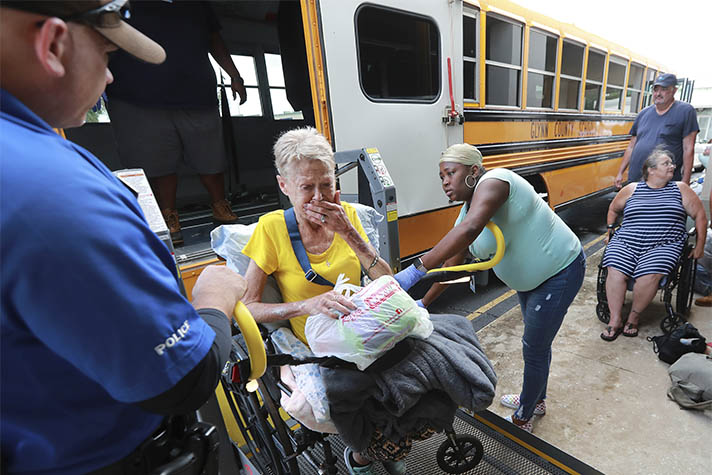 Millions across the Southeast are keeping a watchful eye on Hurricane Dorian after the storm made landfall in the Bahamas as a Category 5 on Sunday afternoon, killing at least seven people. While Dorian pounded the northwestern Bahamas for over 36 hours, life-threatening storm surges are possible as the storm slowly moves across Florida's east coast, where a hurricane warning has been issued.
Forecasts now say Hurricane Dorian may not directly hit the U.S. coast, but states of emergency are still in effect for all of Florida, North Carolina and South Carolina, along with a dozen counties in Georgia. Mandatory evacuations are underway in numerous areas of Florida, Georgia and the Carolinas.
"As Hurricane Dorian continues to bash the Bahamas on its path north toward the U.S., reports say the devastation there is unprecedented with thousands of homes damaged or destroyed," Franklin Graham posted on social media Monday.
"Pray for residents in the Bahamas as the flooding and high winds continue—and pray for all those in Dorian's path." Graham is president of the Billy Graham Evangelistic Association and Samaritan's Purse.
Ready to respond with emotional and spiritual care, the Billy Graham Rapid Response Team (RRT) is monitoring the massive storm, reaching out to contacts from previous deployments in Florida. Chaplains have also been in touch with church leaders in the Bahama island of Nassau.
Dorian first hit the U.S. Virgin Islands as a Category 1 hurricane Wednesday. The following day, Florida Gov. Ron DeSantis declared a state of emergency for all of its 67 counties due to the encroaching storm. By Tuesday evening, the storm was less than 100 miles from the Florida coast and dropped to a Category 2 storm with 110 mph winds.
Consequently, the RRT has notified its chaplain coordinators in Florida to standby, and has prepared Mobile Ministry Centers to travel from their headquarters at the Billy Graham Evangelistic Association (BGEA) in Charlotte, North Carolina, to partner with local churches in affected cities. During deployments, these vehicles serve as a safe haven for the community, where chaplains can offer a ministry of presence. For the past two years, they've deployed these vehicles and crisis-trained chaplains to Florida, caring for residents facing the aftermath of hurricanes Irma and Michael.
Steve Rhoads, BGEA vice president of church ministry, recognizes that the love and compassion of God can be displayed through the body of Christ in the event of a hurricane or disaster. His team is building partnerships with Florida churches for the upcoming Decision America Tour, a series of one-day evangelistic events led by Franklin Graham that will span from Panama City Beach to the Key West in January 2020.
"The truth is, wherever the storm hits, the ministry will respond to encourage the people of Florida," Rhoads said. "I'm praying for life to be protected."
Please keep all those in the path of Dorian in your prayers.