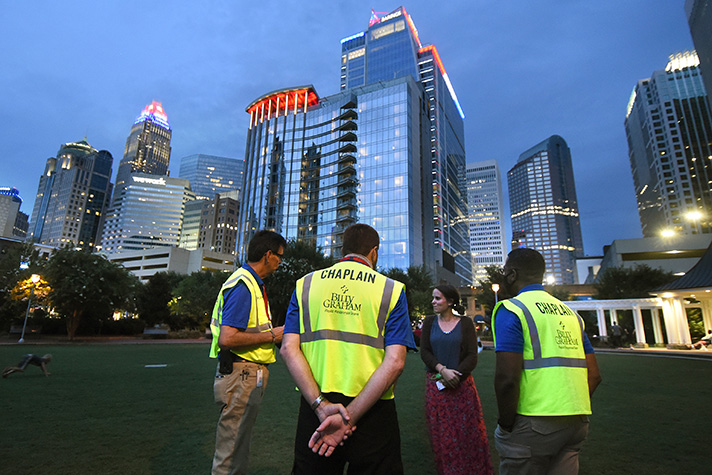 The Billy Graham Rapid Response Team (RRT) is offering a ministry of presence in downtown Charlotte, North Carolina, where the Republican National Convention (RNC) was held on Monday. They'll return to the same streets tonight.
"Over the weekend, there were some arrests over protests turning in a not-so-good direction," RRT Assistant Director Josh Holland explained, referring to demonstrators turning to violence. "With what happened, we feel we want to have a few chaplains out."
Known for responding to both man-made and natural disasters, the Rapid Response Team has sent several crisis-trained chaplains to offer hope and prayer along the city streets.
Initially, the team planned to deploy a large group of chaplains to encourage prayer this week in Charlotte, where the Billy Graham Evangelistic Association is headquartered. Due to COVID-19 and the downsizing of the RNC, the team's plans changed but their mission remains.
"Our desire for our home city is to share the light and hope and the glorious Gospel of Jesus Christ," said Kevin Williams, RRT's emergency response logistics manager. "As always, for us there's no partiality. Everyone gets the same love of the Lord Christ that will be on the streets."
Over the past few months, Williams has walked these streets numerous times while offering comfort and prayers to protesters following George Floyd's death—and this week, he's once again on the ground serving his community.
"This is an opportunity to have a presence on the streets for whoever," Holland added. "There's a lot of different opinions or trains of thought. Our message is what it always is: God loves you."