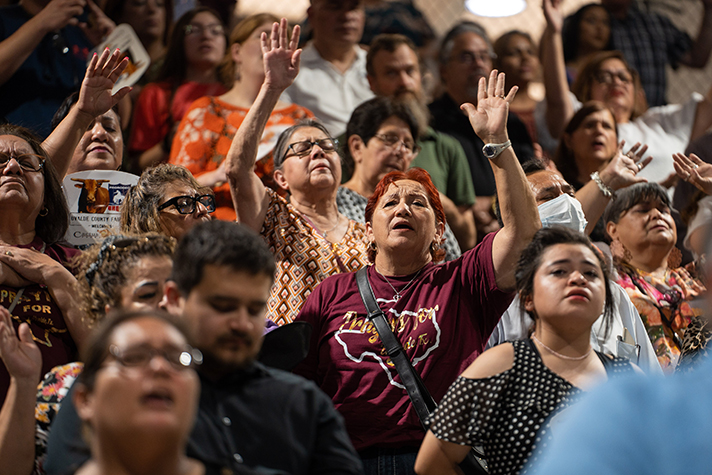 It's been just over two weeks since the deadliest school shooting in Texas history, and the city of Uvalde is still coming to grips with a tragedy that has changed this community forever.
Hundreds of people come every day from different parts of the state—and across the country—to pay their respects at memorial crosses set up outside Robb Elementary School and at the town square. Flowers and toys pile up in such a way that it's almost impossible to get near them.
"You can feel depression and sadness everywhere here in our town. Sometimes we feel like we just want to get out of here. We need to hear something other than the news. We needed desperately a true word of hope," shared Eva Martinez.
On Sunday, the Billy Graham Evangelistic Association (BGEA) and five-time Latin Grammy Award winner Marcos Witt joined together to bring a free concert to Uvalde that would encourage believers and allow hundreds to hear the Gospel.
>>PHOTOS: A Night of Healing in Uvalde
Before heading to the Fairplex Arena, Witt and his wife Miriam wanted to visit the memorial outside Robb Elementary and pay their respects by leaving a rose in front of each cross set up for the victims.
They couldn't hold back their tears.
"The emotion just overtook me," he shared later. "The lives of those little ones … it is so hard."
Witt knew this would be a concert unlike any other.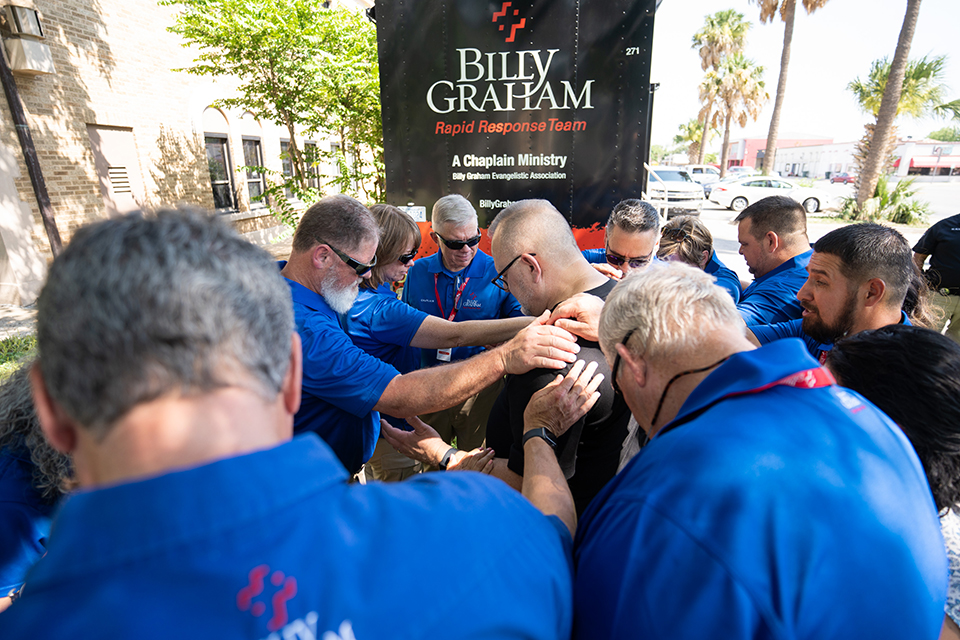 The mother and grandmother of a child whose precious life was lost in the shooting attended the concert.
"At the end of the concert, the grandmother wanted to walk to the front because she needed prayer," shared Pastor Neftali Barboza. "She didn't want to talk much, which is very understandable. She just said that her family was very sad and they needed prayer. But we don't know if they were believers. This might have been the first time that they heard the Gospel."
Even believers needed to hear a message that would help them to reaffirm their faith.
"We come with our arms open wide to encourage you, to hug you," Witt told pastors in Uvalde at a meeting before the concert. "We are here to pray that the Holy Spirit would blow life in each of you. We are here to tell you that God loves you."
Uvalde is 82 percent Hispanic, and a good percentage of the population speaks Spanish. The concert and meetings were held mostly in Spanish, with some parts translated into English.
"It is my prayer that the weight of the glory of God descends on this Fairplex Arena," Witt said.
Accompanied only by his piano and the Holy Spirit, Witt stood onstage wearing black to show respect to the grieving.
As the music began, people recognized the song after just two notes. "Temprano yo te buscaré… ." It was the very music that has held many of them throughout decades of growth in their faith.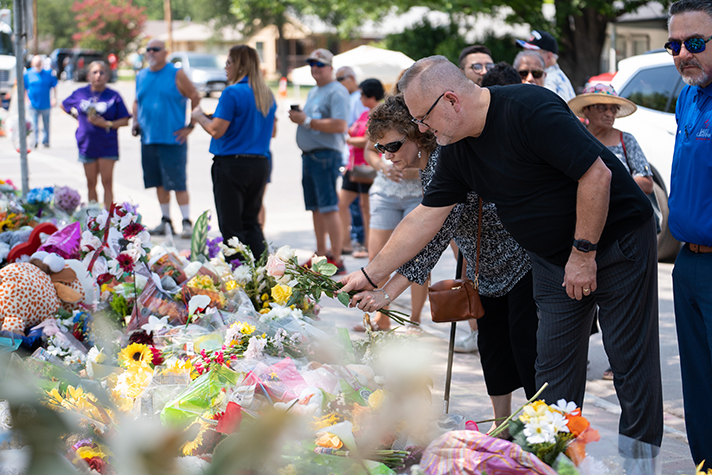 "Even in the midst of pain and sorrow, we know that God is with us," said Pastor Barboza as he welcomed the people to the concert. The crowd responded with a cheerful noise that revealed how they are holding onto their faith even as tragedy overcame their town.
"Father, we come before you as our Creator. Father, you know us better than we know ourselves, and you know exactly what we need," Barboza prayed. "So Father, would you descend over your people? We need the comfort, the peace and the hope that only you can bring."
"Tonight I'm here to praise God," shared Witt from the stage, "because the Word of God says that when we praise, the Lord comes and dwells among us. And the Lord put this word in my heart: 'Perfect love casts out fear.' And we all know that God is love, so God can and will cast out the fear from Uvalde."
Miriam Witt went up to the stage and invited people to join her in a prayer she wrote for Uvalde. She read in English, and Marcos translated into Spanish.
Franklin Graham wasn't able to attend the event, but he addressed the people of Uvalde through a video.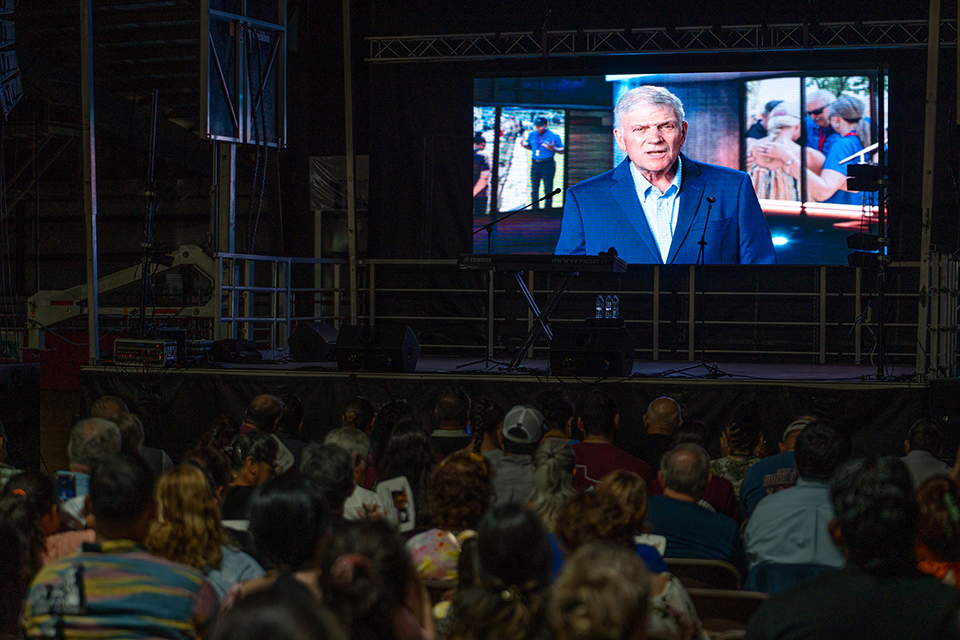 Graham shared the hope that can be found only in Jesus Christ by saying: "For those who put their faith and trust in Jesus, the future doesn't end in the grave. The future for them is in the presence of God for eternity. Jesus conquered the grave. If you have never trusted Jesus as your Savior, you can do that today."
Facing Hard Questions
A few hours before the event, Marcos Witt held a prayer meeting with Billy Graham chaplains in front of Uvalde Town Square, one of the locations where chaplains have been tirelessly ministering ever since the day of the shooting.
"Thank you, Father, for the privilege you've given my brothers and sisters to be the hands and the feet of Jesus," Witt prayed. "We thank you for the honor you've given them to minister to thousands of people here in Uvalde."
Before leaving, Witt also encouraged Uvalde pastors who will continue facing challenges in the months to come.
"The people of Uvalde will need to be hugged and loved again whenever the time to go back to school gets closer," he said. "And pastor, let me tell you something: Don't be afraid to say that you don't know. When things like this happen, people come to us with really hard questions, and it is very valid for us to answer 'I don't know.'
"There are things that we will not know until we get to glory. But right now, let's focus on telling people what we do know: that God let His own Son die for the sins of the world."
Following the concert, Juan and Lupita Vazquez prayed with chaplain Rosemary Morales. Afterwards, Juan shared, "I've been fighting depression, but tonight I brought my burden before Jesus, and now I feel that that weight has been lifted. It's gone."