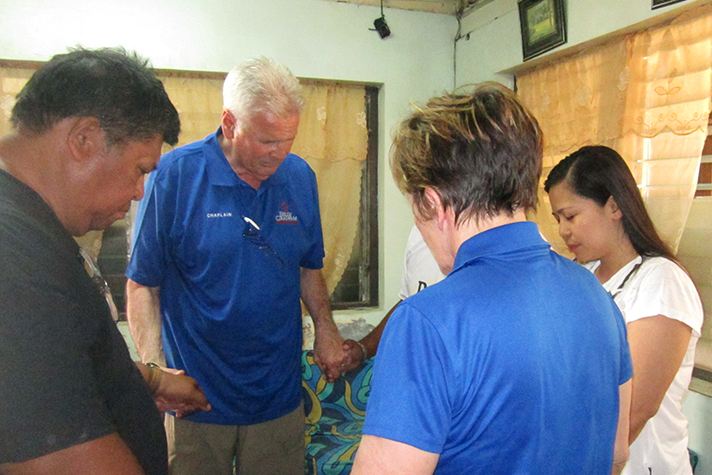 When Barb and Leo Grabowski finally arrived in Cebu City in the central Philippines—starting their journey in Charlotte, N.C.,—finding ministry opportunities wasn't the first thing on their minds.
"We were like zombies," Barb said.
But ministry found them anyway.
Once the taxi cab driver taking the Rapid Response Team chaplains from the airport to the hotel found out they were from the Billy Graham Evangelistic Association, he started sharing his heart.
"He saw the Billy Graham name and the cab driver starts talking to us," Leo said. "He said, 'I used to be a Christian, but I've fallen away from God.'"
Sleep deprived or not, the chaplains weren't about to miss an opportunity to share the Good News of God's love.
And before they arrived at the hotel, the taxi driver, broken, asked Barb and Leo: "Can you pray with me so I can accept Jesus again?"
The spiritual climate in and around Cebu City has spiked since November's devastating Super Typhoon Haiyan (known as Yolanda in the Philippines), responsible for at least 6,268 deaths and the displacement of over a million people.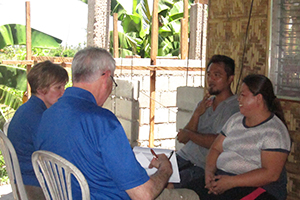 "The typhoon lasted for four hours (over land)," Leo said, "With over 300-kilometer winds. That's stronger than Katrina."
The 195-mph sustained winds ranked Haiyan as one of just four recorded tropical cyclones worldwide to top 190 mph. And Haiyan's longevity—48 consecutive hours as a Category 5 storm—turned the Philippines into a near-frenzy from Nov. 6-8, 2013.
But since that tumultuous experience, Filipino people are come to grips with their own mortality.
"They're more aware that they're going to have to stand in front of a sinless God one day soon," Leo said. "They're looking for God. Churches are doubling or tripling."
And that's added pressure for pastors already dealing with extra difficulties of serving congregations with expanded physical needs.
"Normal pastor tensions and situations have been multiplied," Leo said, "because most of the people that go to the churches have homes that have been destroyed."
And complicating matters is that many of the churches are partially or totally destroyed. "Some of the pastors have had church members come over to their house to have church," Barb said.
Since arriving the first week of May, Barb and Leo have traveled around the Cebu City area, visiting and praying with pastors. These 20 church leaders had expressed need for follow-up care at a Grief and Crisis training held by Rapid Response Team international director Jack Munday at the request of local churches.
It's part of a seven-month commitment by the BGEA to help encourage and minister to pastors and those hurting in central Philippines.
"They were relieved when we told them that the people from the BGEA care about the people and care about the pastors," Leo said. "The pastors couldn't believe we came just to see them. Several of them got emotional and shed some tears of joy and hope."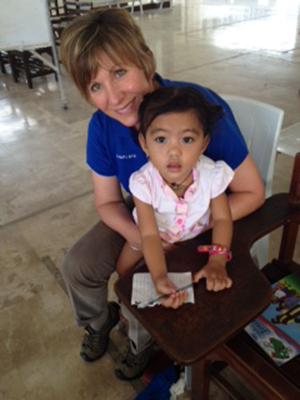 And after all, spreading the hope of Christ is the core of the Rapid Response Team's ministry in the Philippines. That's why Barb and Leo left the comfort of their South Carolina home to travel to Cebu City, then to Tacloban (Saturday), the city of 250,00 hit hardest by the typhoon—over 6,000 deaths—after experiencing a 13-foot high storm surge similar to a tsunami.
"Samaritan's Purse has a base set up there," Leo said. "They have their own lumber yard, taking coconut trees destroyed by the storm and building homes with it."
After two weeks of ministry in Tacloban, the Grabowskis will come back to Cebu City to hold a Grief and Crisis seminar before traveling to Bantanyan, where the eye of Haiyan passed over.  A second set of crisis-trained chaplains will take over at the end of June with other chaplains continuing ministry past the one-year anniversary mark.
"We're focusing on anyone and everyone, but we're directing our efforts toward [encouraging] the pastors," Barb said.
In the two weeks since they arrived, Barb and Leo were invited to be a part of the Will Graham Celebration launch event, where seven Celebration committee members gathered to dedicate and pray for the March 2015 evangelistic outreach, featuring the grandson of Billy Graham.
The couple also helped serve at a vacation Bible school event where 35 children had just completed The Greatest Journey curriculum after receiving Operation Christmas Child shoeboxes.
Six children and 10 of the 20 adults attending the event prayed to receive Christ.
"People are hungering for answers and they're finding it in Jesus Christ," Leo said.
The Billy Graham Rapid Response Team is a network of Christian chaplains across 48 states, specifically trained to deal with crisis situations. Since the ministry was launched in the aftermath of 9/11, it has responded to more than 175 disasters.