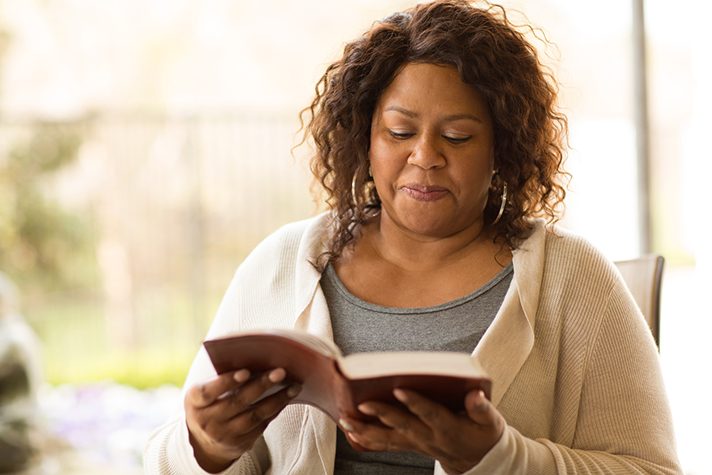 With winter comes shorter days, less sunshine, cold weather, and seasonal blues. Has it started to wear on you?
As in many different areas of life, God's Word has encouragement.
Open your Bible to the center and you'll find the Psalms. These lyrical pieces written by several authors, including King David, are songs to God. Some are full of rejoicing, others are songs of lament where authors poured their hearts out to God.
If this winter has you feeling discouraged, take time to read and think about the truths of these three specific Psalms. They are raw and real and you might find hope in their words.
Psalm 18: The Lord Walks Beside You
Do you ever feel alone, facing struggles that seem too big to handle?
David—the shepherd who became a great warrior king of Israel—wrote Psalm 18 to celebrate how God kept him safe throughout many battles and showed His love for His people.
"For by you I can run against a troop, and by my God I can leap over a wall," he wrote. "This God—his way is perfect; the word of the Lord proves true; he is a shield for all those who take refuge in him" (Psalm 18:29–30, ESV).
This idea is echoed in Psalm 27, "The Lord is my light and my salvation; whom shall I fear? The Lord is the stronghold of my life; of whom shall I be afraid?" (ESV).
If you've come to believe and trust in Jesus Christ, then He is with you. No matter what you go through, He never leaves you.
"When we focus on the things of this world … we get discouraged, fearful, and angry. … But when we focus on Jesus, on our understanding that He is victorious (and we are victorious in Him), and on the promise that He will work all things for good (Romans 8:28), then we can have hope."
—Will Graham
>>Find encouragement in Scripture with this Bible study from Anne Graham Lotz.
Psalm 8: The Lord Has Done Great Things 
If you're feeling discouraged, sometimes it helps to remember who God is and what He has done. Try looking around at creation.
In Psalm 8, the psalmist marvels at what God has made, and how small mankind is: "When I look at your heavens, the work of your fingers, the moon and the stars, which you have set in place, what is man that you are mindful of him, and the son of man that you care for him?" (Psalm 8:3–4, ESV).
Do you see the author's point? When you look at the world God created, from the great expanse of the universe to the intricacy of DNA, it can bring you to worship. "The Bible tells us that God is so great that He is concerned about even the smallest part of His creation—including us," Billy Graham said.
God is so great, and mankind is so small and yet, He still chose to come to save you from sin.
"But God, being rich in mercy, because of the great love with which he loved us, even when we were dead in our trespasses, made us alive together with Christ—by grace you have been saved" (Ephesians 2:4–5, ESV).
>>Does God care about what happens on Earth? Read Billy Graham's answer.
Psalm 23: The Lord Is Your Shepherd
Often the Bible uses the analogy of God as a Shepherd and His children as sheep. Jesus declared, "I am the good shepherd" (John 10:11, ESV).
A shepherd cares for his sheep, watching them, leading them to water, showing them the best pastures. And God does the same for you—He cares.
That's what Psalm 23 is all about: "The Lord is my shepherd; I shall not want. He makes me lie down in green pastures. He leads me beside still waters. He restores my soul. He leads me in paths of righteousness for his name's sake" (Psalm 23:1–3, ESV).
When you find yourself worried or anxious, don't forget that God is a God who takes care of you.
Jesus said:
"Therefore I tell you, do not be anxious about your life, what you will eat or what you will drink, nor about your body, what you will put on. Is not life more than food, and the body more than clothing?

"Look at the birds of the air: they neither sow nor reap nor gather into barns, and yet your heavenly Father feeds them. Are you not of more value than they?" (Matthew 6:25–26, ESV).
>> Listen to Billy Graham explain how Jesus is the Good Shepherd.
So here's a challenge: when the winter weather gets you down, meditate on these reminders from God's Word.
The peace that comes from Him might just surprise you.
Want to learn more about God's peace? Read through 4 simple steps.