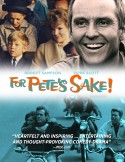 On a damp, gray Sunday afternoon, thousands of people gather in a Denver, Colorado, stadium. Quietly, they listen to evangelist Billy Graham talk about God's love for them. Moved by the message, the Harper family–like so many others–finds themselves going forward. What then?
This is the touching story of Pete (Robert Sampson, Falcon Crest, Hill Street Blues), Marge (Pippa Scott, Cold Turkey, The Searchers), and their young son, Ronnie Harper (Johnny Jensen, The Invaders, The Andy Griffith Show) – an uplifting drama about coming to terms with new faith in the midst of life's frustrations and even serious tragedy.
This DVD is only licensed for home use. For information on public-showing rights, please call 1-800-733-4997.
Length: 108 minutes
Cast: Robert Sampson, Pippa Scott, Johnny Jensen
Rating: None
Production Team: World Wide Pictures
Year: 1966