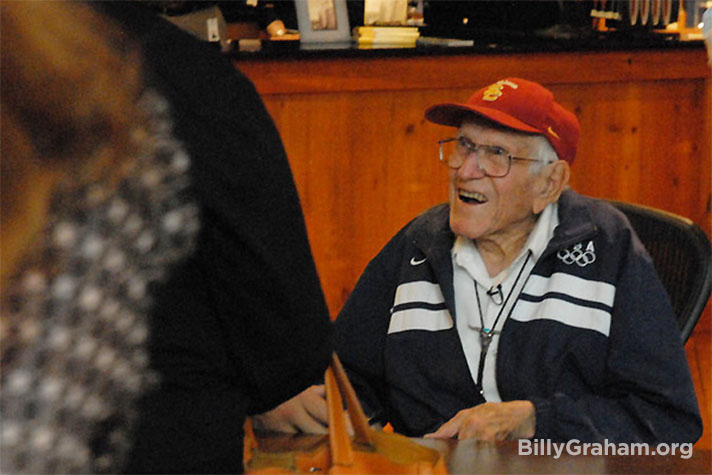 He came to get his quarter back from Louis Zamperini.
Tom Guy, wingman to torpedo bomber pilot Ray Hawkins, shelled out his own money for a pack of cigarettes the morning of August 20, 1945. "But Ray dropped my cigarettes and a candy bar down to the POW camp where Zamperini was held," said Guy, one of hundreds who visited the Billy Graham Library today.
They came to meet the man at the focal point of one of the most extraordinary odysseys of World War II. Unbroken—written by Laura Hillenbrand—tells the story of Louis Zamperini's remarkable journey from Olympic runner to World War II prisoner of war—and what happened when the war hero wandered into a tent outside downtown Los Angeles in 1949.
Some of the Library visitors, like 88-year-old Tom Guy, had a personal connection with the New York Times bestselling book. "Look at page 307," he said. "My buddy Ray Hawkins flew over the camp that day to let the POWs know the war had ended. Along with a note, he threw down my cigarettes.
"Now I want my money back," Guy said, laughing.
In her trademark descriptive style, Hillenbrand describes the moment:
Hawkins dropped two gifts: a candy bar with a bite taken out of it and a twenty-count packet of cigarettes with one missing. Fitzgerald had the candy bar sliced into seven hundred slivers, and each man licked a finger, dabbed it on his bit of chocolate, and put it in his mouth. Louie's portion was the size of an ant. Then Fitzgerald had the men form 19 circles, each of which received one cigarette. Each man got one delectable puff.
It is this attention to detail that draws readers into the story and stirs emotions.
"When I was reading the spots where he is tortured, it's almost like closing your eyes during the scary part of a movie!" said 32-year old Stephanie. "I actually felt afraid."
For Cliff Broome, the emotion was anger. "It's one of the greatest books I've ever read," said the World War II veteran who was stationed in Saipan, the largest island of the Northern Mariana Islands, just south of Iwo Jima.
"There's a part in there where this Japanese corporal is beating the daylight out of Zamperini and I got so angry. I visualized myself in his place," said Broome. "I had to ask for forgiveness from God for my anger, just like Zamperini did."
Broome has a special connection with another character in Unbroken. He went to Central High School the same time that Billy Graham did. "We are the same age: 92. My dad and mother on Sundays would take my sister and brother and me out for a ride, and we'd always go past Billy Graham's farm to see the animals."
Not all the Library visitors were war veterans. Quite a few teens came out for the book signing. Fourteen-year-old Will called Unbroken "one of the best books I have ever read. His story is really amazing. I especially liked it because he was an Olympian." Jason's 12-year-old brother Charlie said he was fascinated by Zamperini's encounter with Hitler.
Their mother, Elizabeth Tracy, said she appreciated the book's surprise Gospel presentation. "I heard about the book for the first time on NPR, and I didn't even know the salvation story was in there. They never mentioned it. We got it because we love history.
"Zamperini's testimony was a hidden gift," said Elizabeth, who came with the boys' grandmother Dorothea. "When I read that, I thought, "Who can I introduce this book to who might not be saved but who likes history?'
"How many people can identify with Zamperini's initial thought: 'I am a good person; I don't need to be saved?' Elizabeth added.
Zac, who is 16, hasn't yet read Unbroken, but wanted to get it signed for his dad this Father's Day because he's always been "a huge World War II fan and Zamperini is a Christian.
"I love coming to the Billy Graham Library," he added. "I don't mind standing in the sun by myself for few hours. My dad, Louis and Billy are men that I admire and can try to be like."