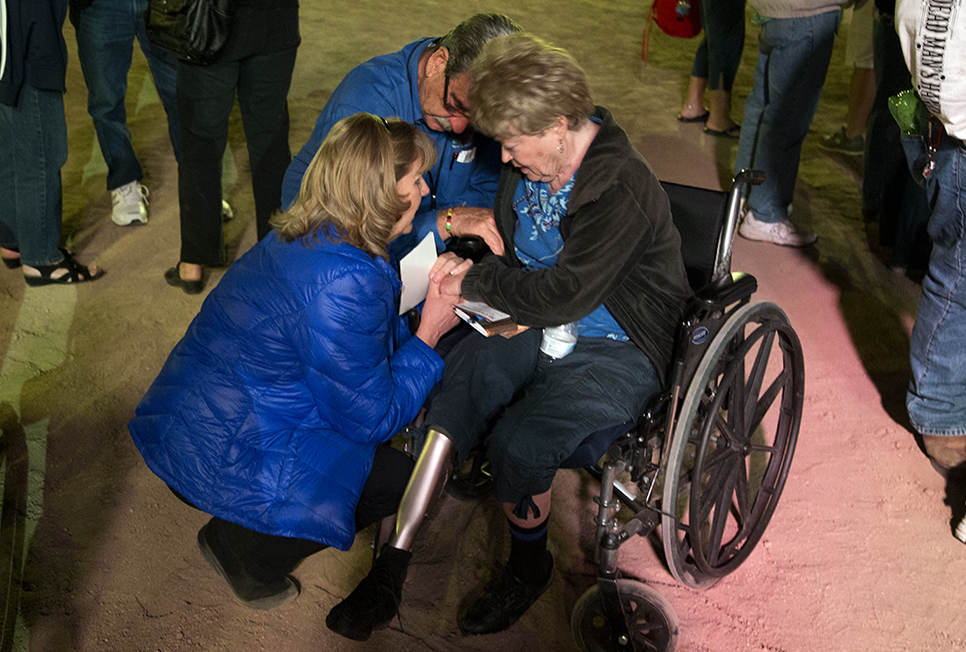 The final song has played, the closing prayer has been prayed and the dust has officially settled on the Rodeo Grounds at SARA Park in Lake Havasu City, Arizona. God has moved in amazing ways, and for many, that movement started the moment they simply accepted an invitation to attend Sunday's Colorado River Celebration.
Julie Arnberger was one such invitee. And on Sunday, she chose to go forward to rededicate her life to Christ after Will Graham extended the opportunity.
"It means everything," Julie, age 70. "I just want to do the right thing. I want to be closer to God."
It hasn't been easy for Julie, who suffers from arthritis and lost her leg recently after several complicated surgeries. She attends church where she lives in Kansas, but this weekend she just happened to be visiting her son, Tory Caron. He invited her to attend the Colorado River Celebration. She said yes.
So simple, and yet so life-changing.
Saying yes made all the difference for Julie and many others this weekend. Bringing a friend is at the backbone of Will Graham's Celebrations, and he urged people nightly to bring someone the following day. On Sunday, the final night of the three-day event, he pleaded with those who made decisions for Christ to tell their friends. If they weren't comfortable sharing, get your pastor involved, Will encouraged.
Prior to the Celebration, director Sam Hardy stressed that bringing unchurched people to the events was the only thing that would keep the three-day event from being "just a party in the desert."
People have to be aware of their need for Jesus, and Will Graham used a message on loneliness to make that point.
Over three nights, more than 5,000 came to the Rodeo Grounds and heard the Good News. That audience was more than doubled when factoring an online audience watching around the world in 56 countries.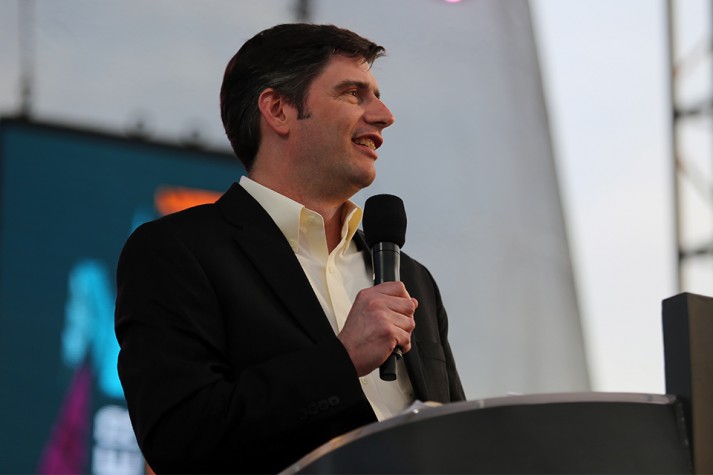 On Sunday, Will Graham covered the topic of loneliness by sharing lessons learned from his grandfather, Billy Graham, and reviewing a variety of Bible verses. He pulled his first Scripture reference from John 5. This paralytic man, he told the crowd, had nobody to help him into the water for washing, so he sat there day after day waiting his turn.
"The paralytic man was in the midst of a multitude, but yet he had no one," Will Graham said. "This man had no family, no friends, no one wanted to help, and maybe that's how you feel in your life right now. You feel all alone. You might be in the midst of this crowd tonight but you feel all alone."
God knows loneliness, Will Graham assured the crowd. And He wants to change that in your life tonight, he urged.
"When you feel your heart pounding inside you, that's God knocking on the door," Will Graham told the crowd. "Open that door to God. Let Him in your life."
Julie heard God through the music and the message. The worship music, brought by the Jason Lovins Band and Aaron Shust, ultimately brought her to her feet, despite the fact she's mostly wheelchair bound.
"With all the suffering she's been through and she was doing the worship," Tory said. "She stood up on the railing for the songs. Five months ago, she had no [prosthetic] leg. She couldn't stand at all."
Still, through all of his mother's pain and suffering—arthritis, heart surgery, the loss of her leg—"she's never complained," he said.
Sunday, the joy of Jesus also shone on Julie's face after she came forward. Her son, who was nearby counseling others who came down, was beaming.
It's been quite a week for Tory, who also attended Saturday's Celebration geared toward students. He originally invited three youth groups from local churches to attend the Saturday night student-driven Celebration. When two of the big youth groups backed out, the invitations were redirected to neighborhood kids, who Tory said, "came out of the woodwork."
That night, after jamming out with Flame and hearing a message from Will Graham, many of the unchurched youth came forward to accept Christ—a choice they were presented with simply because Tory's church cared enough to invite them.
So when his mother, another person he invited, came forward, he was blown away.
"Ever had a week where it's like 'I can't take any more blessings?,'" Tory asked, a smile spread wide across his face. "It doesn't make sense, but that's this week.
"My heart is so overjoyed that I can't stop weeping."