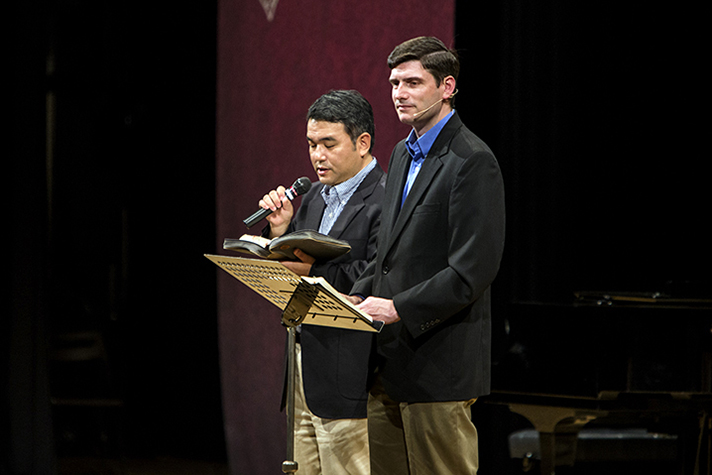 Into this seemingly dark situation, the hope of Jesus was shared with the 3,181 Japanese in attendance at the two-day Celebration of Hope Fukushima with Will Graham, and 188 came forward at the invitation to commit their lives to Christ. Prior to the event there were only a reported 4,100 Christians in the entire prefecture of Fukushima.
Seventy area churches – including 26 from the host city of Koriyama, and 44 from other locations in Fukushima prefecture – partnered together with the Billy Graham Evangelistic Association to host the event inside the College Memorial Hall on the campus of Koriyama Women's University.
See Photos of Will Graham Celebrations in Fukushima, Tokyo
On March 11, 2011, the prefecture of Fukushima became known to the world. A 9.0 magnitude earthquake rocked the area, followed by a deadly tsunami which swept away houses and claimed the lives of more than 15,000 Japanese. The subsequent meltdown of the Fukushima Daiichi Nuclear Power Plant released radiation into the air and water, driving people from their homes.
"I know that you've experienced a lot of turmoil. I can tell you this, there's a God that understands. He sees you and knows you right now," said evangelist Will Graham to the amassed crowd. "Tonight I want you to know that Jesus Christ loves you. He wants to give you a new beginning; a fresh life."
As people responded to the invitation, Pastor Ken Sato of the United Church of Christ in Japan wiped tears from his eyes. He held out his hands and started counting on his fingers. "When I got saved many years ago, you could almost count the people that were saved. I'm really moved by how people have come to know Jesus. In this land, this many people accepting Christ is unthinkable."
Following the Celebration of Hope, Graham made his way south to Tokyo and shared the Gospel with a capacity crowd of 2,000 at a one-day event called the Celebration of Love. 
Recognizing that many in Japan are not opposed to Christianity, but rather have a lack of understanding of who Jesus is, area Christian leaders developed a program that seamlessly interwove popular musical artists with video and Bible passages to introduce the audience to the person of Jesus Christ.
Graham then took the stage to share how people could have a relationship with Christ. "Jesus wants to give you joy and life and purpose and meaning. He wants to take the guilt and shame and bitterness out of your life. Ask God to forgive you of your sin, and ask Him to come into your life; to be the ruler of your life."
Graham's final 2013 event will take place in November in Udon Thani, Thailand. Plans are currently in the works for Graham to return to Japan in March 2014 for a Celebration in Fukuoka, Japan. He also recently announced that he will hold the Central Mississippi Will Graham Celebration in Clinton, Miss., in March.
For more information on Will Graham, visit www.BillyGraham.org or www.WillGrahamCelebrations.org. He can also be followed on Facebook at www.Facebook.com/WillGraham4 and on Twitter at www.Twitter.com/TellaGraham.