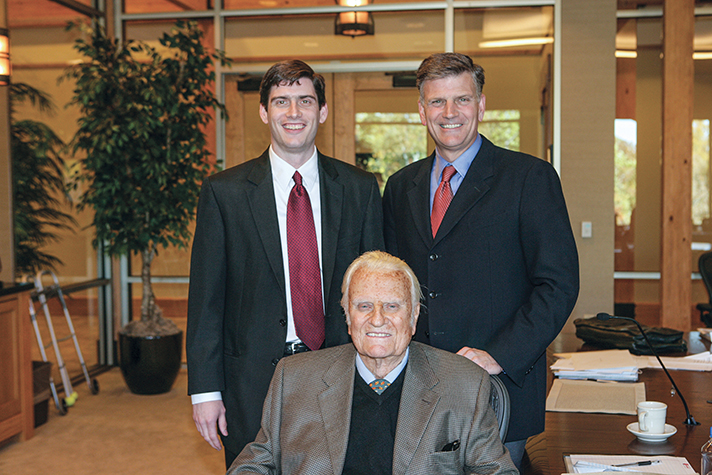 "And these words which I command you today shall be in your heart. You shall teach them diligently to your children, and shall talk of them when you sit in your house, when you walk by the way, when you lie down, and when you rise up." —Deuteronomy 6:6–7 (NKJV)
I still remember the first time that I realized something was different about my family. I was in kindergarten at a public school in the mountains of North Carolina. My teacher put her hand on my shoulder and explained to another teacher, "This is Billy Graham's grandson." I remember wondering how she knew about my grandfather.
Of course, as the years progressed, I put things together. Especially when our favorite childhood show—The Dukes of Hazzard—was preempted. "Tonight's regularly scheduled program will not air," the voice would boom from the television. "Stay tuned for the Billy Graham Crusade."
My brothers and I would usually groan. We'd been good all week to earn that one half-hour of privileged television viewing, and we could usually see my grandfather whenever we wanted. Still, though, it was pretty fun seeing him on TV.
To be honest, there are some challenges that come with being the grandson of Billy Graham or the son of Franklin Graham. My life has been a bit like living in a fish bowl, with others watching you, waiting—perhaps hoping—that you'll slip up. There are those who dislike us simply because we stand on the Word of God and are not willing to bend a knee to this modern world.
But the benefits of growing up as a Graham far outweigh any challenges. I've walked through doors that I never could have opened myself. I've been given the opportunity to share the hope of Jesus Christ around the world, simply because of my family's lifelong efforts for the kingdom of God.
In particular, I'm incredibly thankful to have had the opportunity to learn from my father and grandfather—two godly men who have taught me so much about life, faith, and ministry.
In celebration of Father's Day, I've taken some time to consider how much I've learned from them.
1. Diligently protect your family. Since his birth, my father has lived with high expectations as the son of Billy Graham, and he was determined to not place a similar burden on his children. Rather, he shielded us from being pushed one direction or another by others. Interestingly, every one of us—his four children—are now serving in ministry. It might not have been that way had he not allowed us the freedom to choose.
2. Show compassion and love to others in Jesus' Name, sharing the Gospel at every opportunity. From the earliest age, I watched my father run toward tragedy, sorrow, and suffering. Through the two ministries he leads [the Billy Graham Evangelistic Association and Samaritan's Purse], he has preached the Gospel in countries many think of as unreachable, dug wells, built churches, constructed and staffed emergency hospitals, provided supplies for refugees, and restored storm-damaged homes.
My father taught me about boldness in sharing Jesus Christ at every opportunity. Somehow he works the Gospel message into every media interview and speaking engagement. The topic could be human rights in China, a cyclone in the Philippines, or politics in America, but he will always find a way to dovetail into the hope of Jesus Christ—that "God so loved the world that He gave His only begotten Son, that whoever believes in Him should not perish but have everlasting life" (John 3:16, NKJV).
My grandfather, Billy Graham, also taught me the importance of boldness, but in a slightly different way. One thing that sticks with me, in particular, was his boldness in his invitations.
While many evangelists will plead with the audience to respond and place their faith in Jesus Christ, my grandfather would simply preach the Word of God and then call people forward. And people responded. It wasn't because of anything he said or did, but it was because he spoke with the authority of Scripture.
3. Anchor every thought and action in prayer and Scripture. My grandfather unwaveringly stood firm on the Bible. He recognized that his words couldn't change anybody, but that the "word of God is living and powerful, and sharper than any two-edged sword, piercing even to the division of soul and spirit, and of joints and marrow, and is a discerner of the thoughts and intents of the heart" (Hebrews 4:12, NKJV).
I appreciate this more and more every day, as we watch so many Christians falling into Biblical illiteracy and compromising on the Scripture. Like my grandfather, we must cling to, read, study, proclaim, and anchor our souls in the Bible.
Finally, my grandfather deeply recognized the importance of prayer. He knew that prayer was the foundation of any evangelistic outreach. When he was invited to hold a Crusade in a city, his first question was, "Are the churches praying?"
Prayer prepares the spiritual ground so the Word can land on fertile soil. For as much as he prayed, my grandfather confided that he wished he had prayed more. "Pray. Pray. Pray," he told me. "I could have done so much more if I would have taken fewer speaking engagements and spent more time on my knees in prayer."
I've been so blessed by the legacy of faith in my family, and have been gifted incredible lessons and opportunities. I pray that I will always use both for the glory of God.
Put your faith and trust in a perfect, unfailing Heavenly Father today.