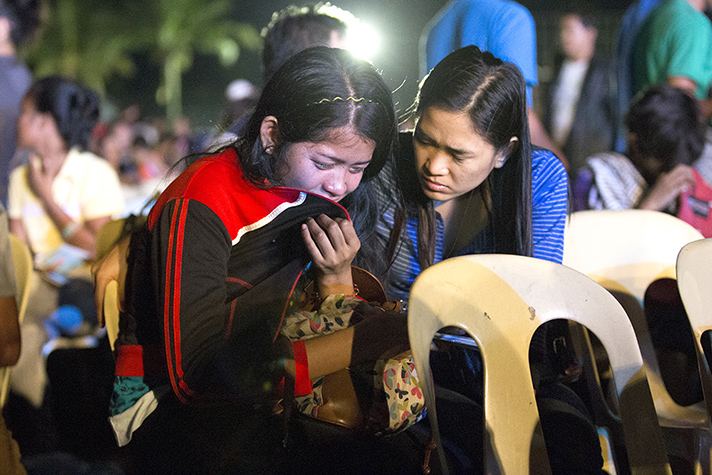 "The Filipino people are probably some of the happiest people in the world. They're very family oriented, jovial, exciting people to be around. When you're around Filipino people you're going to have a good time," said evangelist Will Graham the morning after the Greater Tacloban Celebration of Life.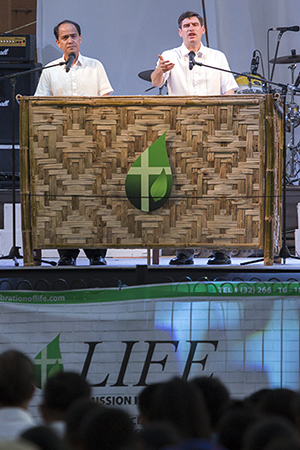 But as he looked out across the thousands of smiling faces in the audience, just hours earlier, it was also easy to discern the hopelessness and sadness that permeated the city of Tacloban. Just 17 months removed from Super Typhoon Yolanda, which caused unprecedented devastation and loss of life, the city appears to be on track for recovery.
But the souls of its inhabitants still ache for true joy and healing.
Will Graham saw that need first hand as he was given a tour of the city by local Christian leaders. He witnessed the squatter villages where mismatched and rusted pieces of tin and scraps of tarp were tacked together to form primitive housing. He saw where the surge of water decimated the tropical shoreline and everything in its wake. He walked along a massive steel ship that was picked up and dropped on dry land, still sitting where it landed in November 2013.
He met with Governor Leopoldo Dominico Petilla, of the Leyte Province earlier in the week.
"There's been a lot of construction, a lot of rebuilding, but there's been no spiritual rebuilding since the storm," Will Graham said.
Celebration of Life
Given this, the name of the event–The Greater Tacloban Celebration of Life–took on even more meaning. This wasn't just another church event. This was a true celebration of something incredibly important for those who weathered not only the storm, but also the dark days of no food, medicine or electricity, and the lengthy recovery that followed.
No one knew what to expect as the stage was erected inside the city's sports development complex, but in a city that had not previously had an evangelistic meeting, more than 14,300 people squeezed into plastic chairs inside the oval running track.
"We only offered hope," said Joe Kim, Billy Graham Evangelistic Association's resident director, who helped to guide the efforts in Tacloban. "We offered the hope of Jesus, and people responded."
Throughout his messages, Will Graham added a spiritual dimension to the physical suffering those in the audience had endured.
"Your city looks like it's being rebuilt after Typhoon Yolanda, but in your heart you're struggling. God wants to come into your life tonight and make you whole," he said Saturday night. "God wants to give you joy and purpose and peace. Despite your circumstances, God wants to work in your life tonight."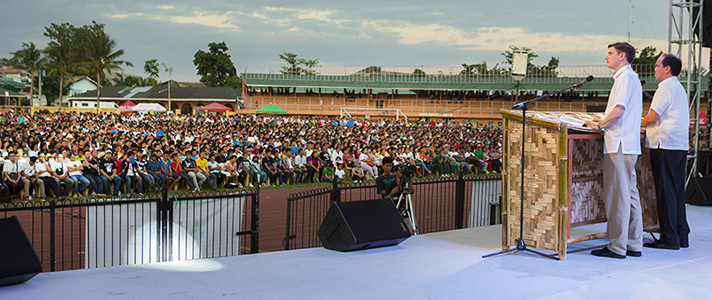 On Sunday, Will Graham emphatically proclaimed the sacrificial love of Jesus Christ: "We deserved death, but the Good News is that the Bible says that Jesus died on the cross in our place. Jesus died for you.
"If there's one thing I want you to know, it's that God loves you. You may doubt God's love, but the Bible is clear. God loves you."
Poignantly, Graham posed a direct question to the crowd: "What will you do with Jesus tonight?"
As the Celebration's worship leader, Mark Christian, sang "Jesus Paid it All," hundreds streamed forward to accept a new life in Christ. One local church leader remarked that he saw people running to the front to pray.
More than 2,600 people – nearly one out of every five in attendance – made a spiritual commitment to Jesus.
Among those who came forward was a security guard who saw the banner hanging outside and came in on his own, though he didn't know anybody else there.
"He just felt led here, went inside, and listened to the preaching of Will Graham," said Pastor Gamaliel S. Aliposa, of New Life Baptist Church, whose church member counseled the man. "After that, he came forward and surrendered his life to the Lord Jesus Christ. Simple as that."
Ramona Marquez's smile reached from ear to ear. She found Christ when Will's grandfather, Billy Graham, preached in Manila in 1977, and she was ecstatic to see and hear the next generation.
Her church, Palunpon Evangelical Church (some three hours away from Tacloban), brought 98 people to the Celebration in buses, and she had the opportunity to pray with one of the ladies from her group. "She accepted the Lord Jesus Christ," said Ramona. "I firmly believe that the Lord will open her heart."
As she parted, she beamed and said, "I was just excited to see the grandson. He sounds just like his grandfather."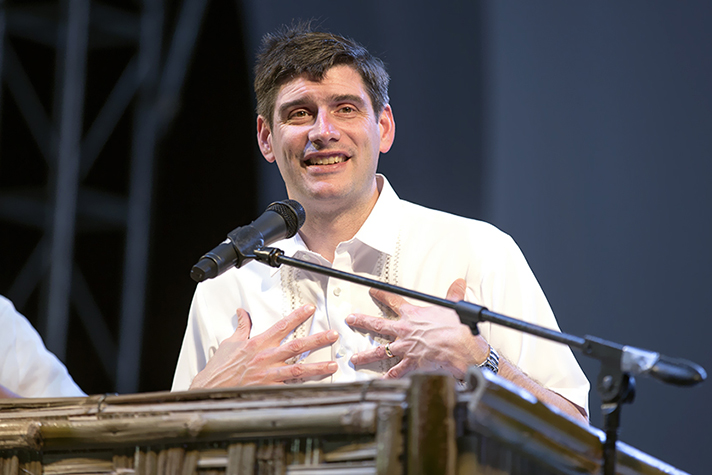 From Darkness to Light
Pastor Aliposa, who was in charge of transportation for the Celebration, wiped tears from his eyes as he spoke of the impact of the event in his area.
"During that time (of Yolanda) we cannot fully comprehend all the pain and loss that we had, but right now we're seeing a lot of blessings out of the darkness," he said.
"Seeing hundreds of people coming forward," Pastor Aliposa continued. "I said, 'Lord, Thank you so much for me being part of this event.' Praise God."
Pastor William Dy (pronounced Dee), of Tacloban Christian Church, echoed, "This is why we hold the Celebration of Life, and people will know that they need salvation through Christ himself.
"We are so happy about people coming to Christ. This is really something very, very precious to us that people now want to have this life."
For updates on the Cebu Celebration of Life on March 27-29, follow Will Graham on Facebook or Twitter.