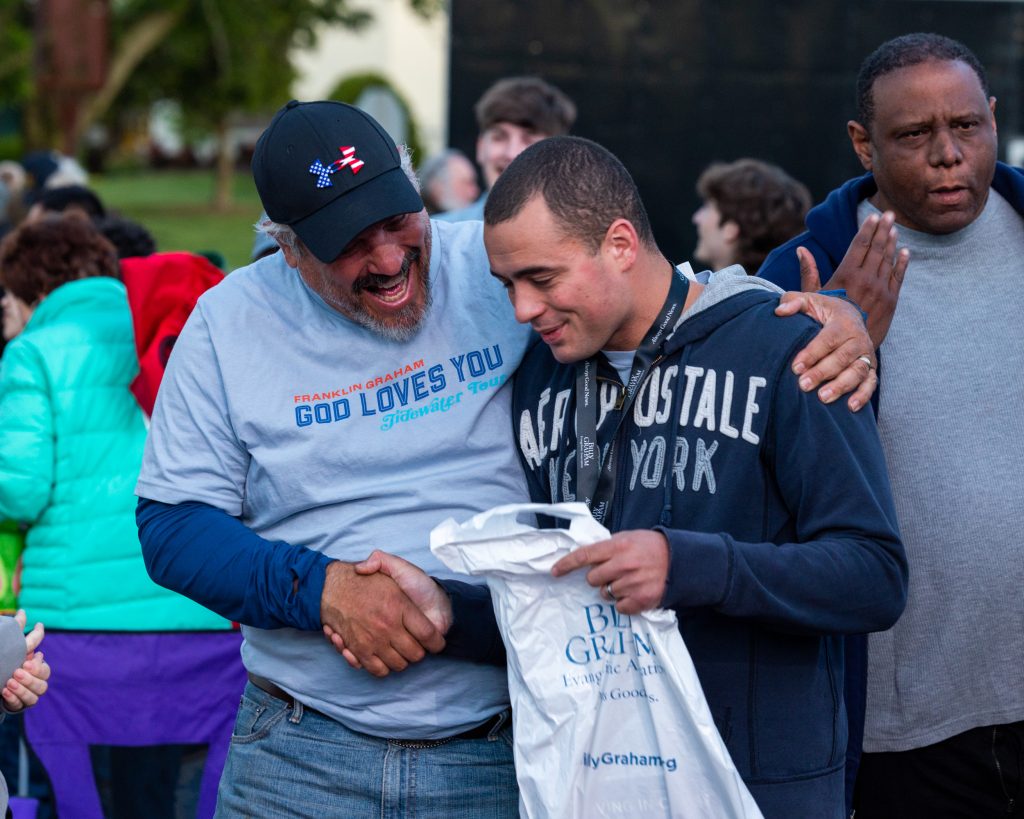 Residents of Salisbury, Maryland, make it a point to be kind. After all, their city was designated America's first "World Kindness City" four years ago.
Kindness, along with countless other attributes, reflect the heart of God. And on Thursday, Franklin Graham shared God's heart, about how much He cares for each one of the 6,800 people who came to the fourth stop of the God Loves You Tidewater Tour.
"God loves you and He sent His Son from Heaven to Earth for you," Franklin Graham preached. "Jesus Christ came to die for our sins. You've got to be willing to repent and to accept this and believe it by faith."
'It Was Time'
Among the thousands surrounding Salisbury's TidalHealth Stage was Shirley, a senior in her church who works as the treasurer.
One of her responsibilities is getting the church's mail, and when Shirley saw the card advertising the God Loves You Tour, she made sure her pastor was aware of the event.
A dozen members of her church came on Thursday night, and God moved directly in Shirley's heart through the preaching of Franklin Graham.
Though she had attended church for years, hearing the Good News "hit home" this time, and Shirley prayed in repentance and faith to follow Jesus Christ.
"It was time," she said, sharing world events are pointing to what the Bible describes as the end times.
"Christ is the only answer," she said, feeling relieved that she finally surrendered her heart to Jesus.
Also making a spiritual decision was an off-duty police officer of 30 years, who prayed with Franklin to receive Christ. He's been struggling due to the pressures and trauma of his work. As he listened to the message, he realized that he no longer had to carry these burdens alone.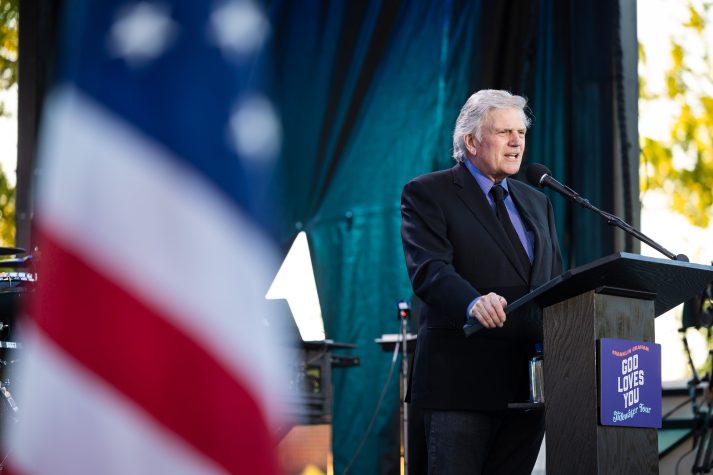 'You Are Loved by God'
Café owner Vicente Hernandez believes God loves him—with his whole heart. So much so, all his customers who order coffee or tea see their name and "You are loved" handwritten on each cup.
"It means we love you," Hernandez said, "but also that you are loved by God."
That message is woven throughout the café in hand-painted Scriptures, prayers, and dozens of photos of customers displayed on the exposed brick walls.
Not everyone has family, he explained. "I call it my family wall, so people have a place to belong."
Knowing more people would be welcomed into the family of God through Franklin Graham's message excited Hernandez, even though he heard about protests concerning the Salisbury stop.
"I heard about the pushback," he said. "I'm ready to have conversations with people who have other perspectives," Hernandez said, noting that believers are called to defend their faith. "If you tell people God loves them and they don't agree, we need to still love on them.
"That's the heart of Jesus."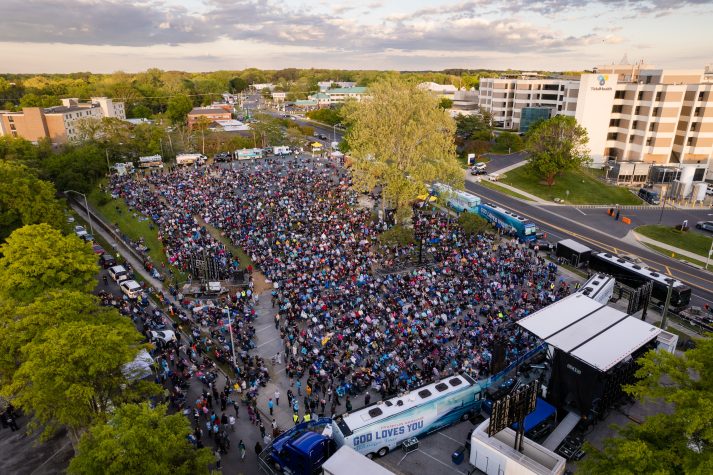 'The Favor of God Is Still Working'
Newlyweds Jakob and Jordi Kellett were among thousands who heard how Jesus is for us, not against us.
"Jesus came on a rescue mission to save sinners," said Franklin Graham. "He didn't come to condemn us, He came to save us."
The Kelletts' church has been involved in the tour and Jordi was excited so many came out to hear Franklin Graham's message, along with music from Newsboys, Marcos Witt, and Dennis Agajanian.
 "It's good to see some fresh faces," she said.
I'm excited to see what God does because the kingdom of Heaven is so much bigger than just one church," Jakob added. "With everything going on in our country, it's encouraging to see the favor of God still working in our city."
Please pray for the God Loves You Tidewater Tour, which continues through Sunday. The next stop is in Portsmouth, Va., on Saturday.