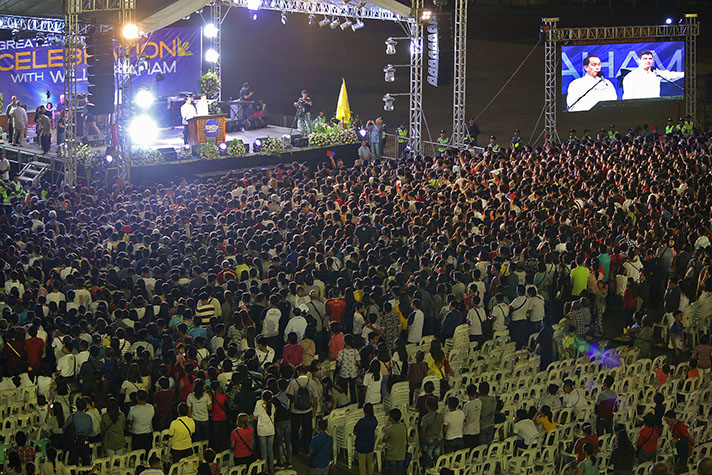 They sprang from their seats and streamed forward. Children and teens, parents and grandparents. Will Graham had just shared the Gospel and given them the opportunity to surrender their lives to Jesus—and they weren't going to miss their chance.
Over the two-day Greater Pangasinan Celebration, nearly 7,000 people said yes to new life, hope and freedom with Jesus Christ. This number represented almost 20 percent of the 35,300 who attended Celebration events. The evangelistic outreach kicked off more than a week of Gospel preaching, which will culminate with the three-day Metro Manila Celebration with Will Graham, Feb. 15-17.
The event took place at the Narciso Ramos Sports Complex in the province of Pangasinan, which sits some 140 miles northwest of Manila, along the Lingayen Gulf. Pangasinan is the third largest province in the Philippine Archipelago, occupying more than 536,000 hectares of land, and is home to more than 2.6 million people. The province gets its name from its rich salt beds; pangasinan meaning "where salt is made."
It is a bustling area, with bridges spanning marshes and ponds. The streets are crowded with roadside markets, pedestrians, dogs, motorbikes with side cars, and the ubiquitous Filipino Jeepneys (rebuilt and elongated—and often beautifully painted—jeeps that carry several people at a time, a form of mass transit that became popular following World War II).
In a place where many people are "religious," Will Graham's messages focused on man's sinful nature and our eternal need for a relationship with Jesus Christ.
"Salvation is not a deed, a ritual or a church. Salvation is a Person, and His name is Jesus." Will proclaimed. "Salvation is not based on good works. There's nothing you can do to save yourself. Salvation comes by faith in Christ alone."
A prayer volunteer named Jerick spoke with a young boy who had been invited to the Celebration by a Christian friend. The boy told Jerick that he was addicted to video games. "After I prayed for him, I was filled with joy because I did something that helped him to have more confidence that God was with him," Jerick said. "The Lord will never leave him."
As the stands continued to empty Sunday and thousands responded to the invitation to begin a relationship with Jesus, Myra Jalique looked on with awe. A pastor and missionary, she served as the liaison for the Celebration, working closely with the local government.
"I am just overwhelmed with joy. I can't really explain it. Lord, thank You for the harvest," she shared. "This is really what it's about. I understand God's mercy and grace that He's bestowed on me, and I want it for our people."
"Only the Spirit of God draws these people. It doesn't matter what the reason is," Myra said. "God has already prepared their hearts awhile back, so they would answer to respond to the Gospel."
Myra sees this having a lasting, eternal impact on the province and beyond. "This could have a rippling effect to other provinces, because we tend to set the trend, if you will," she said."This can be so much more, not just for Pangasinan but for the nation."
Do you have peace with God? Pray now.