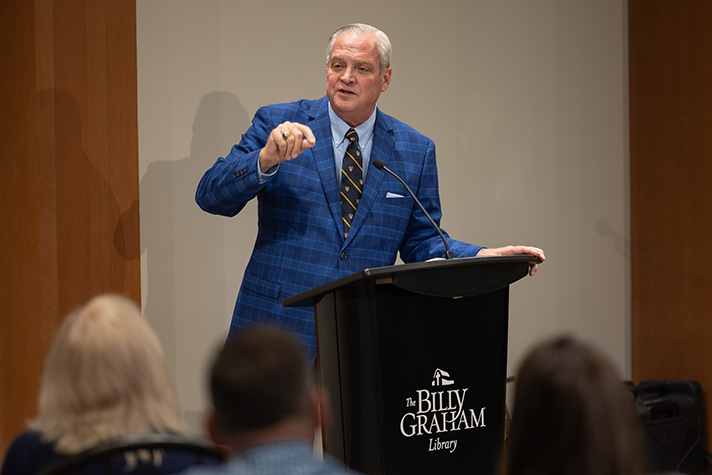 "Preach the word! Be ready in season and out of season." —2 Timothy 4:2, NKJV
More than 140 people came to the Billy Graham Library on Thursday, eager to hear effective strategies for evangelism and be equipped in their calling.
The daylong Evangelism Intensive featured pastor, author, and president of Southern Baptist Theological Seminary Dr. Al Mohler. He encouraged those at the sold-out event to fearlessly proclaim Biblical truth in a culture hostile to God's Word.
"The secular condition of our time is nothing new," he said. And yet, even as culture changes, God's truth does not.
Opening Scripture, Mohler pointed the audience to the Apostle Paul who challenged Timothy and Titus to a singular task: "Preach the word!" (2 Timothy 4:2, NKJV).
"There is no plan B," explained Mohler. "Today, I want to encourage you. If you have been called by God to ministry, then preach the Word!"
The world needs to hear the Good News of Jesus Christ, he explained, as laid out in God's Word: "always be ready to give a defense to everyone who asks you a reason for the hope that is in you" (1 Peter 3:15, NKJV).
"Conversations today happen so quickly," he added, "so I tell you, be ready. Be prepared."
Pastor Larry Redding from Burlington, North Carolina, sat in the crowd. "I'm here because evangelism is on my heart. Now more than ever, we need evangelism," he said.
Pastor Don Pegg smiled in agreement. "I want my [congregation] to feel this burden. I want to help others know and to share the Gospel."
Dr. David Bruce, Billy Graham's long-time assistant and executive vice president of the Billy Graham Library, spoke to the urgency of sharing Jesus Christ with those around us.
"Our purpose today is to train, encourage, and equip [leaders] to proclaim the Gospel—while there is still yet time," he said.
In the crowd sat 80-year-old Laurne Mae Thomas and her husband Brian.
"When I first heard about this event," she said, "I knew we just had to come." This was the couple's fourth trip to the Library, and on Thursday, they made the seven-hour drive from their home in Silver Spring, Maryland, to learn more practical ways for sharing the Good News with others.
"I will never stop telling others about Jesus," Laurne Mae said.
See what's coming up soon at the Billy Graham Library, including a book signing with Anne Graham Lotz and her daughter Rachel-Ruth Wright.