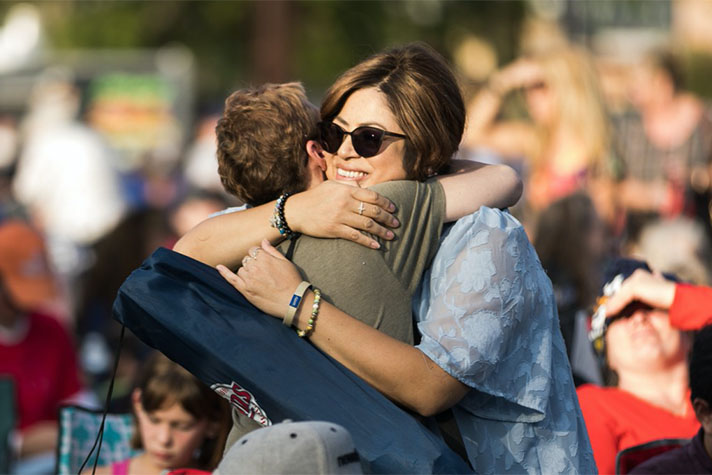 Six cities. Five states. Over 1,100 miles. More than 50,000 in attendance.
And one simple message: God. Loves. You.
Franklin Graham's God Loves You Tour 2022 wrapped up on Sunday afternoon in the picturesque Minnesota city of Rochester. An enthusiastic crowd of more than 8,000 enjoyed a vibrantly warm fall day at Soldiers Memorial Field Park, punctuated by uplifting worship music and a life-changing message.
By the time the last chorus was sung, thousands of people had responded to make a decision for Christ, finding hope and forgiveness in Him.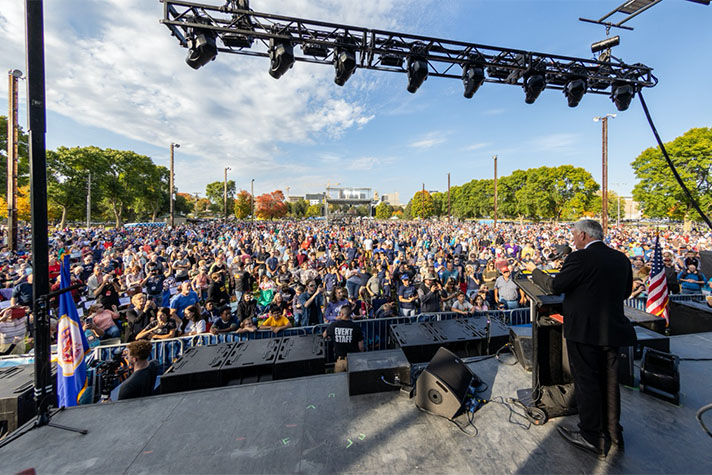 Revival Comes to Rochester
Paul Bhat recently moved to Rochester from Nepal. He and his wife, Brianna, have been praying for revival in his new home city.
"I come here from the Eastern part of the world. This city—it has the best medicine, the best hospital in the world—but it needs Jesus as much as India," Paul said. "The people here need Jesus as much as we need Him in Nepal. It's no different. We were crying and praying for revival."
Franklin Graham's visit, he believed, was a sign from God that revival is indeed on its way.
"Before we knew about this event, as we were praying, I told my small group, 'I feel revival is coming to this town, and one of the signs will be that someone will come and all the church will gather in a public gathering,' " said Paul.
"Then we got an announcement: Franklin Graham is coming! Yes, that's the sign that God told us. There's a revival starting. This is the beginning of the revival that's starting in Rochester!"
Jose Padilla, who has been in Rochester for two decades, shared Paul's passion to see revival in Rochester. "This is a good city, but in their souls they have a hollow [space]. They're missing it. As a church, we've been praying for a revival in the city. This is, I believe, an answer to our prayers."
Brianna Bhat said that the revival could be seen in the way that the churches of the community came together for the God Loves You Tour, coordinating and cooperating in a way that has not happened in the past.
She believes this newfound unity could make an incredible impact for the kingdom of God in Rochester and beyond.
"A prayer on my heart has been that God would unite the body of Christ. A lot of different churches are here today. We've been coming together in preparation for this event, praying, working together as one body, to make this happen," said Brianna.
"We care about the simple truth that Jesus is Lord and Savior. It's the simple Gospel and we want people to know the love of Jesus, and the truth of Jesus, that can set them free. If the body of Christ is united, there's power when we come together as one and let the Lord lead us."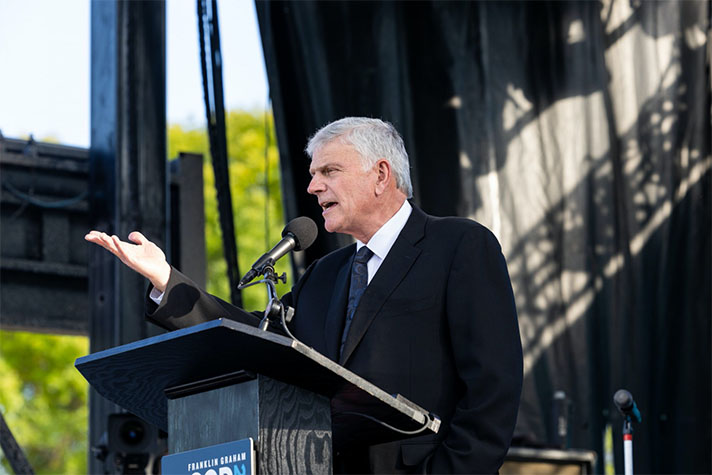 The Value of the Soul
During Franklin Graham's message, he examined Mark 8:36 (NKJV): "For what will it profit a man if he gains the whole world, and loses his own soul?"
He then spoke to the value of the soul, sharing that it's worth more than anything on earth because it is eternal.
"It doesn't matter what kind of diet you're on. You can have a low-cholesterol, low-fat, low-sodium, high-fiber. Those are important. You might have a healthier life if you do that. But I can promise you, you're still going to die one day," Franklin Graham said.
Referencing the world-renowned hospital, which is synonymous with Rochester, the evangelist continued, "You can go to the Mayo Clinic every day for the rest of your life, but one of these days, you're still going to die. But you have a soul, and that soul is going to last for eternity."
As Franklin Graham invited those in attendance to begin a relationship with Jesus Christ, one of the first to stand was a 47-year-old woman named Corrine.* As tears flowed from her eyes, she explained that she came to the God Loves You Tour event to rededicate her life to Jesus.
"I was very dedicated before the pandemic, but I stopped. I turned my back on Him," said Corrine. "Life was so crazy, and the church I was going to got shut down, so I went into my own world. I went back to doing things that I haven't done in so many years. Now, when I saw this was coming, I knew I'm coming here to return to God."
Corrine's tear-soaked face was a testament to the work that the Holy Spirit was doing in her life.
"I feel very joyful. I feel at peace. Those heavy burdens I carried myself have been lifted. … We all need Jesus. Being around everybody who believes in the same God makes a huge difference."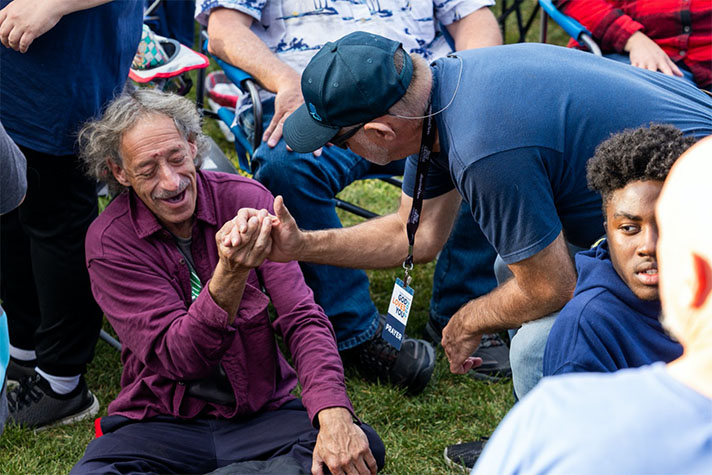 God Loves You
Steve Rhoads, vice president of Church Ministry for the Billy Graham Evangelistic Association, has helped lead the multi-state effort. As he reflected on the last several days, he returned back to the name of the outreach: the God Loves You Tour.
"This is designed to explain to these communities that God really does love us," Rhoads said. "We can plan and prepare, but only God can open the heart, and in city after city, in different communities with all different makeups, we've seen people young and old come to Christ, turn over their sin, and see God do miraculous work in people's hearts."
As the tour comes to an end, the work of follow-up is just beginning.
Please pray for the churches in Allentown and York, Pennsylvania; Youngstown, Ohio; Flint, Michigan; Waukesha, Wisconsin; and Rochester, Minnesota; as they begin reaching out to those who made decisions for Christ over the last several days.
Pray also for each of those who made decisions for Christ, that their faith would deepen and grow in the coming days. Many are returning to lives where it will not be easy to take a stand for Jesus among their friends or family, and it's important to support them in prayer.
Finally, please pray for the Billy Graham Evangelistic Association, as opportunities abound to share the hope of Jesus around the world. Franklin Graham will be preaching in Milan, Italy, and across New Zealand, in the coming months, and Will Graham plans to hold outreaches in three northern Canadian cities in late November and early December.
Eternity is at stake for countless men, women and children, and their only hope is the Gospel of Jesus Christ.