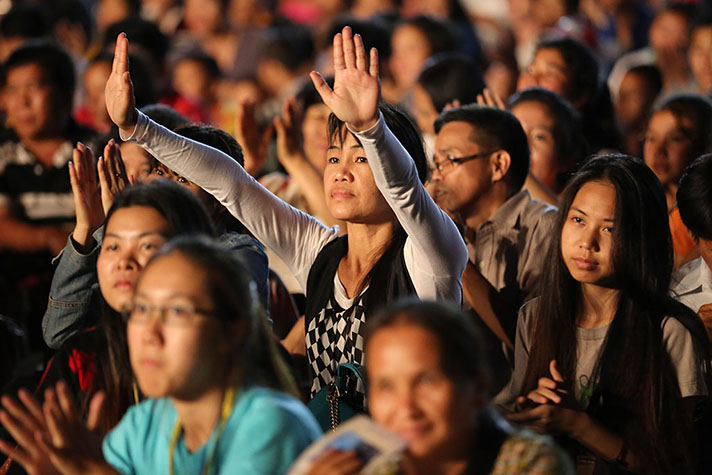 The famous parable of the Prodigal Son is more than just an ancient Bible tale; it's a timeless story of redemption that plays out every time a lost soul comes home.
On Nov. 22-24 in northern Thailand, thousands of prodigal sons and daughters joined the storyline for the first time.
The Abundant Life Festival with Franklin Graham drew more than 70,000 people to 700-Year Stadium in Chiang Mai to experience concerts, dance performances and the Gospel of Jesus Christ.
Many of those in attendance were there because someone personally invited them. In fact, it seemed every believer had a prodigal son or daughter in mind.
One Goal, Many Stories
Pramote "Mote" Kotnougping, a 26-year-old intern with Campus Crusade for Christ in Chiang Mai, brought five university students to the stadium Sunday night.
"I wanted to bring people who didn't believe in Jesus tonight, so they could know the real truth and life and the real God," Mote said.
Pastor Prateep Pakdeepermpoon came to the Festival each night. Sunday, he brought a group of 40 people, including 14 nonbelievers. They all packed into two pickup trucks for the two-hour drive to Chiang Mai.
After spending three nights at the Festival, Pastor Prateep had trouble deciding which part of the program he liked the best.
There were graceful dance troupes performing traditional Thai dances in shimmering, colorful robes.
There were choruses and orchestras, including a youth choir made up entirely of Christian refugees, their presence at the Festival nothing short of a miracle.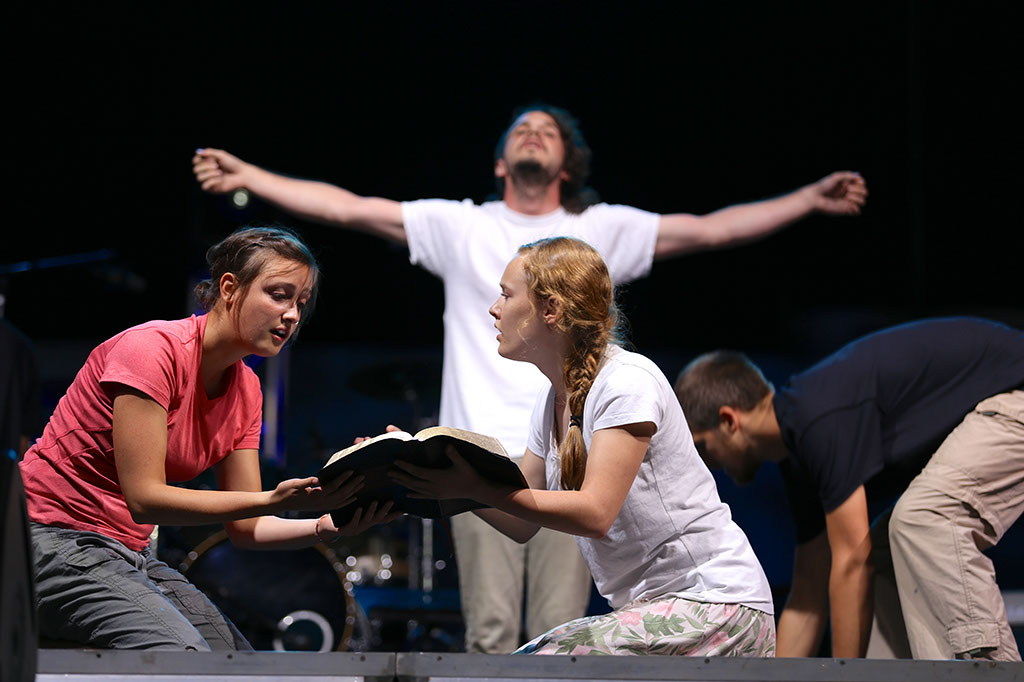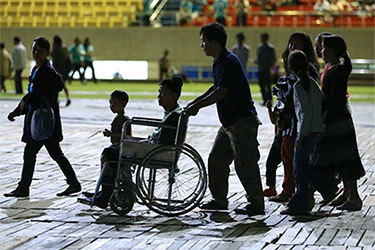 A group from the Antioch Christian Training School  beautifully portrayed the story of Jesus through drama. A famous Thai singer shared his testimony. A Korean music group sang powerful worship songs.
"Everything was my favorite," Pastor Prateep said. "But I think my most favorite was seeing people who didn't know Jesus come forward and become Christians."
A group of deaf Thai believers came to the Festival Sunday night after securing the only Christian sign language translator in Chiang Mai. Their eyes sparkled as they sat in a semicircle towards the back of the stadium, soaking in every word of the Gospel message.
"We want our friends to become believers," they signed. "And we came to grow more in our faith."
While many Thai believers were praying for friends and family members to accept Christ for the first time, others were praying for Christians who had gone astray.
"In my village, 95 percent are Christian," said a little old woman named Ramee Lerdprakum. "But some families' teenagers are lost and don't follow God. They follow the world and follow friends."
Ramee has 11 grandchildren and cares deeply for each one of them.
"We came here to this Festival hoping God will touch our grandchildren again tonight," she said.
The Prodigal Son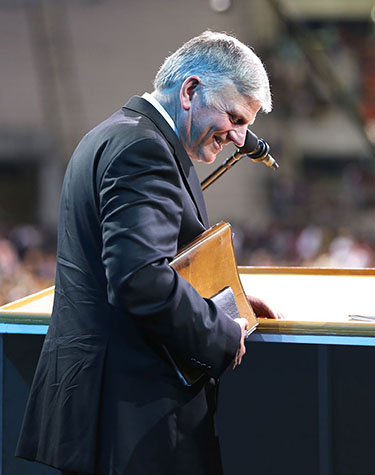 Sunday, the final night of the Festival, Franklin Graham preached from Luke 15, the story of the Prodigal Son who abandoned his father and squandered his inheritance on reckless living.
"Now this young man was running from God," Franklin Graham said, as Rev. Manoonsak Komonmatayakul translated his words into Thai. "He was running from his home. There are many of you here tonight who've been running."
When the Prodigal Son had lost everything, he came crawling back to his father, who had every right to shun and reject him. But that's not what the father did.
The Bible says that while the son was still a long way off, "his father saw him and felt compassion, and ran and embraced him and kissed him" (Luke 15:20, ESV).
Instead of condemning his son, the father loved and forgave him, saying, "For this my son was dead, and is alive again; he was lost, and is found" (Luke 15:24, ESV).
Franklin Graham told the crowd of more than 30,000 that they, too, could find forgiveness through a loving Father—the God of the universe.
"Tonight you can come home to your Father in heaven, if you're willing to put your faith and trust in Jesus Christ," Franklin Graham said. "God will forgive your sins tonight. You can have a new beginning and a new life. God loves you."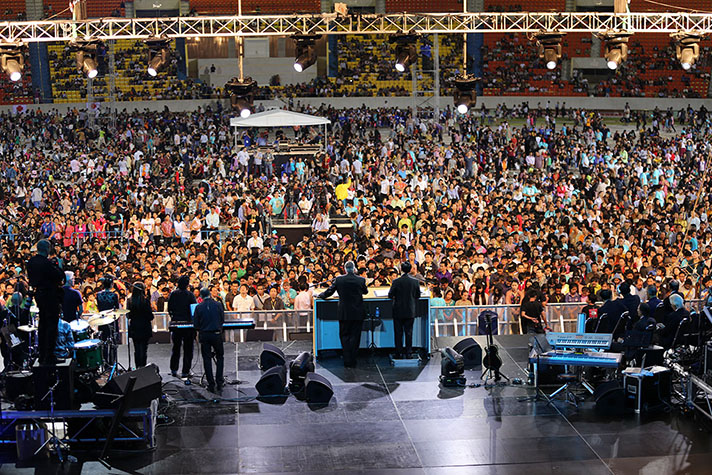 God is Faithful
The Thai Christians who fervently prayed for their friends Sunday night believed God would act. They believed because they had seen His power in their own lives.
Mote Kotnougping found Jesus while working out at the gym. A group of students reached out to him and told him about Christ.
"In the beginning, I used to reject them," Mote said. "But one day I just thought maybe I could open my mind. I think most Thai people are afraid to change, but I want them to know there are other choices."
Mote said he used to believe in Buddha, but his soul was left unsatisfied.
"Before I knew Jesus and I became a Christian, my life seemed like a jigsaw puzzle," he said. "It didn't fit together. Something was missing. When I believed in Jesus, the puzzle came together and became a picture. I have been touched by Jesus' love, and I want other people to be touched by his love like me."
Pastor Prateep was born into a Christian family, but he didn't believe in Jesus. Twenty years ago, he was involved in three serious motorcycle accidents within the span of one month.
"God spoke to me and said clearly that I needed to come back to Him and devote my life to Him," Pastor Prateep said. "That's why I became a pastor and why I tell people about Jesus."
During the course of the Festival, he was able to see several people from his community accept Christ.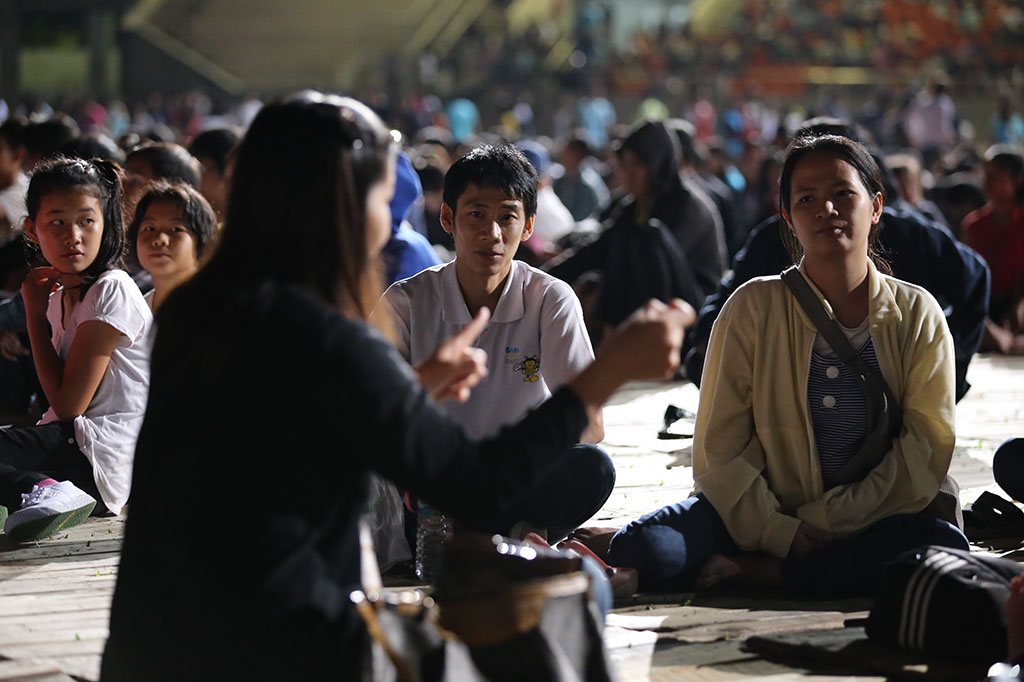 In another part of the stadium, a young woman traveling with the group of deaf believers never stopped smiling as she sat on the floor with her husband and little boy. She explained that she became a believer because someone else in the group witnessed to her through sign language.
During the Festival, she was able to see a young man from her group accept Christ just like she did. Their whole community celebrated his salvation.
Ramee Lerdprakum and her family disappeared into the crowd as the Festival came to a close Sunday night. It's unclear whether her grandchildren got the message and returned to their faith. But one thing is certain—Ramee won't stop praying until her prodigal grandsons come home.
Throughout the three nights of the Festival, thousands of people responded to the invitation to let Jesus come into their lives and hearts. Hundreds of others discovered Jesus before the Festival even began, during months of training and outreach. And the new salvations are only part of the story.
Over the last few months, Thai churches with a long history of discord came together as one. Believers who had given up on evangelism were invigorated and encouraged to live out their faith. And, most importantly, Jesus Christ was glorified.
The whole experience left Mote overwhelmed with joy.
"I cannot put it into words," he said. "But I know this is a picture of what God wants to see—a new life together."