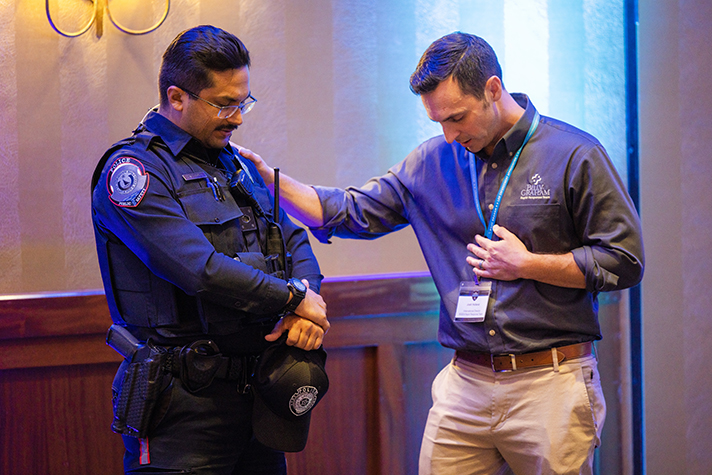 When Officer Mario Ruiz heard about a faith-based retreat for law enforcement officers in Horseshoe Bay, Texas—located less than a mile away from his police department—he knew he needed to show up.
Ruiz had made some poor decisions as a young adult and had drifted from God, but lately, the 30-year-old noticed God was trying to get his attention. About two months ago, he was involved in an officer-involved shooting—a traumatic event that made him wonder about eternity.
He couldn't make it to the Law Enforcement Appreciaton Retreat on April 3, the start of the three-day conference, and he had to work most of the second day. But as he went about his duties, Ruiz felt God tugging on his heart. Still in uniform, he came to the event for dinner and an evening session.
Sitting in the audience, Ruiz listened to Dominic Iraldo share how he was almost killed in a 2002 shooting.
"If I would've died that night, I would be in Hell," Iraldo admitted to more than 175 officers and their spouses in attendance. "That is scary—because I had been in the church for eight years."
The story hit home with Ruiz.
"It made me realize I'm not the only one who feels like [they're going to Hell]," Ruiz said.
As Iraldo told how the incident helped him find a personal relationship with God, Ruiz said his words were like finding the light switch.
Ruiz's faith was finally coming to light.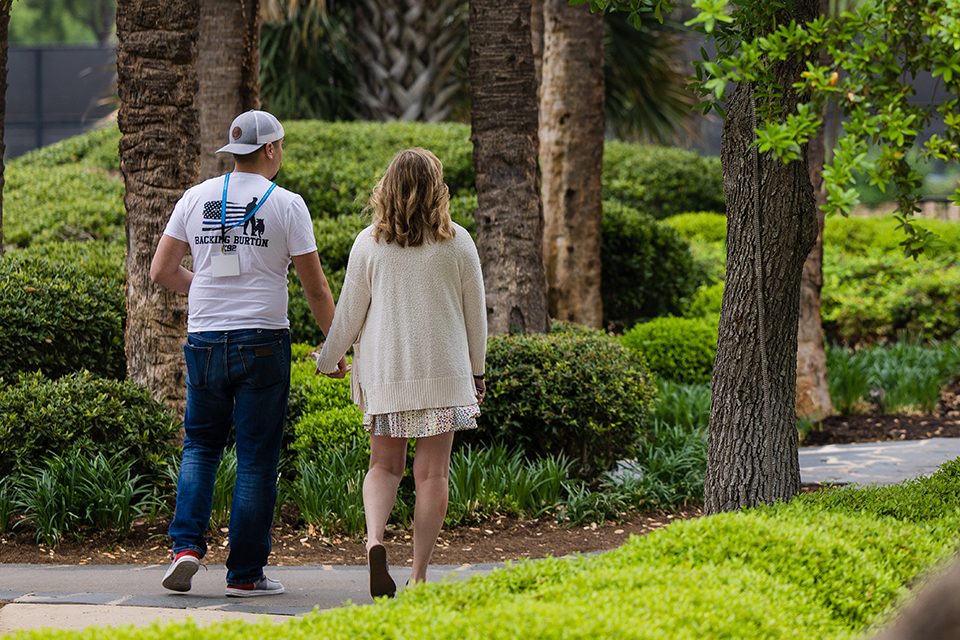 After the message, the patrol officer talked with Josh Holland, international director for the Billy Graham Rapid Response Team (BG-RRT), about past sins and the heavy feeling of being headed for eternal separation from God.
Holland asked Ruiz if he would like to pray to receive God's forgiveness and accept Jesus Christ as his Lord and Savior.
"I am not waiting another second," he said. "Let's do this." The two prayed as Ruiz asked for forgiveness and surrendered his life to Christ.
Afterwards, Ruiz called his girlfriend—who is a Christian—to tell her about his decision.
"I'm proud of you," she said over the phone. By the sound of her voice, Ruiz could tell she was grinning.
Ruiz said he no longer feels alone or weighed down by guilt. Having Christ in his life "gives you this … confidence that you can carry with you, no matter where you are."
He believes that confidence will help him to better serve his community as an officer.
"I'm excited. I can't wait to see more of what the future has in store for me," he said.
Ruiz and his girlfriend are already planning to attend the BG-RRT's upcoming Sharing Hope in Crisis training in his hometown of Uvalde, Texas, where a deadly shooting occurred last May at his former elementary school. The training is one more way to equip him to serve those around him with the love and compassion of Christ.