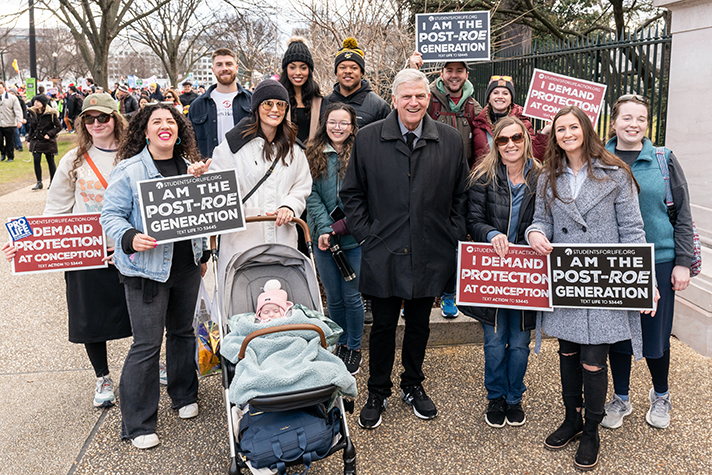 Fifty years ago, approximately 20,000 people stood outside the U.S. Capitol to peacefully protest the 1973 Roe v. Wade ruling legalizing abortion in all 50 states. It was the first March for Life.
Friday, an estimated 50,000 people participated in this year's March for Life in Washington, D.C., celebrating last summer's Supreme Court decision that overturned Roe v. Wade. The Dobbs v. Jackson Women's Health Organization ruling returned abortion regulations to each state.
Franklin Graham closed the pre-march rally in prayer, expressing gratitude for each individual who marched over the past five decades.
"Father, we thank you for the thousands who have come here for the last 50 years, [who] have stood in the rain, the snow, the wind, the cold, to take a stand for life."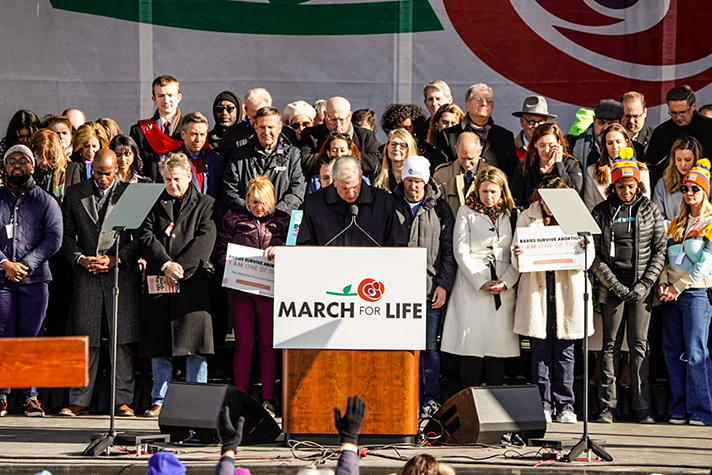 Franklin Graham also prayed for women who feel hopeless or condemned because of an abortion.
"My prayer is that these millions of women, that they will come to know that you love them and care for them and that you will forgive them of their sins if they would repent and believe on the Name of your Son, Jesus Christ," he prayed.
His prayer moved Toni McLain, a first-time marcher who couldn't help but smile as she walked along the National Mall toward the Capitol and Supreme Court.
"Hearing him pray just touched me and gave me goosebumps all over," said Toni McLain, sporting a pink bandana and sunglasses. She had listened to his father, Billy Graham, preach on TV growing up.
"I was absolutely enthralled with Billy Graham's message [of the Gospel] and the spirit and light [of Christ]. To see Franklin take on that mantle and that legacy," she said, is encouraging as he continues the work of sharing God's hope.
McLain, who has a community outreach ministry for the homeless, nearly lost her own life to abortion when her mother considered ending her pregnancy. As she rallied for the unborn Friday, she thought about her mom who chose to birth her baby instead.
"It must have been so hard to be young, pregnant, and unsure what to do," she said, overcome with emotion.
"I could have been the one that didn't make it, you know? I'm so grateful to my mother for choosing life. It means everything to be here."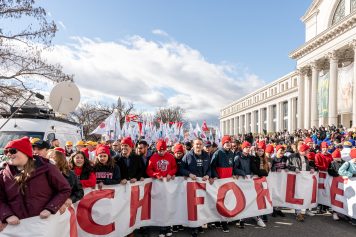 'Life Has Triumphed'
Former NFL head coach Tony Dungy and his wife, Lauren, a bestselling author and speaker, are especially thankful for mothers who choose life. Eight of their 11 children are adopted.
"They'll never know what a blessing it is to have these children in our lives," Lauren Dungy shared during the rally.
Tony Dungy spoke about another recent event in which people around the country illustrated just how valuable a person's life is.
When Buffalo Bills' safety Damar Hamlin suffered cardiac arrest on Jan. 2 during a nationally televised game, people across the country started praying, Dungy said.
"A life was at stake, and people wanted to see that life saved. … That's exactly why we're here today. Because every day in this country, innocent lives are at stake."
Another speaker, Jonathan Roumie, who plays Jesus Christ in the TV series, "The Chosen," and stars in an upcoming movie, "Jesus Revolution," rallied the crowd in this post-Roe era.
"History has been made. Life has triumphed in an extraordinary way," Roumie said. "The Light of the world, who is Jesus Christ, the Author of life—His light has burned so very brightly within each and every one of you, compelling you forward … to stand together today and fight the noblest and worthiest cause possible, which is to allow the unborn the right to enter into the world."