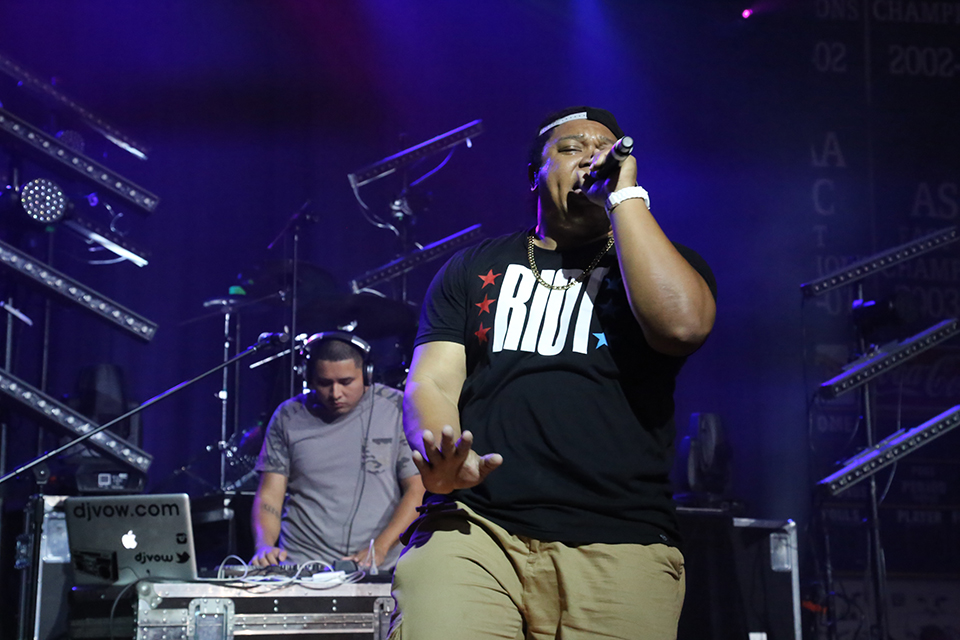 Over the past two Father's Days, Texas-based rapper Tedashii has gazed more heavenward.
Father's Day—and everyday life—has taken on a different meaning for him ever since he and his wife suddenly lost their one-year-old son in March 2013.
Tedashii has shared the platform with other artists over the years at BGEA Festival and Celebration events, most recently the Will Graham Central Mississippi Celebration in March.
Out of this difficult year an album has emerged. Below Paradise was the title that came to his mind after he felt the need to survey his own life and to document this past year.
"I also knew it could be a societal overview of life in general when it comes to living here on earth. Heaven has the promise of no more tears, pain and suffering. Heaven is a place with God for eternity. Earth falls very low in comparison," he explained.
More importantly, the loss of his son has given him a more eternal approach to the way he parents his five-year-old son and now, his newborn son.
"We love our kids so much. And I tell people that I never believed in love at first sight until I saw my oldest son for the first time. I experienced that again as each child was born. I would die for any of my children," he said.
"God has now adjusted my heart to be more mindful of my children as souls—souls that have been given to my care for a season. I now see my sons as a soul that will have a definite end. So, I am more mindful of how I train him now."
The loss of his son has also started conversations with his oldest son about eternity. He hopes that the presence of his middle son in heaven will point his oldest—and one day his youngest—toward eternity.
"I care more than ever about my other children going to heaven," he said. "I want them to be concerned about what God is concerned about. I often tell my five-year-old, 'your little brother is in heaven and I want you to be there one day. If you trust Jesus in your heart we can all be there together.'
"I try not to say this too much, because I don't want it to become manipulation—I want it to be a desire."
When he is not talking to his son about Jesus, Tedashii simply tries to love him well, and encourages other fathers to do the same, regardless of their stage of fatherhood.
"Hug your kids. Love them," he said. "Time is treasured and cherished. I want to see my kids have happy memories. I want them to be able to say, 'Daddy was with us every moment he could be.'"
He also has advice for dads who have experienced loss.
"If you have lost a child—even if it is your only child—you are still a parent. I tell everyone I am a father of three—one in heaven and two on earth. That will never change," he said.
"I would encourage guys to remember that you are loved and cared for by God. We men tend to be very works-based and think, 'If I had only had my quiet time every day, or had done this or that, I'd still have my child.' God's love is not conditional. On the other hand, I would encourage fathers who have experienced loss that have become cynical by saying the same thing—you are loved and cared for by God."
Lately, Tedashii has spent a great deal of time in the book of Job. He is learning that even when the why is not answered, the Who is enough.
"In the wake of his loss, Job questioned God on every turn. And then God basically said, 'I'm not giving you an answer; I'm giving you Me. I am going to have to be enough.'
"And that is in the place I am in now. I have to be okay with the fact that God is enough of an answer. That is more satisfying than me knowing anything else. Like Job, I honestly think I can say that I love Him more now."