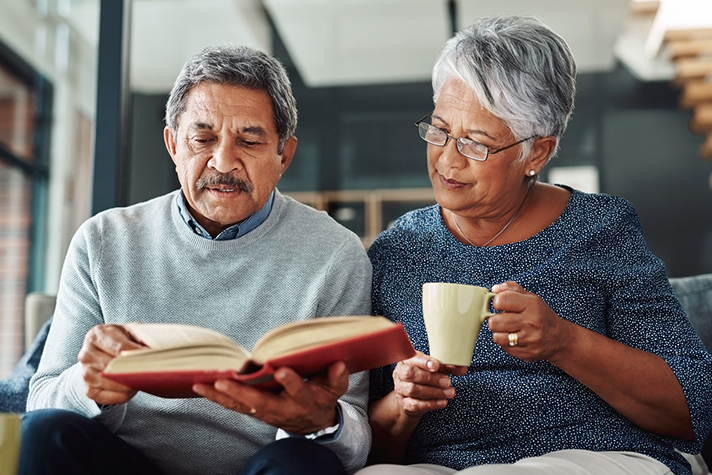 Each summer, the Billy Graham Evangelistic Association runs a series of spiritual growth articles called the Summer Soul Refresher. This year, we're exploring 5 aspects of intentional living. (Check out part 1 and part 2.)
And I am sure of this, that he who began a good work in you will bring it to completion at the day of Jesus Christ.
—Philippians 1:6 (ESV)
You're not the same person you were on January 1, 2020.
Likely, the resolutions you set for this year haven't played out quite how you expected. But one goal is always relevant and worthwhile: deepening your relationship with Christ.
If you've been feeling distant from God, refresh your spiritual life with these 5 steps:
1. Be still.
There's a reason God invites His children to be still (Psalm 46:10). Filling your life with constant noise—from podcasts to social media to TV—may drown out your worries, fears and exhaustion in the short term. But you'll never experience peace and rest until you acknowledge your need for Christ.
Take some time to truly be still. This silence may feel uncomfortable at first. But making a practice of slowing down can declutter your mind and soothe your soul.
"Though the Lord surely wants you to talk to Him about what is going on in your life … He also wants you to move beyond that and into a place where you can simply sit with Him, resting in His presence." —Will Graham
>>Read Will Graham's memories of sitting quietly with his grandfather.
2. Talk to God.
You don't have to figure everything out before coming to God. Instead, He invites us to wrestle with our frustrations and fears in His presence. (Check out the book of Psalms for a few real-life examples.)
The Holy Spirit—who lives inside every believer—helps us sort through these jumbled thoughts and feelings. The Bible explains, "We do not know what to pray for as we ought, but the Spirit himself intercedes for us with groanings too deep for words" (Romans 8:26).
Talk to God honestly. Then, keep watch for how He responds—through the Bible, fellow believers and life experiences. Listen for His voice.
"How do we grow closer to someone on a human level? The most important way is by spending time with them—talking with them, listening to them, sharing your concerns with each other, and even helping them when they need our help. And the same is true with God." —Billy Graham
>>Unsure how to spend time with God? Start with these practical steps.
3. Remember God's faithfulness.
During hard seasons, you may have to rely on the evidence of God's faithfulness in the past to carry you through present struggles. Like memories shared with longtime friends, your spiritual scrapbook will grow the longer you know Christ.
Write down stories of God's provision and protection, and return to that list when you feel doubts creeping in.
"For the believer, our confidence does not rest in the passing things of this world. We place our faith in the unchanging nature of God." —Franklin Graham
4. Review your calendar.
Nothing reveals our priorities quite like our calendars. You can say all the right things about God and believe them to be true, but the Bible says, "Faith by itself, if it does not have works, is dead" (James 2:17).
Would your life look any different if you weren't a Christ follower? If you're struggling to find time to spend in God's Word, take a moment to reevaluate your schedule.
"We are accountable to [God] for the way we use our time." —Billy Graham
5. Give yourself grace.
We have to fight our sinful nature daily. Some days will feel like successes, and others like utter failures.
When you fall back into bad habits, don't wallow in guilt. That's not the message God sends us through His Word. Instead it says, "The steadfast love of the Lord never ceases; his mercies never come to an end; they are new every morning" (Lamentations 3:22-23).
Thank God for His mercies, and allow Him to transform your life—starting today.
>>Share these 5 steps on Facebook: