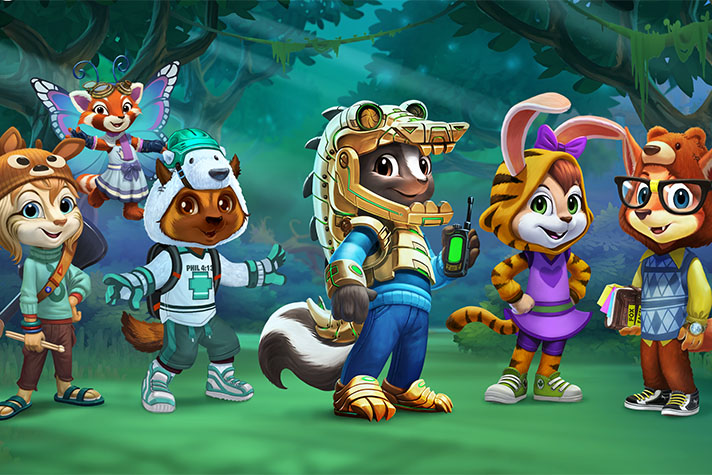 An elementary-age girl sits quietly on a sofa, immersed in a cartoonish gaming app on her tablet. Her teenage brother heads to the neighbor's house. "Going to play video games!" he yells on his way out the door.
The parents are too engrossed in what they're doing to notice that their daughter's cute little game has flipped to a 30-second advertisement featuring a nearly-naked man and woman running from zombies.
Next door, their son careens a digital car around a virtual cityscape. After slamming into a building, he jumps out and selects his combat shotgun. He zeroes in on the head of a passerby and pulls the trigger, delighted by the realistic spray of blood and gore.
It's no secret that young people—and even some adults, for that matter—play video games regularly, either on gaming platforms or on their tablets and phones. But in this ever-evolving realm of entertainment, people of all ages must be careful of what they hear, see, or do.
There is a growing field of study on the impact of video games, particularly ones with violent or sexualized content. The findings indicate that adolescents who engage in violent video games are more prone to aggression, bullying, and fighting. These games can begin to desensitize—and even incentivize—players to violence. From Columbine to Sandy Hook, mass shooters have been heavily entrenched in violent video games.
At the same time, our children are being exposed to extensive sexualized content in video games, typically via the appearance of characters in the games and the accompanying violence or dialogue.
Parents who think their children are safe because they aren't playing the infamous "Rated M for Mature" games may be shocked by the ads accompanying free content downloaded from app stores. As you are reading this, actual current advertisements on your child's screen likely include scantily clad men and women in overtly sexual situations, or a distinctly transgender voice encouraging a game where children develop their own virtual identity.
Another study found that video game addiction can be linked to compulsive online pornography addiction. What may seem like child's play, in reality, is something much more dangerous.
Given these facts, it's especially important that we protect ourselves, our children, and our grandchildren from the harmful effects of video game addiction and over-exposure. But how?
Find Wholesome Alternatives. Let's face it. Video games are fun, and they are a significant part of life for many people. The key is finding the right option to help you grow in your faith rather than sinking into the sinful depths of the world.
TruPlay, a Christian company, has developed a subscription-based platform of games, videos, and digital comics. The quality of TruPlay's offerings typically exceeds that of other games available, and it does not expose children to questionable content or ads of any kind.
"It was important for us to create an ecosphere that provided world-class entertainment, while also protecting our children and helping to develop their faith," said TruPlay CEO Brent Dusing. "The world can be a dark place, and video games are no different. Our goal is to shine the light of Jesus in this realm of entertainment, do so in an enjoyable way, and do it with an excellence that will keep families coming back for more."
Set a Firm Foundation: Psalm 119:105 says, "Your word is a lamp to my feet and a light to my path." Likewise, Hebrews 4:12 says, "For the word of God is living and active, sharper than any two-edged sword, piercing to the division of soul and of spirit, of joints and of marrow, and discerning the thoughts and intentions of the heart."
There are temptations all around us in this broken world, so we must set a firm foundation in Scripture. As we actively and intentionally dig into God's Word, He will guard our hearts and turn our eyes to Him.
Be Discerning: Whether it's the video games you play, the movies you watch, or the conversations you have, be discerning and avoid entertainment where temptation abounds—especially when your children or grandchildren will be similarly exposed.
2 Timothy 2:22 says, "So flee youthful passions and pursue righteousness, faith, love, and peace, along with those who call on the Lord from a pure heart." This should be a goal for each of us as we mature in our faith and become more Christ-like.
Be Active: God created us to work and be productive, not idle. In fact, the Bible has a lot to say about the risks and outcomes of laziness. For instance, Proverbs 13:4 says, "The soul of the sluggard craves and gets nothing, while the soul of the diligent is richly supplied." Paul writes in 2 Thessalonians, "If anyone is not willing to work, let him not eat. For we hear that some among you walk in idleness, not busy at work, but busybodies" (2 Thessalonians 3:10b-11).
Rest and recreation are important, but take care that your pastime does not become all-consuming and turn into a habit of laziness. Rather, "Commit your work to the Lord, and your plans will be established" (Proverbs 16:3).
Whichever route you choose for your family, put God first, focus on His attributes, and pursue His righteousness. Philippians 4:8 says, "Finally, brothers, whatever is true, whatever is honorable, whatever is just, whatever is pure, whatever is lovely, whatever is commendable, if there is any excellence, if there is anything worthy of praise, think about these things." Don't let your children be swayed by the world, but give them every opportunity to grow in Christ.