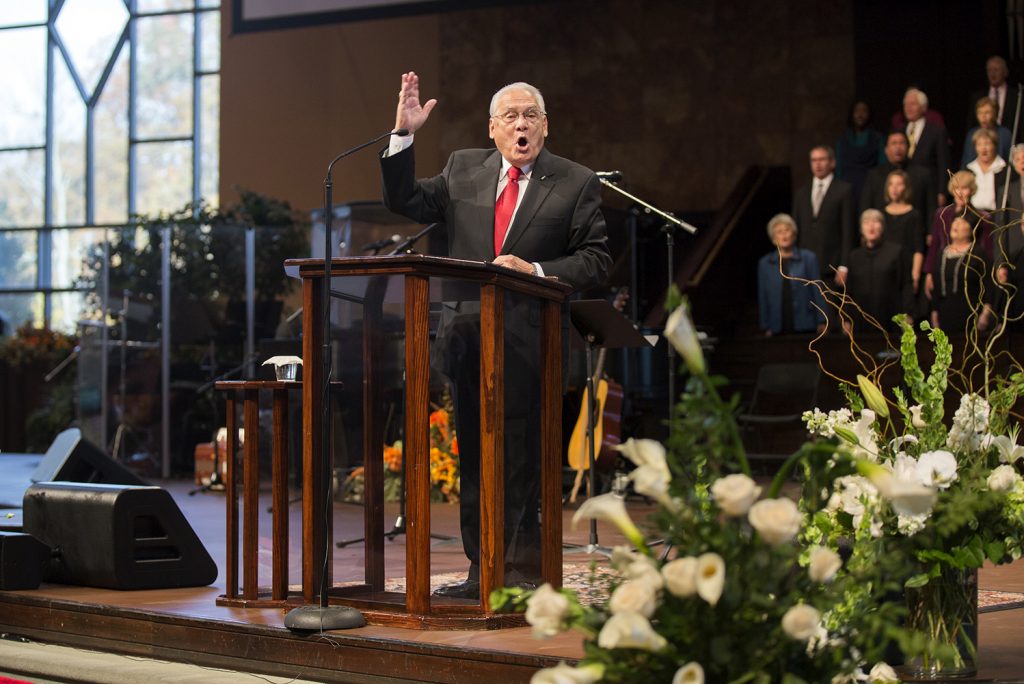 Of all the particulars for Cliff Barrows to decide about his memorial service, there were two things that really mattered.
Let there be singing.
And make it about Jesus.
"I want a lot of music," he told his longtime Billy Graham Evangelistic Association colleague Tom Bledsoe. "And I want the people to sing."
Part tribute, part worship service, part evangelistic meeting, the two hours on Tuesday morning were spent honoring the man behind the name Cliff Barrows and the Savior he exuded in every aspect of his life.
"In many ways, this was his last Crusade," his daughter, Bonnie Barrows Thomas said.
And it was going to have some unmistakable Cliff Barrows trademarks.
Yes, he wanted the congregation to sing "Great Is Thy Faithfulness" and "Blessed Assurance" as one great choir. But above all else, he wanted them to really belt it out. Like Mr. Barrows was still here—still in the room, leading the choir, with his demonstrative style and distinctive command.
"I want you to sing 'Blessed Assurance' like we used to do at the Crusades," he told Bledsoe, who accepted the challenge.
"He liked to sing the last chorus, but put a lot of meaning into it. And I mean a lot of meaning," Bledsoe instructed the crowd at Calvary Church in Charlotte, North Carolina.
"And you had to watch him, so look up here. I'm not Cliff. My arms aren't as long. I'm not as tall. But I've done it a lot of times with Cliff. So let's sing that last chorus.
"'This is my story.' And as Cliff would say, 'Make it your story today. Make it your testimony.'"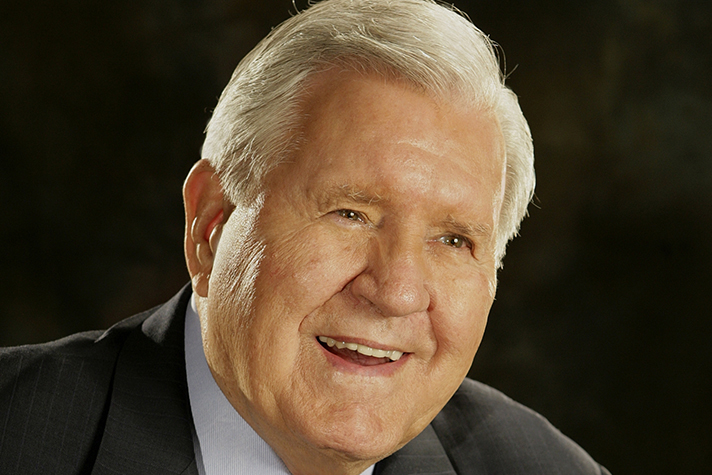 'All About the Gospel'
Mr. Barrows' testimony, by anyone's account, was a life sold out to Jesus Christ. If you ever spoke to him, or even shared time in the same room, you could sense the glory of God radiating from him.
Tuesday's service was a firsthand documentary that every story about Mr. Barrows was true.
Every memorized Scripture. Every mid-sentence hymn that broke out in a given conversation. Every surprise harmonica session. Every conversation that took the spotlight off of himself and squarely on Jesus.
"It was all about the Gospel," said David Bruce, executive assistant to Billy Graham.
What started as a chance encounter in 1945—with Mr. Barrows, honeymooning in the North Carolina mountains, meeting a young preacher named Billy Graham—turned into nearly seven decades of ministry together.
Yes, there was an earthly separation on Nov. 15—the day Mr. Barrows passed away—much like there was when the third member of the BGEA trio, George Beverly Shea, passed away on April 16, 2013.
"You could not have had one," Bruce said, "without the other two."
And the global impact was impossible to measure.
The team preached to more than 215 million people live and hundreds of millions through TV, video, film and webcasts. Mr. Barrows was the only host of The Hour of Decision radio program, which began in November of 1950, and continued through his passing as the Hour of Decision Online program. His last show was recorded in October, when he spoke about "his precious wife," Ann.
After his first wife of 50 years, Billie Barrows, died of cancer in 1994, Mr. Barrows met Ann and the two served the Lord together for more than 20 years.
"There was so much radiance on this man's face," Ann told of Mr. Barrows final few days. "He radiated Christ even in the state he was in."
Ann gave several insights into her husband's life, including the time when a special blanket made out of Crusade shirts was made for Mr. Barrows, who decided immediately that it should be stored and only used for the memorial service.
She told of the final days in the hospital, how the nurses kept his well-worn New Testament in his hands.
And she shared the phrase that he would often repeat, the same three words that is used at the changing of the guard of the Tomb of the Unknown Soldier at Arlington National Cemetery.
"Orders remain unchanged," Ann said. "And that's what he would say to his family, to his friends, to the people at BGEA—the orders remain unchanged. Go ye therefore to all the world and preach the Gospel."
'Uncle Cliff'
Franklin Graham, currently in the Middle East distributing Operation Christmas Child shoeboxes after last weekend's Myanmar Festival, wrote a letter that his son, Will Graham, emotionally delivered to the Barrows family.
To the entire Graham family, Mr. Barrows was always "Uncle Cliff," as his relationship with Billy Graham was that of a brother.
"His life and his legacy was always a gift to us," Will read, his voice cracking when he talked to Mr. Barrows' family about "the sacrifice you made that enabled your dad to be a part of this ministry.
"You have watched your father crisscross the globe, but one week ago, he made the journey of journeys."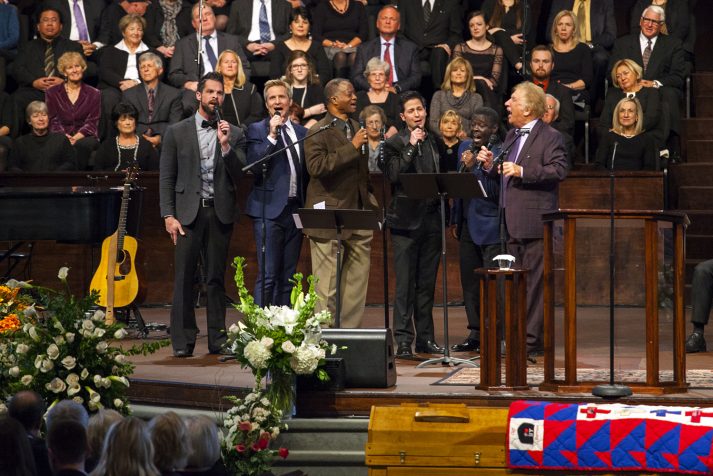 'Never Had a Better Friend'
The memorial service, orchestrated and "timed down to the last minute" by Mr. Barrows, was a celebration of his life, but moreso a time to lift up the name of Jesus through word and song.
A George Beverly Shea recording of "Safe in the Arms of Jesus" started the service.
Longtime Crusade pianist/organist John Innes played the organ while Stan Whitmire played the piano. Huw Priday performed "Healer of My Heart," while a full Calvary Church choir sang "The Majesty and Glory of Your Name."
Buddy Green and Jeff Taylor performed two numbers—"Safe in the Arms of Jesus" and "Just As I Am"—using Mr. Barrows' signature instrument (harmonica) in combination with an accordion given to him from the 1950s Scotland Crusade, as well as a flute.
The Gaither Vocal Band performed two songs, "My Savior First of All" and an A cappella version of "O Love That Will Not Let Me Go."
"The Christian music community has never had a better friend than Cliff Barrows," Bill Gaither said.
Joni Eareckson Tada wrote a tribute letter, talking about how infectious Mr. Barrows' song leading was at the Crusades she attended: "It was impossible not to join in."
Tom Bledsoe led the congregation and choir in the final song, written by Mr. Barrows in the early 1980s, "May God's Blessing Surround You Each Day."
'And We Welcome You Tonight'
Bonnie Barrows Thomas delivered a gripping account of trying to get to Charlotte from Colorado for one last visit before he passed, only to come a few hours short.
She talked about the lasting impact he had on the 19 grandchildren and 21 great-grandchildren.
"He had big, strong hands," she said. "He taught us the joy of working. We learned to fix things around the house. He would often say, 'Do it right the first time.'"
But there was an even more important lesson Mr. Barrows passed down.
"It was his hands gripped in prayer that impacted us the most," she said.
Dr. John Munro of Mr. Barrows' home church, Calvary Church, gave a message of meditation, focused on one of Mr. Barrows' favorite passages, Philippians 1:21: "For me to live is Christ and to die is gain."
David Bruce shared about the unique gift Mr. Barrows had of being a "table-setter" to "prepare people to hear the Word of God."
Each Crusade, Mr. Barrows would greet the audience with the warm greeting: "And we welcome you tonight…
"It wasn't what he said, but how he said it."
Bruce finished his moving tribute by bringing things full-circle:
"Can you imagine with me for a moment, when Mr. Barrows crossed that swelling tide, that first sight of his new home was that of Jesus, his Savior.
"I can image Jesus borrowing the phrase, 'Cliff, we welcome you tonight.'"