It was a last minute U-turn that saved Tomohiro Naito's life. Casting a wary eye on the traffic snarl blocking the road ahead, he flipped his car into reverse and spun around. That decision, he says, could only have been made with the Holy Spirit's guidance.
The road was packed with panicked people fleeing the oncoming tsunami—a collapsed bridge making escape all the more difficult. But, because he chose to drive in the other direction, Pastor Naito missed the crushing wall of water that forever changed this part of Japan.
The March 11 tsunami—spawned by a powerful 9.0 earthquake–washed away his church, all of the homes in the immediate area, and the lives of 100 friends and neighbors.
On the six-month anniversary of the disaster, the pastor and his wife, Nozomi, take me to that spot on Gamo Beach. I was there to understand and to record the moment. They were there to praise God for sparing them and sparking new strength.
"Before the tsunami," Tomohiro tells me in a quiet voice, "I was not successful at evangelizing people. I struggled with bringing new people to my church. God gave me this chance to change. I have a different perspective now."
Tomohiro and Nozomi point out where their church once stood. Most of the wreckage has been cleared away. All that remains are bricks that once served as the sanctuary's foyer.
And the church's cross.
The powerful symbolism doesn't escape residents of this part of Sendai. Thousands have been drawn to the cross in the tragic months since March 11—some seeking hope, some expressing anger, some voicing praise. "We want to keep the cross here as a memorial," says Nozomi.
Her husband seems preoccupied, standing alone in the ruins and looking to the horizon. "Do you want to see the shore?" he asks.
Calm After the Storm
After driving a few feet over a rugged, unwalkable patch, Tomohiro puts the car in park. I am about to step onto sacred ground. I have read about and reported on the tsunami. I will now walk one of the beaches that bore its fury.
As we step out of the car, Nozomi offers me a face mask and apologizes: "The smell. It is hard to bear." At first I recoil, imagining rotting flesh, but she corrects me. "No. Not bodies—at least not now. No, this smell is raw sewage." Since a treatment plant was destroyed during the earthquake, waste is trickling directly into the ocean.
"This used to be a beautiful beach," Tomohiro says sadly, looking at scattered debris.
"We used to come to the beach for singing and worship and prayer," says Nozomi.
Then Tomohiro points to where a small mountain once stood. "It was six meters above sea level. Now it is totally gone."
I mutely attempt to snap photos, fighting the tears blurring my shots.
Our time on the beach has ended. We decide to visit the coffeehouse that now serves as the sanctuary for Seaside Bible Church. On the way there, Tomohiro and Nozomi show me a few landmarks.
"That is the elementary school," says Nozomi. The inside of the building is gutted but the skeleton stands. "Six hundred people who huddled on top of the school were saved."
A group of people who met at a designated safe area behind a row of trees were killed.
Tomohiro describes how cars were strewn haphazardly on the sides of the road, crisscross on top of the other, "as if a child got frustrated with his toys and threw them up in the air."
We arrive at the coffeehouse in an area of Sendai that escaped damage. The building was given to the congregation. "It is the perfect place," says Nozomi as she ducks behind the counter to prepare tea and cakes. "This is one of the signs of God's grace."
A Legacy of Love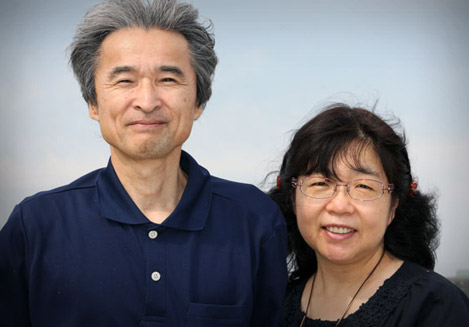 Settling down in the cozy shop/sanctuary for the rest of the interview, Tomohiro and his wife tell me how they met each other—and how they met Christ. "We have been married for 28 years and have two sons," says Nozomi. The oldest is 27.
"When I was a young man," Tomohiro says, "I was seeking God for a long time." His mom passed away when he was 23. "That is when I made the decision to believe in Jesus."
At the time he accepted Christ, Tomohiro made a commitment to evangelize. "Faith and evangelism are the same thing to me," he says. He enrolled in Bible College immediately.
Nozomi grew up as a pastor's daughter and was baptized in the second grade, but in junior high and high school, she struggled with low self-esteem and shyness. After entering college in Osaka, she heard a message about God's love that that seemed to free her: "I was no longer afraid to talk in front of people."
She also grew in her faith when, after she turned 20, her mother died. "My mother had started a kindergarten and was well respected in the community," says Nozomi. "She was too busy caring about other people to take care of herself when the doctors discovered stomach cancer."
More than 800 people came to her mother's funeral. During the service, the pastor shared John 12:24: "Unless a kernel of wheat falls to the ground and dies, it remains only a single seed. But if it dies, it produces many seeds."
"Many people came to the Lord at my mother's funeral," Nozomi recalls.
A few years later, each widower happened to travel to Israel on the same tour. The fathers got together and prayed about spouses for their respective children while at the Western Wall. Not long after, Nozomi and Tomohiro were married.
A Passion for Evangelism
The young couple shared a passion for church planting. "I wanted to return to Tohoku, to this area," says Nozomi. "There are very few Christians and not many young people." Tomohiro had committed to going wherever God would send him: "We wanted to move back here to help the youth."
Now the couple realizes God brought them to Sendai "for such a time as this."
"I truly believe the Word of God is true," says Nozomi. "Every word in the Bible. God is faithful. He does not give us trials we can't bear. He always gives us a way to go through difficult times."
When the tsunami came, she made sure to grab her Bible before running out of the house. "I knew I wouldn't be coming home any time soon," she says, clutching her treasure to her chest.
The day after the earthquake, Nozomi turned to Zephaniah 3:16-17. "Do not fear … The LORD your God is with you, the Mighty Warrior who saves. He will take great delight in you; in his love he will no longer rebuke you, but will rejoice over you with singing."
Then, tucked inside the pages of her Bible, she noticed a slip of paper. Tomohiro had written a note to his wife, to give her courage in the days after the disaster. "I have told you these things, so that in me you may have peace. In this world you will have trouble. But take heart! I have overcome the world," (John 16:33).
"I am amazed by how encouraging God's Word is," she says with a huge smile, "by how faithful God is."
As time slips away, the couple inquire about the health of Billy Graham. Each has a connection: Nozomi's parents attended the Billy Graham Tokyo Crusade in 1967. Tomohiro attended the 1980 Crusade in Tokyo.
"My brother and I even made up a song about Billy Graham preaching," Nozomi remembers with a fond laugh.
"We look forward to the son preaching here," says Tomohiro.
We close our time with prayer. I ask how readers can pray for the couple and for Sendai. "We are so thankful for prayer," Nozomi says. "People tend to forget so quickly. Please pray that a 'Holy Spirit tsunami' will come and wash over us so more people will be saved. We need a revival. Pray for more churches to be planted in this area."
View photo gallery on left hand side of the page, under the video.
OTHER ARTICLES IN THIS SERIES:
Touching Lives Rocked by Grief »
Japan Remembers March 11 »
A Note of Praise in the Pain »
Follow the Steps to Peace online to learn about Jesus or recommit your life to Him.