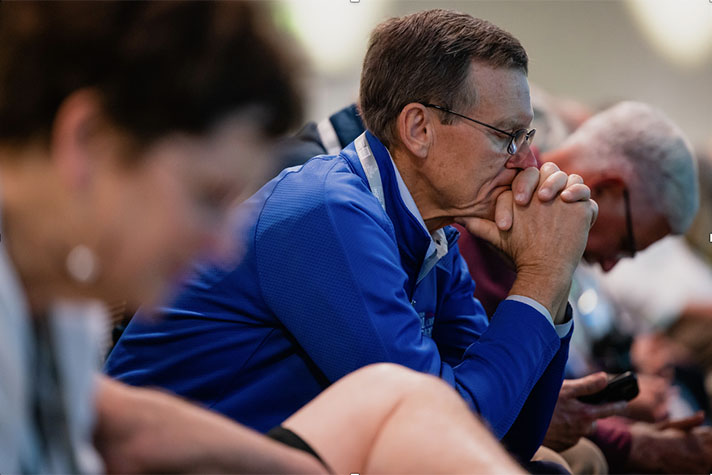 They typically only see each other when disaster strikes.
But Thursday night, more than 1,200 Billy Graham Rapid Response Team chaplains, Samaritan's Purse volunteers—and others interested in disaster relief—gathered together in Orlando, Florida, for the fourth Sharing Hope in Jesus' Name Conference.
The four-day event is hosted by the Billy Graham Rapid Response Team (BG-RRT) and Samaritan's Purse North American Ministries group, both work together to share the love of Christ when a natural disaster occurs.
In the U.S. and around the world, the BG-RRT chaplains help people in the midst of crisis process their pain, pray with them, and answer questions about faith, while Samaritan's Purse volunteers work to repair damaged homes and clean up property. Both roles are essential in sharing the hope of eternity—and hundreds of people have made life-changing decisions for Christ during 2022 deployments.
"The work that we do earns us the privilege and right to share the Gospel of Jesus Christ," said Luther Harrison, vice president of the BG-RRT and North American Ministries with Samaritan's Purse. "If we are not sharing the Gospel we don't need to be going.
"We've seen people lose their loved ones in storms. We want to make sure when we go to a storm that we show them how fragile life is. None of us in this room are guaranteed tomorrow."
The truth in his words was particularly evident as several BG-RRT chaplains shared personal deployment stories with the audience.
Chaplain James Kilgore shared how he ministered to a brokenhearted couple whose four children were ripped from their arms and carried to their deaths in the floodwaters of Breathitt County, Kentucky.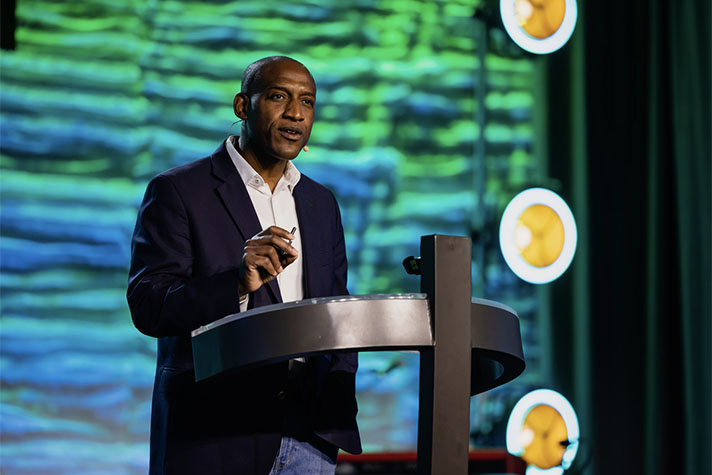 Chaplain Anika Magwood described how God overcame language barriers to open the hearts of a Ukrainian refugee family in Poland—and bring new life before it was too late. A widowed mother and her 15-year-old son chose to follow Jesus Christ, and her 23-year-old daughter rededicated her life to Him. Just six months later, the mother passed away of cancer and went home to be with the Lord.
Chaplains Ken and Stacey Williamson have also experienced the fragility of life while on deployment. Responding to the mass shooting at an elementary school in Uvalde, Texas, the Williamsons were tasked with telling siblings that their brother was dead. "They wanted someone to hold onto; we gave them Jesus," Ken said, sharing how chaplains comforted members in the grief-stricken community.
Each testimony reminded the crowd of the purpose behind every deployment—the life-changing Gospel.
"[This conference] renews you," said Mike Gawlinski, a chaplain coordinator in the audience. "You get to the point where you do, do, do, and you tend to not always concentrate on what God has for you and Him personally. [The staff] remind us here all the time, God needs to be put first."
Mike and his wife, Michelle, began volunteering with Samaritan's Purse after their home was hit by Hurricane Irma in 2017. "We were working with Samaritan's Purse four days a week, and three days a week we'd go and work on our own house," Mike recalled. "After about a month of that, we got curious and said, 'What are those guys in the blue shirts doing?'"
Little did Mike know, he would soon be wearing a Billy Graham Rapid Response Team blue shirt as well.
Once the couple discovered the BG-RRT's role in deployments, they recognized the Holy Spirit was prompting them to serve as chaplains.
Across the room, another couple, Alan and Susan Flick, recently experienced that same calling. For the past few years, the Flicks—from Cashmere, Washington—have volunteered with Samaritan's Purse across the southern U.S.
"Now we're in a stage of life where we have a little more freedom to be able to go and respond when the call comes," Susan said. On the first day of the conference, the retired couple spent several hours taking Critical Incident Stress Management courses, one of the requirements to become a BG-RRT chaplain.
The classes have helped the Flicks feel better equipped to respond as crisis-trained chaplains, building upon skills they used in their careers as first responders.
"No matter the situation we get called for, or that the Lord opens up, we're ready," Susan said. "We feel prepared in disaster response and we love doing that—that's where we really got started. We're looking forward to serving as chaplains."
>>Learn more about the BG-RRT's Sharing Hope in Crisis training opportunities.