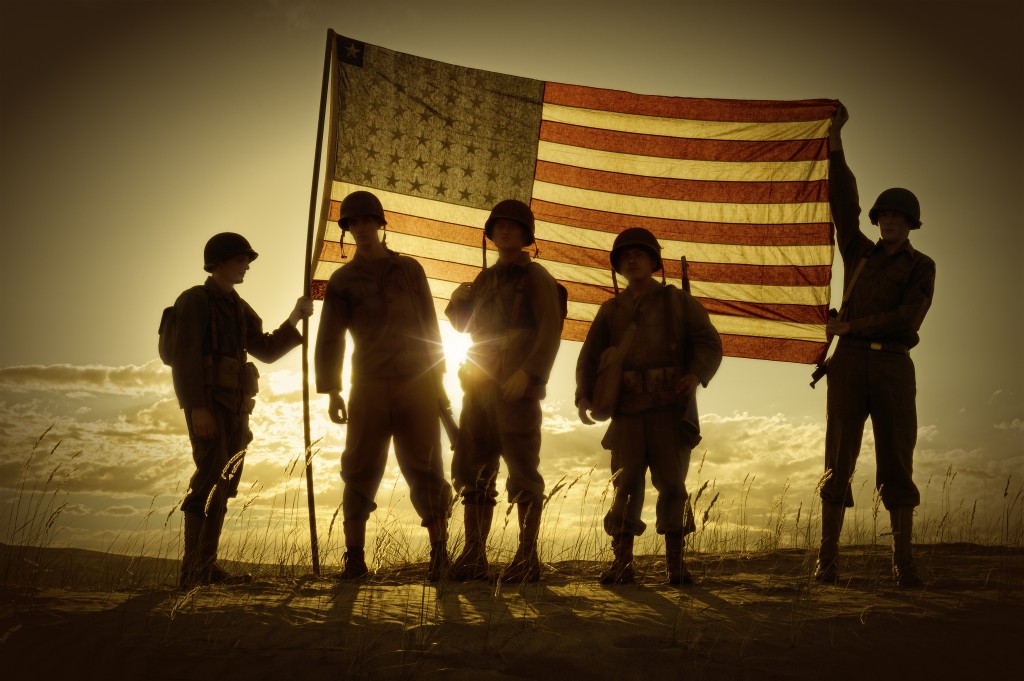 In honor of Memorial Day, we are featuring excerpts from two of Billy Graham's books, in which he describes the impact of his time ministering to American troops on the front lines of the Korean War.
We've also collected several of Billy Graham's answers on military service and sacrifice. This post was originally published in 2010.
From I Saw Your Sons at War
Seated here I can close my eyes, and for the moment shut out these familiar scenes of home. Then I can hear again the roar of artillery … see the utter devastation of the Korean countryside … see the homeless orphan children crying for food and warmth in the chill of a Korean winter.
I can see also the American GI's standing on a snow-covered, wind-swept hillside to hear the Gospel, and then go back to the trenches … see some of those same GI's in a front line MASH hospital (Mobile Army Surgical Hospital), dying, and as they die, hear them talk about home in Arkansas … Oregon … Minnesota … Vermont. …
And then I open my eyes, and it hardly seems possible, for here the only planes we ever see are friendly passenger planes, headed north to Washington … or south to Charlotte, and Atlanta.
It seems unbelievable that just weeks ago I walked amid the complete destruction which is the aftermath of a modern bombing raid and artillery barrage.
And though the entire trip seems so remote and far away now that I am home, I know this, that my visit to Korea was the greatest experience of my ministry. Nothing has ever made such a profound, and I pray, lasting impression on my Christian life.
—from Billy Graham's 1953 diary, following his visit to Korea during the Korean War 
From Just As I Am
My first sermon on the front lines saw me on a newly built platform graced by a painting done by a soldier forty miles away. Troops had carried the painting (which depicted Christ watching over an exhausted soldier) to us overnight, and it stood next to me as I preached.
I did not use humor or stories to break the ice that night. I dove right into the Gospel, and hundreds responded. I felt the Spirit of God in that meeting.
Men of every rank came forward, many in tears—and they were rough, rugged men—to receive Christ.
In a field hospital about a mile behind the front lines on Christmas Eve, we went from bed to bed, bringing greetings and trying to encourage the wounded.
One young man was so mangled that he lay face down on a canvas-and-steel contraption. A doctor whispered to me, "I doubt he'll ever walk again."
"Mr. Graham, can I see your face?" asked the young man. "We've all been praying for you and looking forward to your coming. I won't be able to be at the service." So I lay on the floor beneath him and looked up into his hollow eyes, still stunned with his fate. I prayed with him.
"Sir," said the young man to General Jenkins, who was escorting me, "I fought for you, but I've never seen you. Could I see your face?" The general got down on all fours, slid under that bed as best he could, and talked with the young man. I saw a tear fall from the soldier onto the general's cheek.
When we walked from the bleeding, broken, dying men of that hospital into the crisp, clean, thirty-below-zero air of Christmas Eve, I felt sadder, older, and more aware of the needs and suffering not only in Asia, but also in the entire world.
Billy Graham My Answer Columns for Memorial Day
Our son is planning to enlist in the military in a few months. I know we're supposed to believe God will take care of him, but right now we've got a bad case of nerves and our fears are a lot stronger than our faith. How can we get over this?
Billy Graham's Answer »
My husband is serving with the military overseas, and I can't begin to tell you how difficult it's been for our children and me. How can we get through this? I pray all the time, but it's still very hard.
Billy Graham's Answer »
I prayed a lot while I was on duty in Iraq and I made all sorts of promises to God about the way I'd live if He got me out of there alive. Well, He did, but I've been back about six months now, and I'm ashamed to say I have not followed through on my promises. How can I do better?
Billy Graham's Answer »