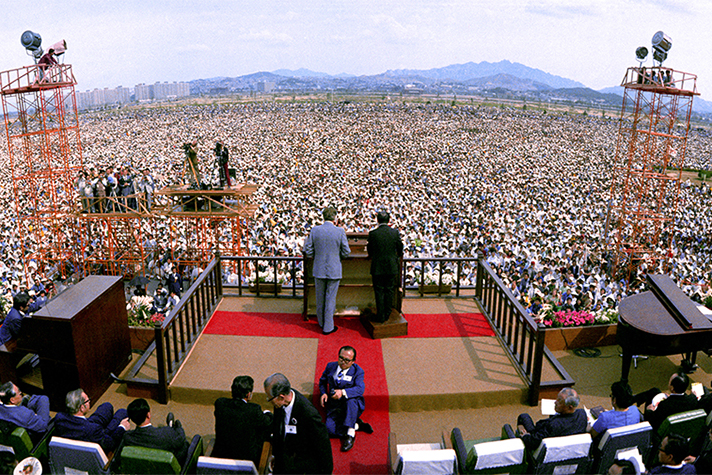 From May 30 to June 3, 1973, an estimated 3.2 million people attended Billy Graham's largest ever Crusade in Seoul, South Korea, with 1.1 million traveling—mostly by foot—to the final service on the airstrip at Yoi-do Plaza. Some 75,000 people submitted cards showing they made a decision for Christ because of that Crusade.
The historic plaza is less than 100 miles west of the Pyeongchang Olympic Stadium, where millions more have gathered for the Winter Games.
View Photos from the Crusade
>> Scroll through several snapshots of the historic Crusade that forever changed South Korea and countless lives.
A First-Hand Experience
>> Read an account from John Pollock, one of the 1.1 million in attendance on the last day of the Crusade, June 3, 1973.
Watch a Clip About the Crusade
>> See a one-and-a-half minute video featuring Billy Graham and his interpreter Billy Kim during the Crusade in Seoul.
Interview with Mr. Graham's Interpreter, Billy Kim
>> Learn more about how the Crusade began with local church leaders and Christian educators in Korea, and how it has continued impacting the country's churches and culture even through today.
Listen to Billy Graham's Message in Seoul: 'The Love of God'
"Love one another," Billy Graham told the crowd repeatedly after reading John 15:13.
"That is the message I want to leave you as I go back to America. Love one another in Korea."
>> Hear more of Billy Graham's message, "The Love of God."