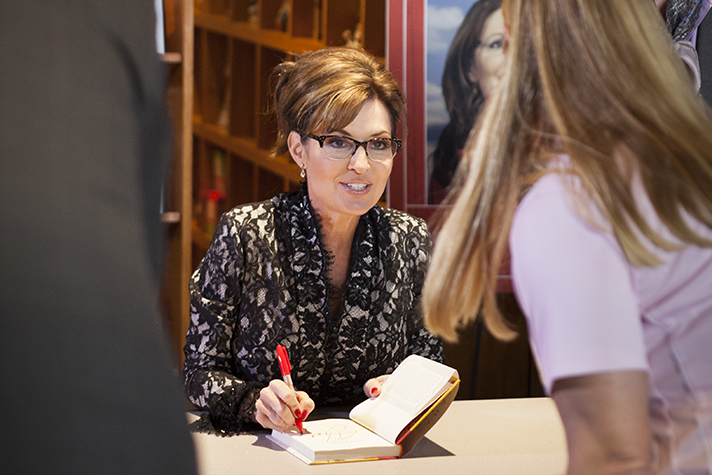 With the backdrop of a sunny sky and an unseasonably warm temperature, hundreds lined the sidewalk on the grounds of the Billy Graham Library, waiting to meet Sarah Palin, former governor of Alaska and 2008 vice presidential nominee.
Palin visited the Billy Graham Library for a tour and a signing of her recent book release, Good Tidings and Great Joy: Protecting the Heart of Christmas.
"I certainly recognize there is a war on Christmas that's being waged—it seems—in our culture right now," she said. "The true meaning of Christmas, of course, is Christ's birth. I wanted to write this so that people realize that they can proudly and boldly proclaim the true meaning of Christmas."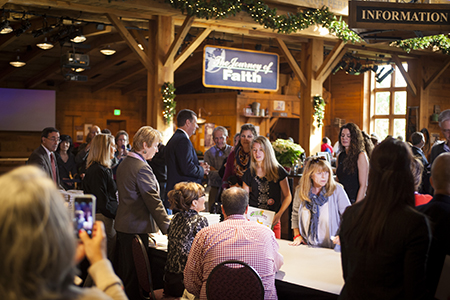 In 2010, Palin and some of her family members traveled to Haiti, where they visited a Samaritan's Purse cholera clinic and helped distribute Operation Christmas Child shoe boxes. In 2009, Palin visited Billy and Franklin Graham at Mr. Graham's Montreat home in the North Carolina mountains.
Today, she finally had the chance to visit the place the bears the name of one of her spiritual heroes.
"Billy Graham changed the world because he has allowed Christ to shine right through him. People would listen to him and could receive his message," said Palin, who attended Mr. Graham's 95th birthday party last month in Asheville, N.C. "He so capitalized—in a good way—on the favor that God gave him to do the Lord's will and to do the Lord's work."
"I am happy to be here at the Billy Graham Library today. I had no idea it was this amazing. It reflects the fact that it was not about Billy Graham. His ministry is truly about the Gospel, and this facility reflects that."
Meeting a Hero
Some of the people waiting in line were giving signed copies of the book as Christmas gifts, like Alan Suggs.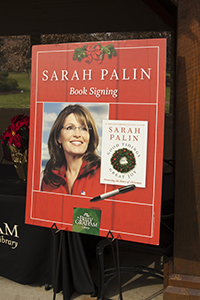 Suggs, a Charlotte-area National Guard recruiter, stood in line wearing his fatigues. A 10-year Army veteran, including one tour of duty in Iraq, Suggs was getting a signed book as a gift to his father. He said his father is a great admirer of Palin, but so is he.
"I admire her for her principles," he said. "I like that she didn't play the political game, but that she still got involved in the political arena. It's also nice to come to the Billy Graham Library to do this, because Billy Graham has had an impact on my faith, and so has Mrs. Palin."
Charlie, a young man standing in line to greet Palin, had met her several years ago in Florida. Like Palin's youngest child, Trig, Charlie has Down Syndrome. He made such an impression on Palin, that she even mentioned him in her first book, Going Rogue.
The Palins subsequently corresponded with him via telephone and email.
And so today, Charlie came, anticipating a brief reunion with her.
When He reached Palin, she immediately recognized him. She stood up quickly and enthusiastically asked him to come around the table for a hug.
Charlie is not the only one who walked away from this event with a positive feeling.
Visitor John Hurst said he was impressed with Palin's demeanor: "She is a very gracious lady. She took time with people, and asked everyone's name. After all she's been through, it was nice to see that she is still positive, and still smiling."

Christmas at The Library continues at The Billy Graham Library through Dec. 23.