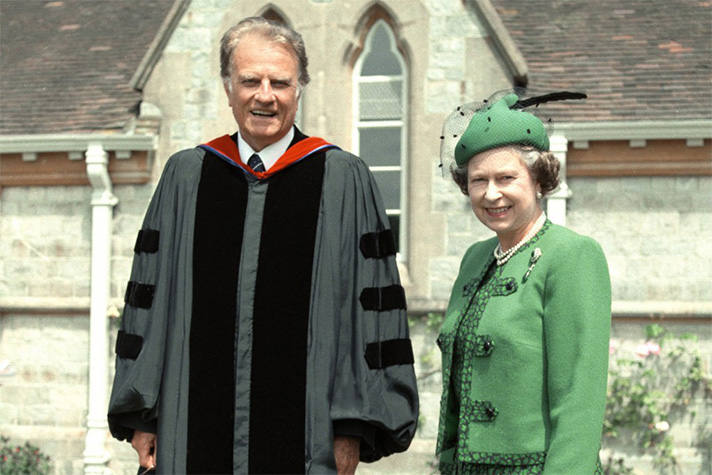 Q: Which royal couple heard a sermon from Billy Graham in their private chapel?
A: Her Majesty Queen Elizabeth II and Prince Philip.
When Billy and Ruth Graham were in Glasgow, Scotland, in 1955 for one of his Crusades, Mr. Graham recalls receiving a very special note from Buckingham Palace.
"It invited me to preach at Windsor Castle and asked Ruth and me to lunch afterward with Her Majesty Queen Elizabeth and Prince Philip," he said.
In his autobiography Just As I Am, Billy Graham wrote about delivering a sermon to the Queen and the Duke of Edinburgh in their private chapel at the Royal Lodge that Easter Sunday.
After the meeting, Billy Graham would only say, "Good manners do not permit one to discuss the details of a private visit with Her Majesty, but I can say that I judge her to be a woman of rare modesty and character." He also commented, "I made a pledge to remember the Queen and her family every day in my prayers."
In the second season of The Crown, a popular TV drama that follows some of Queen Elizabeth II's 65-year reign, producers included a storyline about her friendship with Billy Graham.
In real life, Mr. Graham once wrote, "No one in Britain has been more cordial toward us than Her Majesty Queen Elizabeth II. Almost every occasion I have been with her has been in a warm, informal setting, such as a luncheon or dinner, either alone or with a few family members or other close friends."
Mr. Graham also shared a conversation he once had with the Queen, in which he got a glimpse into her love of Scripture. "I always found her very interested in the Bible and its message," he wrote in Just As I Am.
"After preaching at Windsor one Sunday, I was sitting next to the Queen at lunch. I told her I had been undecided until the last minute about my choice of sermon and had almost preached on the healing of the crippled man in John 5. Her eyes sparkled and she bubbled over with enthusiasm, as she could do on occasion. 'I wish you had!' she exclaimed. 'That is my favorite story.'"
Read more about the friendship between Billy Graham and Queen Elizabeth.

The Bible is still revered by queens and ordinary people. Find out why.