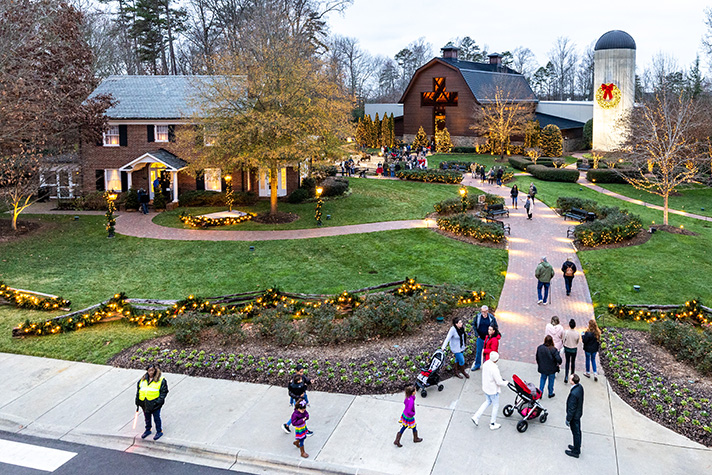 Looking for something fun to do with friends and family this holiday season? The Billy Graham Library in Charlotte, North Carolina, is celebrating the birth of Jesus Christ during its annual Christmas at the Library event through December 23.
What You Need to Know
The Billy Graham Library opens at 9:30 a.m. and is closed on Sundays. Admission and parking are free.
Christmas activities are Monday through Thursday, 5 p.m.–9 p.m.; and Friday and Saturday, 5 p.m.–10 p.m. Reservations required.
Carriage rides: $12 for adults; $6 for children under 12.
Pet the animals in the live nativity from 11 a.m.–1 p.m. Thursday through Saturday.
Christmas dinner reservations are full, but check back periodically in case of cancellations.
This three-week celebration points visitors to the reason behind the holiday: Jesus Christ, who was born to take away the sins of the world through His death around 30 years later.
Admission is free, but reservations are required and spots are filling up fast. Reserve your place now.
"When you come to the Library, you first see that Christ was born in a stable, and then you turn around and see the cross where He gave His life for us," said Billy Graham's grandson, Roy Graham, referring to the live nativity that—throughout December—is situated near the cross-shaped glass entrance of the Library.
Roy Graham also serves as vice president of Donor Ministries for the Billy Graham Evangelistic Association (BGEA).
"That is what BGEA and my grandfather's message is all about: God sent His Son Jesus to us, and Jesus gave His life on the cross and rose again to save us. Every day that the Library is open during the Christmas season, we see people place their faith in Christ."
While visiting the property, guests can walk through the Graham family homeplace where Billy Graham grew up, browse Ruth's Attic bookstore, and visit the gravesites of Billy and Ruth Graham in the Memorial Prayer Garden.
Visitors can also take The Journey of Faith tour, which recounts the story of how God used Billy Graham, a Charlotte farm boy, to communicate the Gospel to 215 million people worldwide. The tour is free and is a great way to share the Gospel with friends and family this season.
"The Good News of Christmas is a message that is offered to everyone," said Franklin Graham. "'God so loved the world that he gave his one and only Son, that whoever believes in him shall not perish but have [eternal] life'" (John 3:16, NIV). This is what Christmas is all about, and it is the message of hope that we are sharing at the Billy Graham Library.
"Jesus Christ came to this Earth on a rescue mission to save us from our sins, and everyone who puts their faith in Him can be forgiven and have a right relationship with God."
Invite someone who hasn't heard the Good News to come to the Library through December 23 for the festivities—including a live nativity, carolers, horse-drawn carriage rides, and children's story time on the heated patio.
You can also enjoy meals and treats from the Graham Brothers Dairy Bar, such as Mother Graham's chicken salad, specialty coffee, salads, sandwiches, and desserts. Seasonal favorites like Mother Graham's pound cake, cinnamon rolls, and hot apple cider are available for purchase as well.