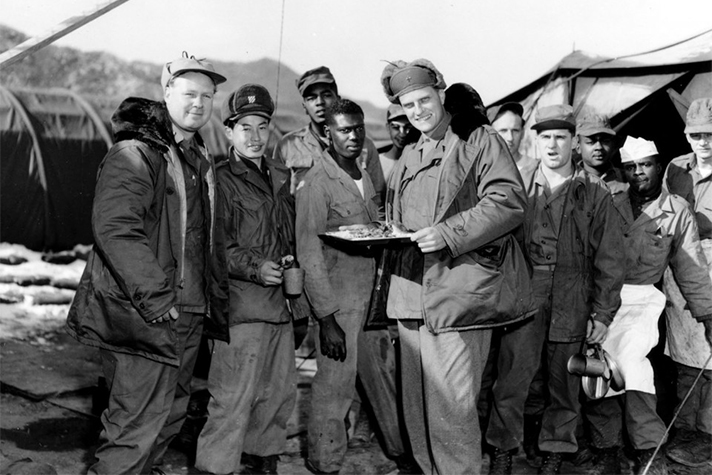 Billy Graham saw the horrors of war firsthand during visits to Korea and Vietnam, where he ministered to American troops on the front lines. Below are 10 quotes from the late evangelist on war, sacrifice and hope beyond the grave.
"The freedoms we enjoy, the freedoms we take so much for granted, the freedoms we so often trifle with were bought not by the gold of our millionaires, nor altogether the genius of our scientists, nor the sacrifices of the people at home, but primarily by the blood, sweat and agony of those whose names on this day we honor—those who died that we might live!"
"As we think of the selflessness and heroism of such fellows, we are reminded of the words of Jesus Christ who said: 'Greater love hath no man than this, that a man lay down his life for his friends.'"
"We walked from the bleeding, broken, dying men of that hospital into the crisp, clear air of Christmas Eve. I felt sadder, older. I felt as though I had gone in a boy and come out a man." —From his trip to Korea in December 1952, at the height of the Korean War
"They have left this realm of time and space, they have out-stripped us in life's races, but the sacred memory of their selflessness and the freedom they died to obtain will live forever."
"Death of the righteous … is not to be feared or shunned. It is the shadowed threshold to the palace of God."
"Even though the sacrifices of our war dead have been great, yet the greatest sacrifice of all time was made by a man on a cross who died not only physically but spiritually that men might live. We have neglected Him too long! We have rejected His plan for peace, and as a result, we have fought, bled and died for centuries!"
"They found … that there are principles well worth dying for. Their noble, unselfish sacrifice is a silent, eloquent rebuke to the self-centeredness of this generation."
"When we grieve over someone who has died in Christ, we are sorrowing not for them but for ourselves. Our grief isn't a sign of weak faith, but of great love."
"We can best keep faith with those who have gone before by keeping faith with ourselves, with our highest ideals and with God."
"Only Christ can meet the deepest needs of our world and our hearts. Christ alone can bring lasting peace—peace with God, peace among men and nations, and peace within our hearts. He transcends the political and social boundaries of our world."
Do you have peace with God? Find it today.