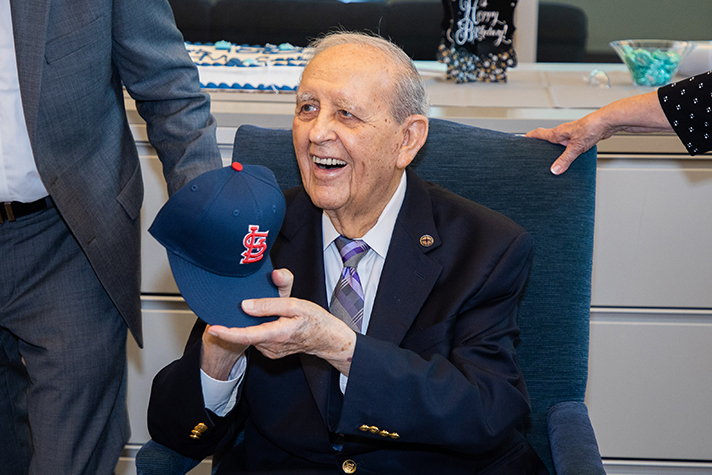 After serving the Lord for seven decades, Richard "Dick" Capin, 96, went to be with the Lord on November 25, 2020.
A close friend to the Graham family and successful businessman, Capin was passionate about sharing the Gospel—and helping missions organizations do the same through sustainable financial practices.
"Mr. Capin has helped me, first at Samaritan's Purse and then at the Billy Graham Evangelistic Association, since 1992. For the ministries, he was the single-most influential person in my life," Franklin Graham said Wednesday.
"In those early days, he helped us to set the standards and procedures for the financial excellence that we have today," Franklin Graham continued. "He was a giant in the Lord's service, and he will be greatly missed. … When I last visited Mr. Capin just a few days ago, I knew this would be my last time to see him on this side of the river. I asked him if he would give my mother a kiss for me when he got to heaven, and he smiled."
Throughout his lifetime, Capin had a remarkable impact on significant business leaders, ministry leaders and worldwide organizations. His willingness to follow God's calling and desire to elevate organizations' accountability, transparency and integrity—in a way that aligned with the character of God—kept him continuously driven to tell the Good News.
Even after retiring from CapinCrouse, a company he co-founded to be an accounting guide for mission organizations, Capin used his business skills to serve OMS International, Samaritan's Purse and the Billy Graham Evangelistic Association (BGEA).
"Nothing is more compelling than to have a mentor who above all teaches principles from the truth of God's Word," Franklin Graham said of Capin in the book, Giving Account. "This is a fitting description of Mr. Capin. To use an accounting word, he has been a profitable help to me and his counsel is as valuable an asset to me."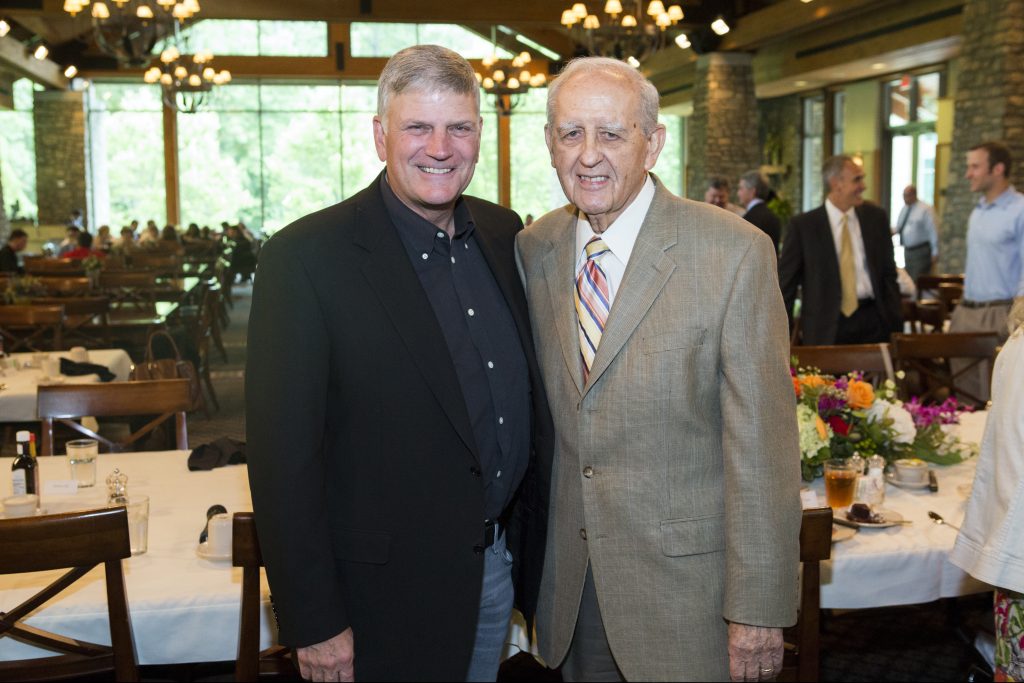 At the Billy Graham Evangelistic Association, Capin was known beyond his mentorship as someone who was genuine, a good listener, generous, and often made others smile or laugh.
"I've never seen anyone more given up, yielded, and in full surrender to God every moment of every day," said his son, Gregg Capin, a senior executive advisor at Samaritan's Purse. "Because of this he came to not think about himself a lot, he was more focused on God and others. Dad was a soldier marching, never turning left or right, no distractions allowed, eyes fixed on Jesus. Fully in each moment, not the past or future, seeing each person brought into his life as special and seeking what God would have him say or do."
"And if anyone tried to compliment him or even recognize something good, he would say quickly and often—if anything good is in Dick Capin or comes from Dick Capin, it's spelled capital G-O-D," Gregg Capin added.
When thinking of Dick Capin, a longtime family friend, Roy Graham summed him up with one word: "integrity." Roy Graham spent many hours with Capin over the past days.
"He always told you to do what's right," Roy Graham said—a simple yet underrated piece of advice in today's culture.
Will Graham similarly described Capin as a "faithful servant."
"He was influenced by my granddaddy [Billy Graham] at an early age, so he became a confidant of my grandfather," Will Graham said. "He made Billy Graham Evangelistic Association and Samaritan's Purse more transparent and up to a higher standard. He was just a wise man that came to help and raise the bar. And he did it very, very well for lots of people."
Determined to be a light for the Lord even in his later years, Capin still attended in-person meetings and enjoyed fellowship as part of BGEA's executive office until the onslaught of COVID-19. And he'd occasionally get teary-eyed talking about how he desired for others to know Christ.
Over the past few months, Samaritan's Purse has been in the process of building another office in North Wilkesboro, North Carolina, which will be dedicated as the "Capin Building" in 2021.
His Testimony
With humble beginnings in a small town of southern Illinois, Richard Capin was born on August, 24, 1924. He grew up with five brothers and one sister. After serving two winters in Iceland during his military career, Capin married his high school friend, Mary Jeanne, on Christmas Eve 1946.
"Going on ships in World War II with submarines chasing us, … I'd say I'm going to be in hell because I didn't know the route to heaven," Capin once said of his testimony. "But I came to know God and became a new person. Then I found the only peace available here on earth … that's the peace of Christ that passes all understanding."
A devout Christian, Mary Jeanne gave him his first Bible. Three years into their marriage—and many late nights of studying the book of John after his wife was asleep—he started a relationship with God at the age of 26. It was also around that time Capin attended his first Youth for Christ event with Billy Graham in Evansville, Indiana.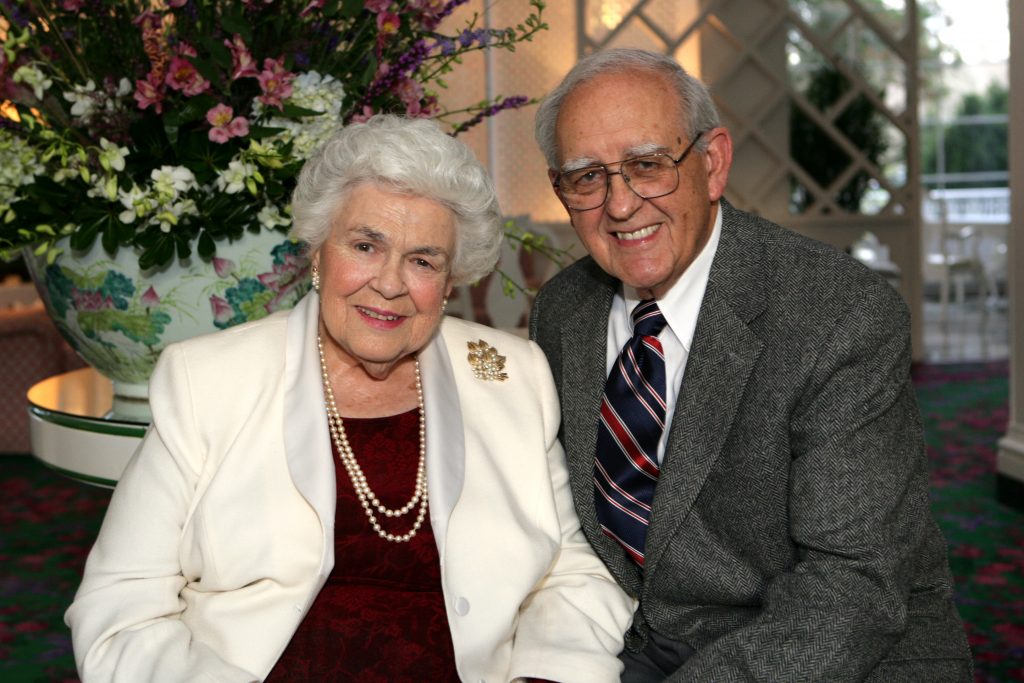 When once reflecting on why it took him years to accept the Gospel, Capin said, "As a 12-year-old lad, I began discounting the true work of Jesus Christ by looking at religion or people rather than at Christ, and doing this for the next 14 years. It wasn't until I realized Jesus said 'follow me,' not become a church member or some other religious process, and accepted His provision for forgiveness and His Lordship, that the deception was neutralized.
"As Christ died for me, I needed to die to my life and follow the command: 'If any man will come after me, let him deny himself and take up his cross and follow me' (Luke 9:23)."
Capin's relationship with the Lord transformed his life—and as his family eventually grew to three children, 10 grandchildren and three great-grandchildren, he always looked for ways to expand the family of God. Through years of ministry as a certified public accountant and business leader, Capin helped numerous Christian organizations more effectively steward resources to share the Gospel.
As Capin once said, "It became clear that the bottom line for God is one soul."
And so the mission remains.