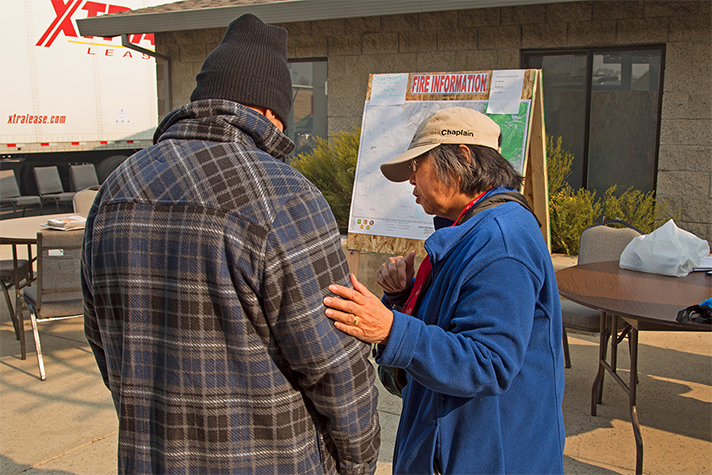 After a massive wildfire killed an elderly couple and destroyed more than 200 homes, chaplains from the Billy Graham Rapid Response Team (BG-RRT) are ministering in the village of Ruidoso in New Mexico, around 135 miles southeast of Albuquerque.
"This is such a frightening situation for all those involved and our hearts go out to all those who lost their homes," said Josh Holland, international director of the BG-RRT. "We want to show our support as we send crisis-trained chaplains to share God's love and provide emotional and spiritual support to the community of Ruidoso, New Mexico, during this time of crisis."
Thousands in the area were forced to evacuate while hundreds of firefighters battled the wind-driven blaze of the so-called McBride Fire. Social media posts showed the town's middle school surrounded by flames on three sides as students were evacuated.
Many houses were reduced to their chimneys and foundations, leaving people homeless in the resort town that's a popular summer vacation area for those seeking respite from hotter temperatures.
A chaplain coordinator and four other chaplains, along with the BG-RRT's Mobile Ministry Center—a vehicle that serves as a safe haven for conversations, are in the Sierra Blanca mountain community. They're offering a listening ear and comfort to those facing loss in the drought-stricken region.
A decade ago, Ruidoso faced the most destructive wildfire in the state's recorded history, blackening nearly 70 square miles of forest due to a lightning strike. This month's fire is proving an early start to New Mexico's 2022 fire season as other fires have also been racing through the grassland.
More Billy Graham chaplains are currently serving at the Samaritan's Purse Emergency Field Hospital in Ukraine.
Please keep our Billy Graham chaplains and all those facing crises in your prayers.