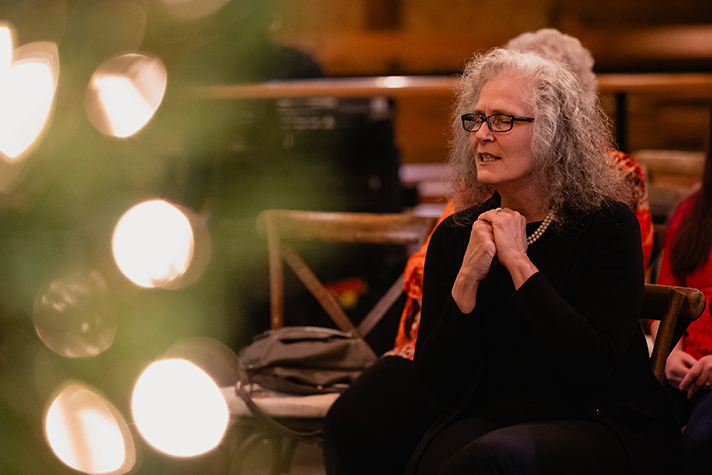 Cooking, cleaning, and wrapping presents sends many into high speed during the holidays. In the hustle and bustle of Christmastime, it's easy to lose sight of what it's all about: celebrating the birth of our Savior.
On November 10, over 130 women from near and far came to the Billy Graham Library's Ladies Christmas Evening for a special time of worship, encouragement, and fellowship to help recenter their hearts on God.
Flickering candlelight reflected off crimson, evergreen, and gold-colored table décor as women of all ages were welcomed with dinner and a challenge to behold and adore Jesus Christ.
"Jesus came, He's still here, and He's coming back again," musician and speaker Kaley Rivera Thompson said as she led the crowd in worship following the meal.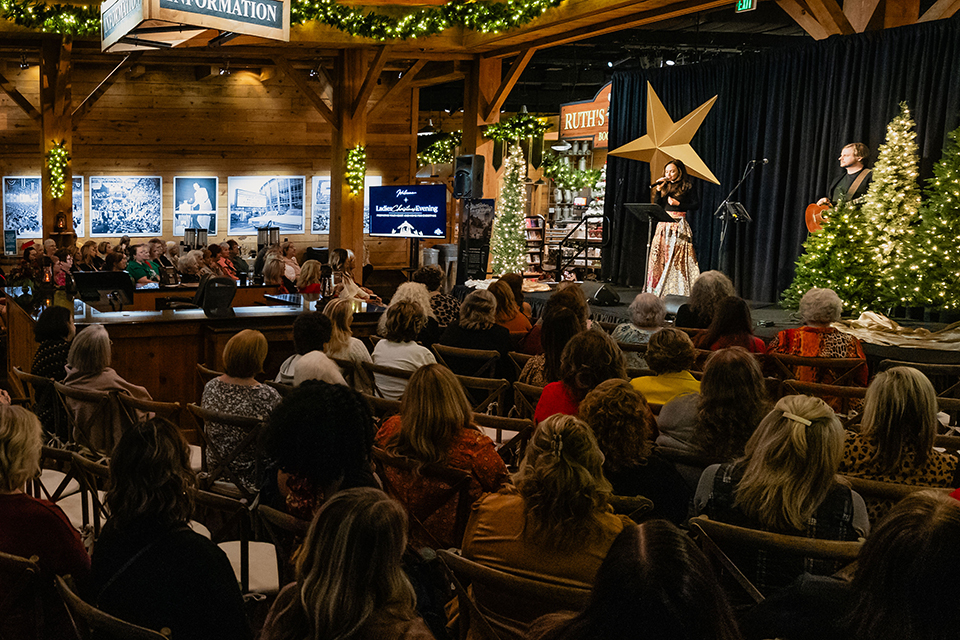 The Blessing of a Renewed Focus 
Stephanie Baker from Lancaster, South Carolina, had signed up to attend the event with her church, but she almost decided not to come.
Going to the Library was something she had always done with her husband, who unexpectedly passed away last month.
"I thought it was too soon," she explained, her eyes filling with tears. "But then I felt that the devil was just trying to prevent me from a blessing, so I decided to come."
She shared how Thompson's message about keeping our eyes on God blessed her.
"You—in Christ—are love, light, and hope," Thompson said. "May you live today and every day, shouting, 'Jesus is here,' now and forevermore."
"Since [my husband's death], I've had a renewed focus on spreading the Gospel," said Baker.
"[I need to] make sure what I'm doing this season is dwelling with Christ and really focusing on what Christmas is about."
It's All About Jesus
Suzanne Surratt is no stranger to the 1.5-hour drive to the Library from her home in Denton, North Carolina. She's been attending Library events for years—ever since she first heard the Gospel as a little girl at a Billy Graham Crusade in Charlotte, North Carolina.
"God has brought me here. Being in the peace, love, and joy of the Library is like home to me," she shared.
In August of 2008, Surratt found herself at the Library during a time when she walking far from God. As she went through The Journey of Faith tour—which retraces Billy Graham's life and the message he preached about how to have peace with God—the Holy Spirit gripped her heart.
Surratt rededicated her life to the Lord that day.
Since then, she has continued to grow in her relationship with Jesus Christ, realizing that, "It's not about what you do; it's all about Jesus."
Surratt was touched and inspired by Thompson's urging to share the Good News with others.
"The whole purpose of Christmas is Christ coming into the world," said Surratt. "I must be about my Father's business."
>>Invite friends and family members to hear about the true meaning of Christmas. Reserve your spot today for Christmas at the Library, December 1–23.