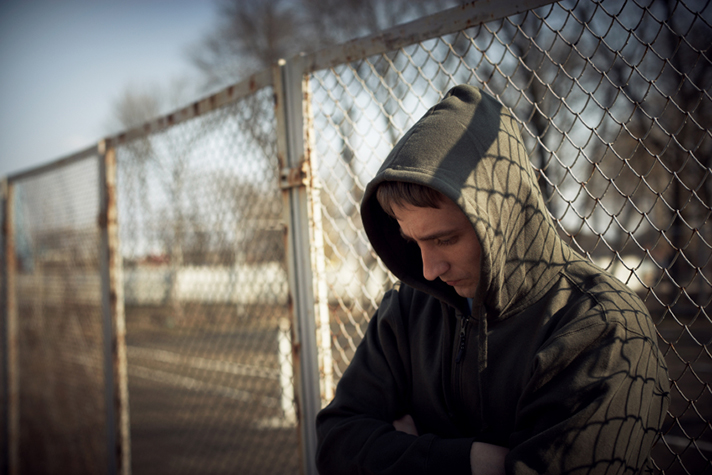 This Saturday kicks off the Oklahoma City Good News Festival with Franklin Graham. Read about one way God is preparing hearts to hear the truth during this two-day event, and watch the Festival live this weekend.

Every large city has its share of social issues. But in Oklahoma City, many struggle to find a place to land—literally.
Adam Jones, an executive staff member at City Rescue Mission in Oklahoma City—the largest no-cost drug and alcohol recovery program in the state—is working in the trenches of the homelessness problem. Many of the Mission's residents have become homeless due to their addictions.
"Our mission is to end homelessness, ultimately," Jones said. "There are a lot more people close to homeless than actually homeless. Most of what we do is work with, minister to and walk with people dealing with acute homelessness.
"When someone is near homeless, it could mean something as simple as having a dead car battery and losing a job because the person cannot get to work. Then, that person will not be able to pay for food and will go hungry. When we push this out into another layer, we see generational poverty and homelessness."
And generational homelessness in Oklahoma City is compounded by the number of at-risk teens living there. It's estimated there are more than 40,000 homeless youth in the state of Oklahoma, which ranks fifth-highest in the nation for homeless young people.
Half of those teens are in Oklahoma City.
Harbor House Foundation, Inc., an agency founded by Jones' family more than 20 years ago, provides services to these at-risk teens. The Oklahoma City branch of Harbor House has worked with the local public school system to connect kids in need with the services available to them—and to help keep them in school.
"Many of these youth don't self-identify as 'homeless,' because many of them are staying at a friend's house or have made some other arrangements. So they tend to not think of themselves that way," he said.
"So how do you connect kids with the services when they don't think they need them?"
Earlier this year the Oklahoma City Good News Festival team began meeting with local volunteers about a community action project—a staple for Billy Graham Evangelistic Association (BGEA) Festival preparation that gives local volunteers the opportunity to serve their neighbors and get the word out about the Festival. Several ideas, such as trash pickup and partnering with the local Habitat for Humanity, were discussed.
Then the conversation turned toward the homeless youth problem.
As it turns out, Harbor House had wanted to provide an app for these at-risk teens that would help them find the closest resources to them—food, shelter or other necessities. The biggest obstacle in making the app a reality was the tens of thousand of dollars needed to launch it.
The money was not available, so the conversation was tabled.
When BGEA Festival associate Bob Hickling heard about the idea, he believed it could happen…and for much less money. He gathered the resources necessary to develop the app and make it functional—all for a tiny percentage of what it would have initially cost.
The passion of the local believers to make a difference in their city, combined with the support of nearby agencies and BGEA's partnership made the app a reality.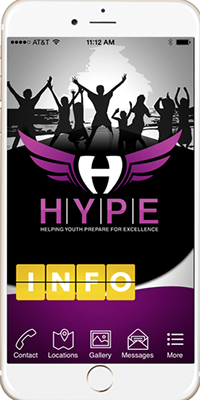 Today, the app, named for the Harbor House youth program, H.Y.P.E.—an acronym for Helping Youth Prepare for Excellence—is off the ground and integrated into the local school system. Through H.Y.P.E., an at-risk teen can locate crucial services and find agencies that provide the appropriate assistance.
"Many organizations will not provide services to a minor without parental consent, because the liability is so great," Jones said. "City Rescue Mission, for example, cannot house people under the age of 18, one of the reasons (beyond legal) being we don't want to put a minor in harm's way.
"But they still need help. A lot of these kids do not self-identify as homeless or in need because they may be suicidal or they could be running away from an abusive situation and don't want to involve the authorities."
Now that school is back in session, Jones hopes students will share this app with friends who need help: "Teachers can have a hunch, but students usually know when a friend is in trouble. We want to promote advocacy—peer-to-peer advocacy."
Jones also believes the Oklahoma City Good News Festival is coming at a crucial time for his city, given this prevalent social issue.
"The Festival and its related activities have brought awareness of our homeless youth, and it's getting church youth groups engaged in prayer for other kids who need the Lord, who have a future ahead of them," he said.
"Hopefully, there will be a huge moment where people hear the truth for the first time this weekend. Who knows what the lasting effect will be? This reminds me of the story in Nehemiah, when they were building walls they didn't even know were going to protect them.
"We will never see all the results, this side of heaven. We just never know what—or who—could come from this."
You can watch the Oklahoma City Good News Festival live from Chesapeake Energy Arena Saturday and Sunday at BillyGraham.org/Live.
Watch online starting at 7:30 p.m. ET Saturday and 4:30 p.m. ET Sunday to see a Gospel message from Franklin Graham and music artists including Skillet, Lacey, Michael W. Smith and All Sons and Daughters.