It was a classic fall day in southern Wisconsin: deep blue skies, a blinding sun, and an unmistakable crispness in the air. It was the kind of day that screams for college football.
The cars lining up to park on Saturday afternoon weren't pulling in for a game featuring the beloved Wisconsin Badgers, however. The crowd of 8,700 was coming together for the fifth stop on Franklin Graham's God Loves You Tour—an evening of music and a message of hope on the expansive yard of the Waukesha County Expo Center.
If the name Waukesha sounds familiar, it's because it was in the news over the last year for the worst of reasons. About ten months ago. On November 21, 2021, a man with an extensive criminal record intentionally drove an SUV into a crowd watching a Christmas parade, killing six and injuring 62 others.
The attack has left lasting scars in the community, but some saw Franklin Graham's visit as an opportunity to bring the peace of Jesus Christ into a dark situation. "I think after what happened with the parade, just the brokenness, I think this was really meaningful. It was a real time for healing and hope," said Amy Groth, who attended the God Loves You Tour with her husband Alan.
You Must Be Born Again
Following music by award-winning musicians Dennis Agajanian and Newsboys, Franklin Graham shared the Biblical message of a Pharisee named Nicodemus, found in John 3. Though Nicodemus was a respected religious scholar, Jesus told him, "Most assuredly, I say to you, unless one is born again, he cannot see the kingdom of God."
Franklin related the story of Nicodemus to those in the audience who were expecting "religion" to save them from their sins, but neglecting a personal relationship with Jesus Christ.
"Religion is not enough to save you. There's nothing about religion that can save you. People think that because they're a Presbyterian or a Baptist, because of their church affiliation, their religious affiliation, they are somehow saved and forgiven," said Franklin.
"No! Religion can't save you. You have to be born again!"
That message struck a chord with David,* a young man from Milwaukee who sat near the stage.
"I always say I'm Presbyterian. My parents are Presbyterian. I went to a Presbyterian church. But I really don't repent at all. What Franklin said really got to me. I thought maybe I am truly not accepting Christ into everything that I do in my daily life," said David, who was celebrating his birthday on Saturday.
When Franklin gave the invitation to make a decision for Jesus Christ, David—who acknowledged that he began walking away from his faith during his days as a student at UW-Milwaukee—quickly stood, ready to repent and turn his life back to the Lord.
His plan moving forward: "I need to go to church more. I always make up excuses. … And I need to open the Bible. I need to do that. It's just sitting on the shelf at home, but it's the literal Word of God!"
For Kerri-Ann,* who lives in a small town between Milwaukee and Green Bay, a different part of Franklin's message struck a chord.
"If you come to Christ, you are a new creation. All of your past life is behind you. He gives you a new life, and everything becomes new," said Franklin. "The new birth is not a change in the body. It's not a physical change. The new birth is a change in your spirit. It's a new direction. It's the union of your soul with Jesus Christ. Christ comes through the Holy Spirit, and He takes up residence in our life."
Franklin Graham told the personal story of sharing Christ with a reporter after an interview many years ago. As they talked the reporter said she had had an abortion 20 years earlier, and she had been burdened by guilt every day since. She didn't believe that she could be forgiven. However, as she accepted Jesus into her life, she was overwhelmed by His love and forgiveness, and she wept tears of gratitude.
Kerri-Ann, who also questioned whether she could be forgiven, found what she was searching for this evening.
"As soon as I stood and started praying, it was like I had an immediate peace. It was so nice," said Kerri-Ann. "I had the same experience that the lady that interviewed him had. I had the same questions. Every Sunday going to church, I thought to myself, 'Am I really forgiven?' I think tonight finally answered that."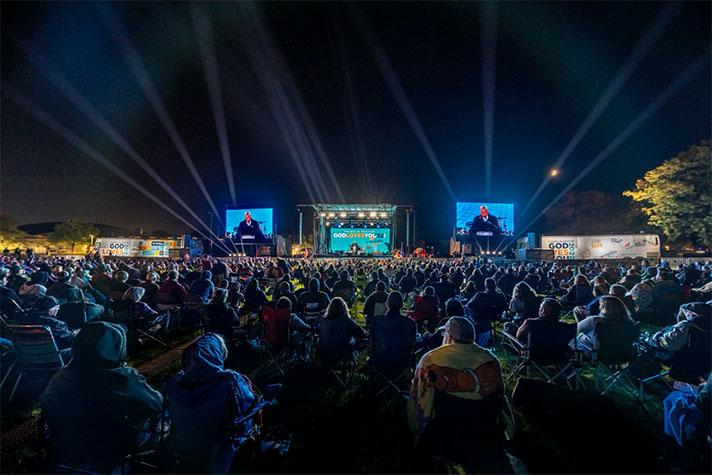 A Catalyst for Revival
Many feel like Saturday's event in Waukesha is just the beginning of what God has in store for this community. In fact, it's been a prayer many years in the making.
"I've been praying with a group of women for over seven years. We've been praying for revival, awakening," said Amy Groth. "I really think that this is how revival starts, and it's so beautiful that you partner with the local churches, that this is what it's all about. Now it's time for the church to step in."
Alan Groth added: "It's all in God's hands. … I love that there's follow-up done with those individuals so that they're nurtured in their walks with the Lord. That can transform a whole region as people begin to walk with Christ and their families are influenced."
The God Loves You Tour comes to a close today, with the sixth and final event at Soldiers Memorial Field Park in Rochester, Minnesota.