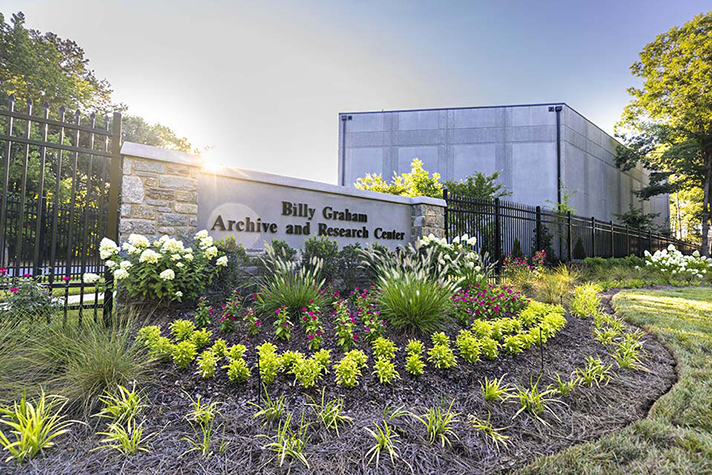 The new Billy Graham Archive & Research Center in Charlotte, North Carolina, opens today, Nov. 7, on what would have been the late evangelist's 104th birthday.
Within walking distance of the Billy Graham Library, the center is open by appointment to students and researchers who want to know more about evangelism by studying the ministry of Billy Graham.
The state-of-the-art 30,000 square foot building is climate-controlled with four vaults/archival-protected rooms, holding more than a million pieces of history since Billy Graham started his ministry in the late 1940s.
These materials include historical records related to the long-term development of the Billy Graham Evangelistic Association (BGEA); artifacts, photographs, film and audio from the Billy Graham era; and documentation of his 400-plus Crusades. Never-before-seen negatives are still being developed from pictures taken by Russ Busby, Billy Graham's longtime photographer.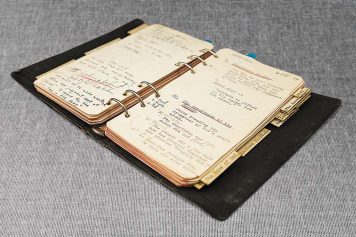 "It's a treasure trove," said Dr. David Bruce, executive vice president of the Billy Graham Archive & Research Center and Billy Graham Library. "For the first time in all these decades, we now have everything related to the historical background of Mr. Graham in one location."
Along with items from the Graham home, the center contains hundreds of awards, gifts, and pieces of artwork given to Billy Graham, including various keys to the city.
"It's a real reflection of where he went," Bruce added. "It's a clear understanding of the worldwide impact of Mr. Graham by simply looking at the things he collected over time that were given to him."
Researchers who come to the center can peruse a vast array of historical documents to see how God used one man's life to impact millions.
Bruce cautioned: "It's not really just to study Mr. Graham, it's to study what God did in his life."
Want to know how to craft a sermon? How to give an evangelistic invitation or build an evangelistic strategy in your church? How to reach people groups?
The difference between Billy Graham's manuscripts and actual sermons? The evangelist's correspondence with world leaders, like Queen Elizabeth II?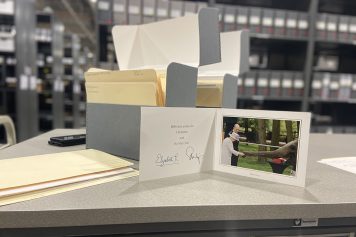 All of that information and more can be found at the new archive center.
"The backbone of all this is that Billy Graham wanted to encourage the next generation of leadership—men and women in sharing the Gospel," Bruce said.
When scheduling an appointment online, you can explain your reason behind coming to the center, such as writing a dissertation or organizing an evangelistic event, and staff will select certain items to help begin your study. You can access those files, as well as others, during your appointment.
In addition, researchers will have access to a systematic database that allows you to do a keyword search and pull up everything the evangelist ever said on that topic, along with photos, audio, and videos from all of his Crusades.
How History Was Made
"Mr. Graham had an understanding, a heart, an appreciation, for holding history," Bruce said. "A lot of ministries start, so many things happen, and nobody is chronicling anything."
Since Mr. Graham's early days preaching with Youth for Christ—and the establishment of the Billy Graham Evangelistic Association in 1950—he had secretaries or people in the field capture information for files.
In the 1970s, "a number of people began to encourage Mr. Graham to build or to develop a depository of materials that would chronicle not simply his life and his ministry, but what God was doing through him and through the BGEA," Bruce said. "Really the power behind all this wasn't because Mr. Graham wanted to keep a record of himself, it was really a record of what God was doing."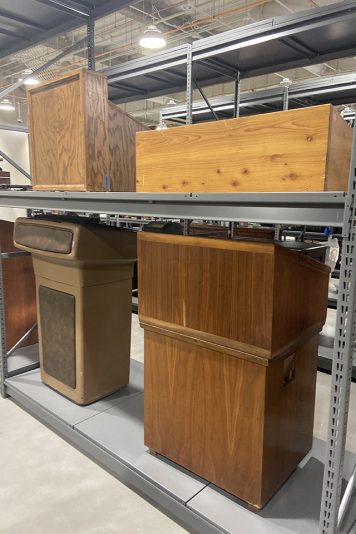 At the time, this meant keeping copious records of the Crusade events. If Billy Graham was in New York City in 1957, it was recorded how the committees and choirs were formed, how churches were encouraged and enlisted, how counselors were trained, and so on.
"When Mr. Graham would stand in these great stadiums, it was built on the fact that there had been incredible groundwork long before he stood there to preach, months in the making," Bruce said.
"Prayer development, encouraging the church, getting leadership involved, finding volunteers, encouraging people to bring lost folks to the meeting, the whole system, the whole way of doing things," he continued. "That's what we're chronicling. And then you couple that with Mr. Graham's own paper trail—his sermons, his correspondence, his reflections on things."
These records led to the building of the Wheaton College Billy Graham Center in Illinois in 1980. The evangelist's alma mater hosted most of BGEA's archives for 40 years.
Three years ago, the ball started rolling for BGEA's own development of a ministry set aside for archives and research. Two truckloads containing pallets of hundreds of thousands of pieces of paper traveled from Wheaton down to Charlotte.
Franklin Graham and BGEA's board of directors had a long-term vision to bring all the ministry's documents "home" to Charlotte so visitors could have one central location to learn about the ministry and the principles of evangelism. Franklin Graham hopes those who visit the archive center will also spend time at the Billy Graham Library just around the corner.
On Library grounds, guests can see the home Billy Graham grew up in, as well as his gravesite, and take a free tour called The Journey of Faith, which illustrates what God can do with a life surrendered to Him. The Library has been renovated this past year and now includes a training facility called Billy Kim Hall to host large gatherings. Billy Kim is a Korean evangelist who interpreted for Billy Graham during his largest Crusade in Seoul in 1973.
"The hall will be kind of the pulse for both the Library and the archive center together," Bruce said. "So we can have symposiums and institutes and concerts and teaching opportunities and training for people to be encouraged in these very things we've talked about."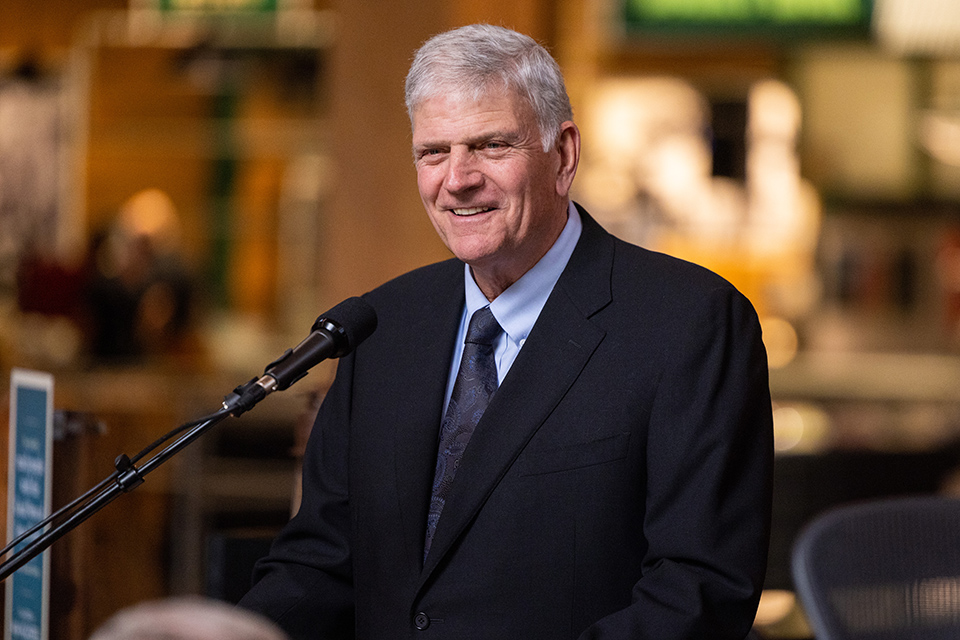 The Purpose
Bruce is particularly excited about how these buildings can help the local church.
"Mr. Graham always said his ministry, our ministry, the BGEA, begins and ends its ministry with local churches," Bruce said. "That's the focus of what we do. We're equippers as well as proclaimers."
Pointing to a photo hanging in his office, Bruce explained the image depicting a filled Panthers Stadium for a Billy Graham Crusade in Charlotte, 1996. "You look at that, you know, your heart says, 'Lord, do it again,'" Bruce said.
"The history then is not just something that happened and is dusty," Bruce explained. "It is what God did in that moment that can now be translated to a new generation. What God did, He can do again. So it's very inspiring."
If you live internationally or are unable to visit the archive center, check out the archive center's website, which will soon provide access to digitalized content for those needing to research at home.
Plan your visit to the Billy Graham Archive & Research Center.