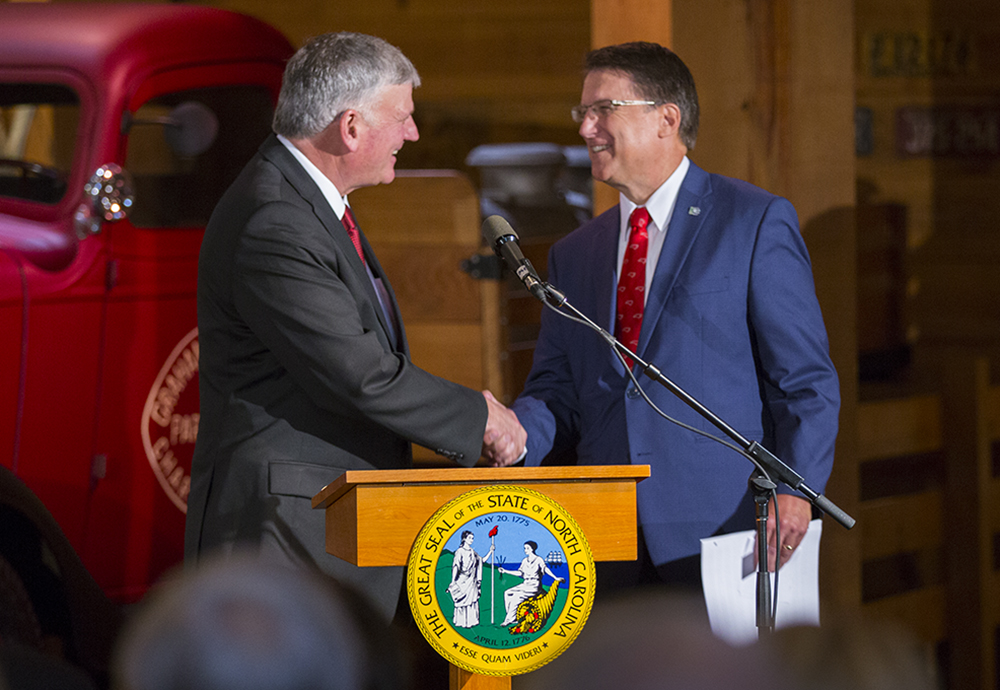 North Carolina Governor Pat McCrory almost had to cancel a special event at the Billy Graham Library in Charlotte, North Carolina, on Oct. 2.
McCrory had planned to sign a bill that will honor Billy Graham with a statue in Washington D.C.'s National Statuary Hall.
Then a massive storm system hit North Carolina, causing the governor to declare a state of emergency as flood warnings popped up from the mountains to the coast.
"I said, 'We're not going to cancel a Billy Graham event.' No way," McCrory said as he stood inside the Library that morning as planned. "If anything, now is when we need the prayers."
After asking people to pray for North Carolina and parts of the East Coast facing a potential brush with Hurricane Joaquin, McCrory put his prepared notes aside.
"My staff gave me something to read," he said, "but this is from my heart."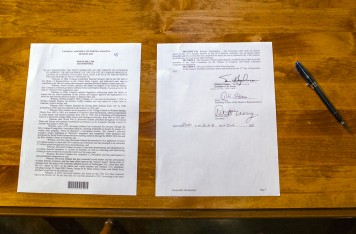 The governor explained why state lawmakers chose Billy Graham as one of just two North Carolinians to be honored with a statue in the nation's Capitol.
"This honor was not something that the Graham family asked for," McCrory said. "We think Dr. Graham represents the soul of North Carolina."
Billy Graham, now 96 years old, was born and raised in Charlotte and makes his home in North Carolina's Blue Ridge Mountains. He has preached the Gospel of Jesus Christ to more than 200 million people in 185 countries and territories. His ministry continues to reach millions around the world and online through the Billy Graham Evangelistic Association.
But more than his accomplishments, it's Mr. Graham's character the governor sought to highlight.
He described Mr. Graham as humble and compassionate—a man "who gives more than he receives" and "understands the attention should not be focused on himself … but the focus should be on God."
Franklin Graham introduced the governor, who has been a friend to the Graham family for many years.
"This is a great honor that is being bestowed on my father," Franklin said. "Just incredible."
While the elder Graham stayed at home in Montreat, North Carolina, many of his family members joined Franklin Graham at the Library on Oct. 2, including Billy Graham's grandsons Will and Roy Graham; his sister Jean Graham Ford and her husband Leighton; his nephew Mel Graham; and his niece Cathie Bowers along with her husband, Tom.
About 40 guests who happened to be visiting the Billy Graham Library were surprised to be in attendance as well. They showed up from cities across the country to tour the free attraction and ended up watching Governor McCrory sign the bill into law.
North Carolina state lawmakers voted for the statue of Billy Graham—one of just 100 permitted inside the U.S. Capitol—to replace a statue of former governor Charles Brantley Aycock. McCrory said lawmakers wanted the statue to serve as a "moral compass," allowing future generations to remember Mr. Graham and learn from his humility, compassion and unwavering commitment to share the Gospel.
"This is the best of North Carolina," McCrory said. "This is the best of our nation. This is the best of our world."