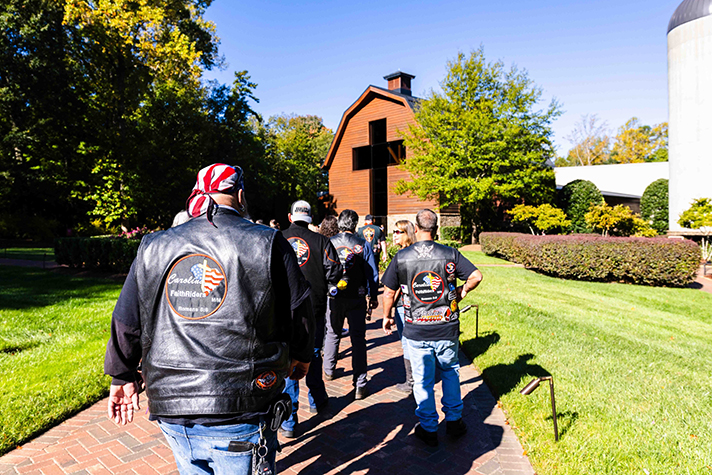 The rumble of engines echoed throughout the Billy Graham Library parking lot as hundreds of leather and denim-clad motorcyclists carrying Operation Christmas Child shoeboxes rolled in for the 16th annual Bikers with Boxes event.
As children in more than 170 countries receive these gift-filled boxes, they also hear about the One who can provide lasting joy: Jesus Christ. The project is a ministry of Samaritan's Purse, which along with the Billy Graham Evangelistic Association, is led by Franklin Graham.
The Library doors were open for bikers to check out The Journey of Faith tour inside. The tour recounts how God worked through Billy Graham's life to bring the Good News to millions of people, and how that message is still changing lives today. Musician Dennis Agajanian added to the excitement of the day with lively Christian music outside.
God's Hand Through It All
Robbie and Lisa Cooke—president and secretary (respectively) of local motorcycle ministry Crimson Crusaders—sported matching black riding jackets as they—with the help of their Crusaders group—brought in over 200 boxes.
"It blesses our hearts to be able to give," said Lisa.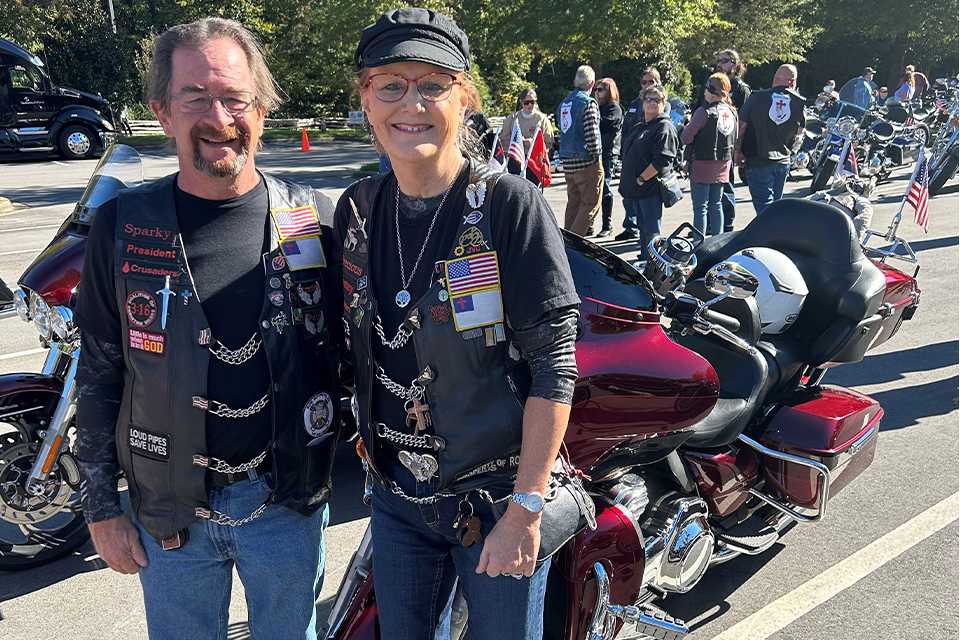 Grateful for the chance to gather with those who share common interests, the Cookes reflected on how the Lord used motorcycles to bring them together seven years ago.
The two met at a biking ministry event just months after Lisa's husband of 33 years passed away from liver disease.
Robbie—who has been biking for over 40 years—pulled up to the event in his '99 Softail Harley-Davidson. And that's when he met Lisa.
They got married a couple of years later and are grateful that God brought them together to serve in ministry.
"Jesus has opened so many doors for us to minister to other people. … It's just totally amazing," said Lisa. She's happy to help children—some of whom have never received a gift before—to hear how they can have peace with God through a relationship with His Son Jesus Christ.
"We give Him all the glory, that's for sure."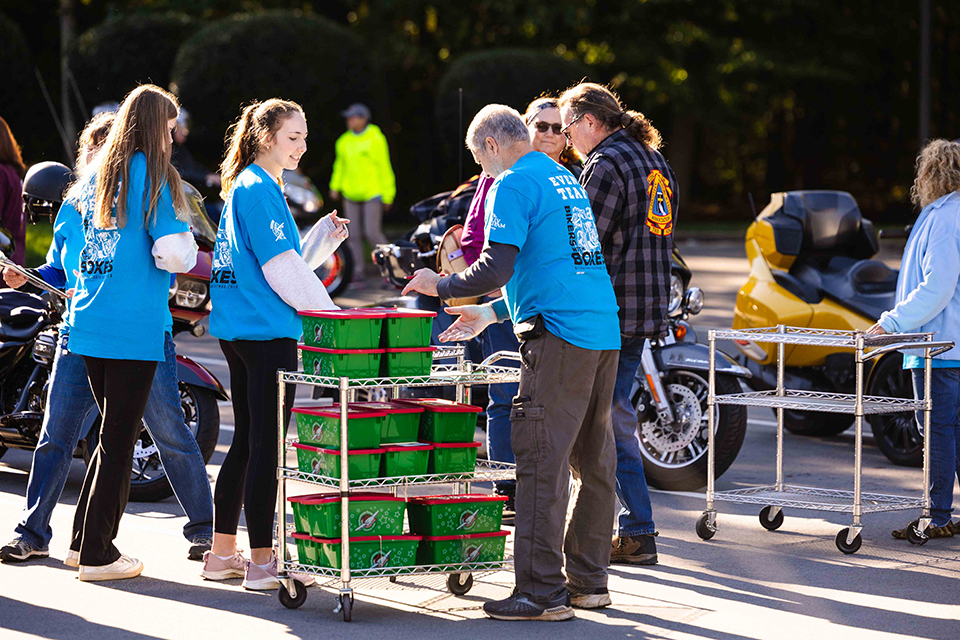 Loved and Never Alone
Amber brought a box to Bikers with Boxes last year and knew she had to make the short drive from Gastonia again this year.
"Coming and seeing everything and hearing the stories—it's a blessing," she said.
Amber asked Jesus Christ into her heart at age 5 and prays that the children receiving these shoeboxes come to know Him as she has.
"Jesus is everything," she said, tearing up. "I am never alone because I know God is with me. … I hope the kids are blessed by these gifts and will be able to share the love that they have been shown with others."
Make plans now to attend Christmas at the Library this December.