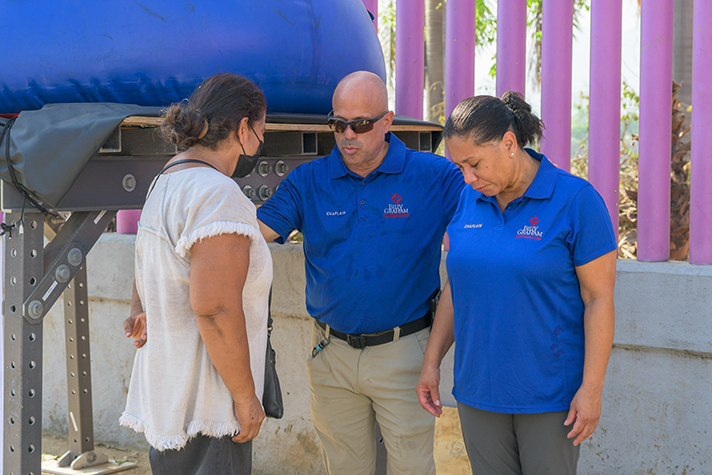 Category 5 Hurricane Otis blew through Acapulco, Mexico, on October 25, killing at least 48 people and destroying thousands of homes. Dozens of people are still missing.
Billy Graham Rapid Response Team (BG-RRT) chaplains Steven and Annmarie Flores arrived in Acapulco nearly two weeks ago to a scene of utter devastation.
Many people are homeless and living in their yards, with no electricity or running water. The mosquitos are relentless, causing a rise in diseases such as the dangerous dengue fever.
"People are distressed. Families are just hurting," said Annmarie. "A lot of tears have been shed."
Yet in the midst of the pain and trauma, God is at work.
Chaplains are ministering to residents in the aftermath, sharing about the love and peace God offers through a relationship with His Son Jesus Christ. Since arriving, they have prayed with over 290 people.
"We are able to embrace them and offer them peace," said Steven. "We remind them of the grace of God. They remain alive for a purpose."
At least eight people have decided to surrender their lives to Christ.
Steven spoke with a young man who was waiting with his small children outside a local medical clinic. The father of two—a 3-year-old boy and 9-year-old girl—recounted the terrifying moment the hurricane struck while he and his family were inside their home.
They were uninjured, but their house was destroyed in the storm.
"Why?" he asked, struggling with the overwhelming destruction around him.
Steven explained that humans and the world we live in are broken, but that Jesus Christ came to deliver us from our sins.
"God wants to change your heart," Steven told the young man. "God wants you to be His son."
The chaplain led him through the Billy Graham Evangelistic Association's "Steps to Peace With God" booklet, which explains how to have a relationship with Jesus Christ.
The man prayed to repent of his sins and joyfully surrendered his life to God.
Light continues to shine brightly in the darkness. In the midst of terrible circumstances, many will look up to the only real source of hope—Jesus.
Have you experienced the peace that Jesus Christ offers?
Please keep the people of Acapulco in your prayers as they recover from the hurricane. Ask God to open many more hearts to Christ, our only unshakeable refuge in the storms of life.