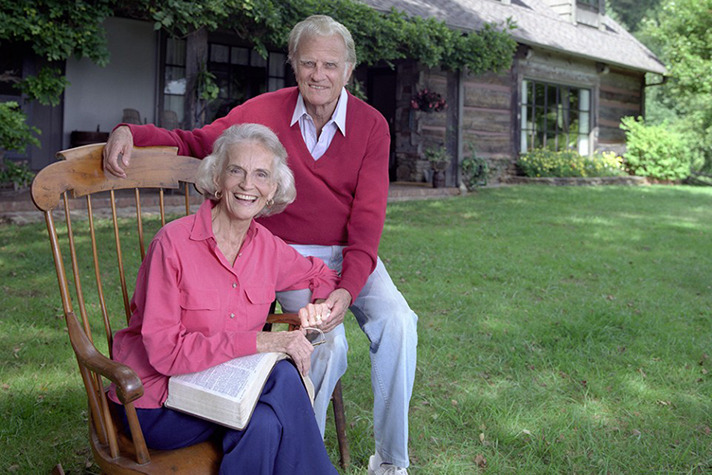 The God-ordained love story of Billy and Ruth Bell Graham begins with two people brought together by their mutual desire to give up everything for the Gospel of Jesus Christ. Here, we share three poems Ruth wrote on different stages in love and marriage.
If You're Waiting on God's Match for You
In 1941, a young Ruth Bell met Billy Graham outside her dorm at Wheaton College where they were both students. Two years before that, though, Ruth faithfully prayed for the man God would bring her way. She penned this poem as she waited on God's timing:
Dear God, I prayed, all unafraid
(as we're inclined to do)
I do not need a handsome man
but let him be like you;
I do not need one big and strong
nor yet so very tall,
nor need he be some genius
or wealthy, Lord, at all;
but let his head be high, dear God,
and let his eye be clear,
his shoulders straight
whate'er his state,
whate'er his earthly sphere;
and let his face have character,
a ruggedness of soul,
and let his whole life show,
dear God,
a singleness of goal;
then when he comes
(as he will come)
with quiet eyes aglow,
I'll understand that he's the man
I prayed for long ago.
If You Want Your Marriage to Grow
Ruth Bell wanted to be an international missionary just like her parents, but God had other plans for her. The handsome, God-fearing Billy Graham filled her heart with both excitement and peace, and Ruth knew this young preacher was the one she had been waiting for. God brought the couple together, but Ruth prayed for Him to establish and grow their marriage:
Train our love …
Discipline it, too …
Deepen it
throughout the years,
age and mellow it
until, time that finds us
old without,
within,
will find us
lovers still.
If You're Separated By Distance
Billy Graham has shared the Gospel with millions around the world, but often sacrificed time with his wife and family to do so. Ruth Graham turned to God for peace and strength while her husband was away, knowing that being married to a traveling evangelist was the ministry God called her to:
"Beneath the cross of Jesus"
When
in the morning
I make our bed,
pulling his sheets
And covers tight,
I know the tears
I shouldn't shed
will fall unbidden
as the rain;
and I would kneel,
praying again
words I mean
but cannot feel.
"Lord,
not my will
but Thine
be done."
The doubts dissolving
one by one …
For I realize
as I pray,
that's why it happened
… and this way.