Since 2014, the Billy Graham Evangelistic Association's (BGEA's) Rapid Response Team has hosted law enforcement appreciation events across the country, but BGEA is blazing new trails this week in its work among those who wear the blue.
Ten couples—law enforcement officers and their spouses from across the nation—landed in two small airplanes on a dusty airstrip in Port Alsworth, Alaska, on Sunday. Several of them choked back tears at the first glimpse of a colorful welcome they were neither expecting nor used to seeing in the current cultural climate.
As their planes approached the runway, some 150 people were lined up—residents who live in the small fishing village along with representatives from BGEA and Samaritan's Purse (SP)—waving handheld versions of Old Glory in one hand and the blue, black and white law enforcement flag in the other. This is the same place where Samaritan's Purse hosts Operation Heal Our Patriots (OHOP), a retreat for wounded warriors and their spouses on the shores of scenic Lake Clark.
BGEA Vice President Will Graham, who arrived with several of the couples on the second plane, says the Law Enforcement Appreciation Retreat is an opportunity to bless the lives of men and women who "stand in the gap in our communities."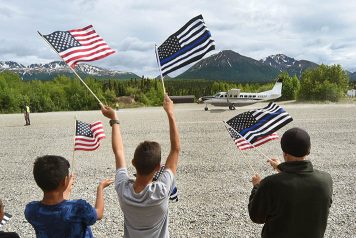 "Especially in this last year of 2020, these officers have really gone through a tough time," Graham said. "Most of our country is very appreciative of our law enforcement and we've shown that, but there are also some instances where that hasn't happened.
"We prayed that God would give us 10 couples for this special week, and God not only gave us 10 couples but God led us to the right 10. They are here for a reason. And we are eager to see what God is going to do in their lives this week."
Like the wounded warriors at the OHOP retreats, these law enforcement officers have endured injuries from shootings and physical attacks, grief from losing fellow officers, and emotional trauma that is nearly always extended to family members.
Throughout the week, the couples' days are filled with fishing, boating and hiking expeditions, as well as emotional and spiritual "unpacking" and encouragement led by chaplains with law enforcement and military backgrounds.
On the last day of each OHOP retreat, it is typical to see several wounded warriors or their spouses follow the Lord in baptism after receiving the gift of salvation.
"We are just here serving in the background, but we get a front-row seat to seeing God's miracles," said Lin Burroughs, an SP volunteer who has spent five weeks this summer serving in housekeeping.
BGEA and SP leaders are praying for more of those miracles this week among law enforcement couples. Would you please keep them in your prayers?
A second Law Enforcement Appreciation Retreat is scheduled for August 23-27 in Port Alsworth.