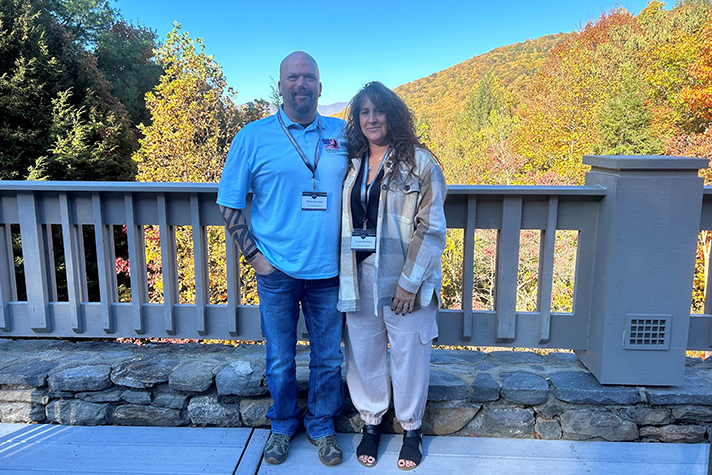 Angela Blanchard was shocked when her husband, Wayne, raised his hands in worship at the Billy Graham Evangelistic Association's (BGEA's) Law Enforcement Appreciation Retreat.
Since a traumatic brain injury sustained on duty two years ago, the sheriff's deputy from Wisconsin hasn't been able to lift both hands without falling.
The incident occurred in the early hours of August 1, 2021, when he was deploying stop sticks on a highway to catch a speeding car.
The car never hit the sticks.
Instead, the driver lost control and struck both Wayne and a guardrail. As the rail wrapped around him, it pulled him out of his laced-up leather boots and slammed him facedown on the ground.
Wayne was in a coma for two weeks after sustaining serious facial injuries and countless broken bones throughout his entire body.
In the following months, he had to relearn how to walk and feed himself, and he's had 53 surgical procedures to date.
Reeling from the stress, trauma, grief, and endless appointments, the couple was worn out as the weeks dragged on. They felt alone.
When a fellow deputy told them about BGEA's Law Enforcement Marriage Resiliency Retreat in Alaska, they decided to apply. The retreat is designed to provide emotional and spiritual refreshment for officers and their spouses in the peace of rural Alaska. In this stress-free environment, couples have the opportunity to reconnect with God and each other.
There, they were overwhelmed by the support and love they received alongside other law enforcement couples who have been through traumatic incidents.
"We came back so renewed and refreshed—the love and understanding we got from everybody was amazing," said Angela.
The two remain close with the friends they made in Alaska and recently reunited with some of them to enjoy a time of growth and encouragement together in the beautiful Blue Ridge Mountains of North Carolina. This free Law Enforcement Appreciation Retreat was held at the Billy Graham Training Center at The Cove.
Speakers shared insight from God's Word, as well as their personal experiences in dealing with the unique issues police officers face—such as riots, officer-involved shootings, and other painful experiences that come with the job.
"When I saw them here … I can't tell you how good that felt," Angela said during her visit to The Cove. "I see God showing us the way and telling us—God's going to win.
"This is what you need when you're going through stuff—to be surrounded by other believers."
Looking ahead, the couple feels called to minister to other law enforcement officers and their spouses as Billy Graham Rapid Response Team chaplains.
"The struggle is real and it's OK to not be OK and be broken," said Wayne. "But don't stay there."
"People need to realize they are never alone—God's there and He has so many people out there [to support them]."
Are you in law enforcement or know someone who is? Learn more about BGEA's National Law Enforcement Ministry.